Dancing is my favorite form of self-care. I feel my most free, my most sexy and my most confident when I'm dancing.
So, I was thrilled when I came across the mother of the black girl magical duo, La'Toya D. Bray who — with her daughter Zyannia — launched Revel Dancewear, a dancewear and street clothing brand whose mission is for their customers to feel comfortable within their skin. Their line is made for body types across the special, appreciating various curvy shapes.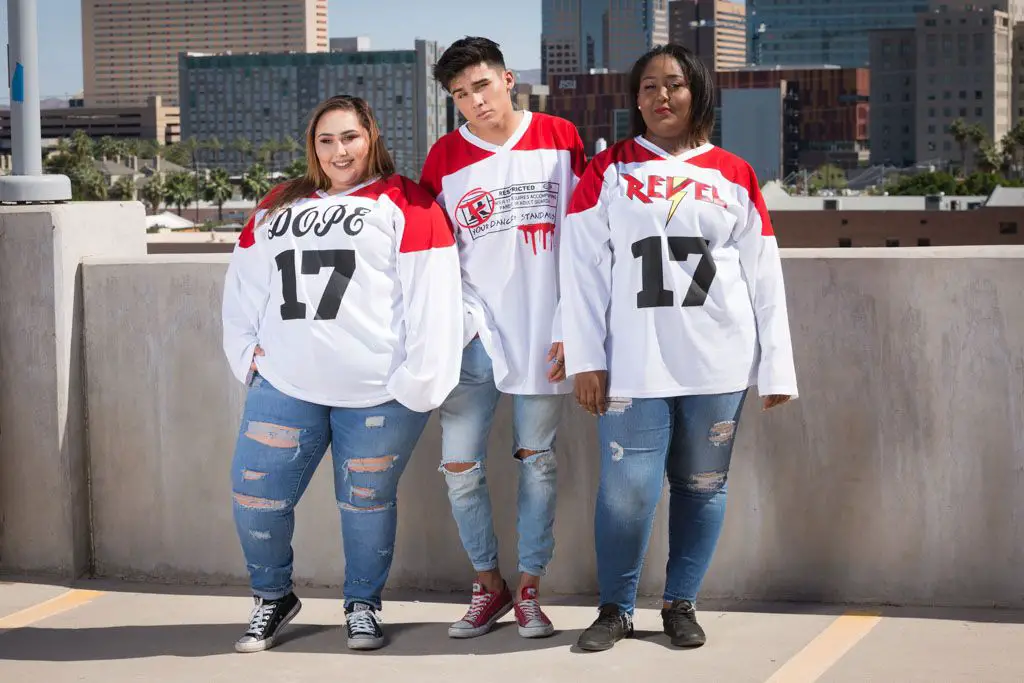 Recently, Revel was one of the featured brands in an annual fashion show called Raw Artist Phoenix, which included celebrity dancer, Amanda LaCount.
They also plan to delve into the non-profit sector by launching a foundation via an annual fashion show with proceeds going a scholarship to go toward a local dance studio, cover the fees for the dancer and provide Revel Dancewear gear for a year.
I was glad to chat with La'Toya about Revel, how it came to be, why it came to be, and what it will be in the future!
So, tell us how Revel Dancewear came to be? What was your inspiration?
Revel Dancewear was created out of need. As a mother to a curvy dancer, I became frustrated every time my daughter would get fitted for a costume or attempt to find dancewear that she liked and felt comfortable in. The last straw that broke the camel's back was when I attended Zyannia's high school dance recital. All of the curvy girls had leggings and tops on that did not fit them properly. I felt bad for them and starting thinking about ways I can help change this image.
I originally thought about creating a not for profit and donating clothes to the schools. But after talking to my daughter, we determined that it wouldn't reach the people like her, so we decided to create Revel Dancewear and open it up to anyone with curves. As an opportunity to inspire children that are afraid to dance because of body issues and the lack of clothing options. To encourage everyone to get out there and move, by taking a dance class or something they are interested in doing but they felt size was a limitation. We are overall inspired by helping others and giving back to our community. Revel Dancewear is inspired by and created for all curves. Clothes shouldn't limit your movement.
As someone who enjoys to dance in various styles, flexibility is definitely important. That "shorts riding up" life ain't a joke! What kind of fashion components did you incorporate into the pieces to make sure that the clothes were comfy and effective?
Our goals is to have a premium line that will help us address these concerns. The line will include leggings, shorts, and bodysuits and leotards. Right now, we've started with a wholesale approach until we gain enough capital to break into cut and sew. Being self funded we found it challenging to break into cut and sew early on.
We decided to take a different approach by starting out with multipurpose streetwear. It can be worn in the studio, in the club, or hanging out with friends and still look trendy. When we buy our items we consider the things that most do not such as arms, hips, and butt. We try every piece to make sure it fits our standards of quality. Our biggest struggle is that most wholesale vendors are not true to size. We end up sending a lot of items back or we take them to our seamstress for modification.
What exciting things are on the horizon for Revel? How do you wish to see it expand?
We always say that our goal is to be the next IVY Park for curves. Our plan is to grow into a one stop shop that is the preferred dance and street wear line for dancers with curves. As curvy dancers continue to hit the mainstream we want to grow and expand our options for new and established dancers.
We launched our backhanded compliments video and have continued to share that with others. We're also looking at future projects that will help with changing the narrative regarding curvy dancers and fashion.
Who are your fashion inspirations? Whether it be designers or celebrities with a particular sense of style?
I feel like we draw from several concepts as we are conservative but we're edgy and want to allow our community to standout fashion wise wherever they go. I would say we are inspired by Beyonce (Ivy Park), Wildabeast (Imma Beast) and Moschino.
I know this is hard but if you had to pick one song as a theme to Revel Dancewear — aka what you could see your models dancing to in your gear — what would it be? It would be a 90's compilation. We love old school hip hop. For example in our upcoming fashion show we created a mix that includes 90's Missy Elliot, Little Kim, and Remy Ma, with a little new hip hop such as Big Sean, Moves.
To learn more about Revel Dancewear, head to RevelDancewear.com!
It's more than a clothing line… it's a movement. How apt!!
Ladies, let's talk dance and streetwear! Which pieces of this rockstar line is your favorite? Put on those dancin' shoes and let's chat!!