The wide calf gladiator is one that is hard to come by. I have tried to write this post about two times and each time, these puppies have sold out! But as we are in the throes of this sweltering heat, I have found not only a few pairs to play in, but also a few plus size bloggers who are working it so fashionably!
Now, if you are wondering where the term Gladiators came from or why they are so damn popular, Just the Design explains it best:
As their name suggests, this trend is modelled on the historic sandals worn by the Roman gladiators. These sandals are known for their signature straps, which can consist of a simple cross-over arrangement cradling the foot and hugging the ankle, but can extend to ornate designs which incorporate panels or motifs and extend above the knee. Heels can be flat, mid-height, or high.
So while we are seeing these sandals everywhere and as plus size fashion is giving us on trend options, why not opt for a pair or three of these wide calf gladiator sandals?
First let me share the finds, because they are moving like hotcakes and then a few inspirations- yes?
15 Wide Calf Gladiators to play in for the Summer
Memory Foam Strap Up Gladiator Sandal at AshleyStewart.com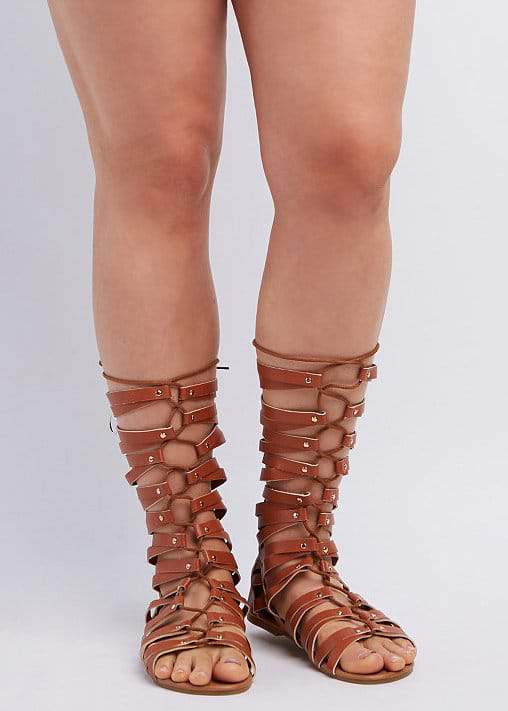 Wide Width & Calf Lace-Up Gladiator Sandals at CharlotteRusse.com
ASOS Fraternal Wide Fit Leather Flat Sandals at ASOS.com
Tall Gladiator Sandal at AshleyStewart.com
Bella Vita Oriana Ghillie Sandal at Nordstrom.com
Stuart Weitzman Gladiator at Zappos.com
Tall Wide-Width Zip-Up Gladiator Sandals at WetSeal.com
Flat Lace-Up Gladiator at AshleyStewart.com
Sole Diva Elasticated Sandals at SimplyBe.com
Wide Calf Gladiator Sandal at AshleyStewart.com
Tall Knee Gladiator Sandals at Torrid.com
Vero Moda Lace Up Sandals at SimplyBe.com

Tall Wide Width Gladiator Sandals at WetSeal.com

Wide Width & Calf Braided Gladiator Sandals at CharlotteRusse.comSooo many options, right? I mean. Heeled, flat, ankle or to the knee, there are a few ways to make it work for you!
Me? I prefer a nude or metallic option to keep it understated, but lately, I have been checking out the fun and bold hues… who knows- depending on my mood, I may able in blue or red!
But, if you need a few outfit options and inspirations, then check out these 6 plus size bloggers killing it with these gladiator sandals!
6 Plus Size Bloggers Slaying the Gladiator Trend
Clothes Minded by Jo
I am Weesha
I love the various ways that each made the look theirs. And that is what it is all about, doing what works for you and what you feel amazing in! I mean, why not?
What do you think of the trend? Would you rock it? HOW would you? Let's talk!