It was the night before Halloween and all through the house… every creature was stirring waiting to see, model Tabria Majors' Beylloween experience!
The plus size model has been killing it each campaign she's been featured in AND on Instagram. On the heels of her FTF Swim collab, we get this jaw-dropping and inspirational project!
SHUT.
IT.
DOWN.
The 30-year-old sprinkled teasers as bread crumbs across her timeline over the past few days and when the full video went live, it did, indeed, break the internet!
Tabria Majors' Beylloween Shut Halloween Down!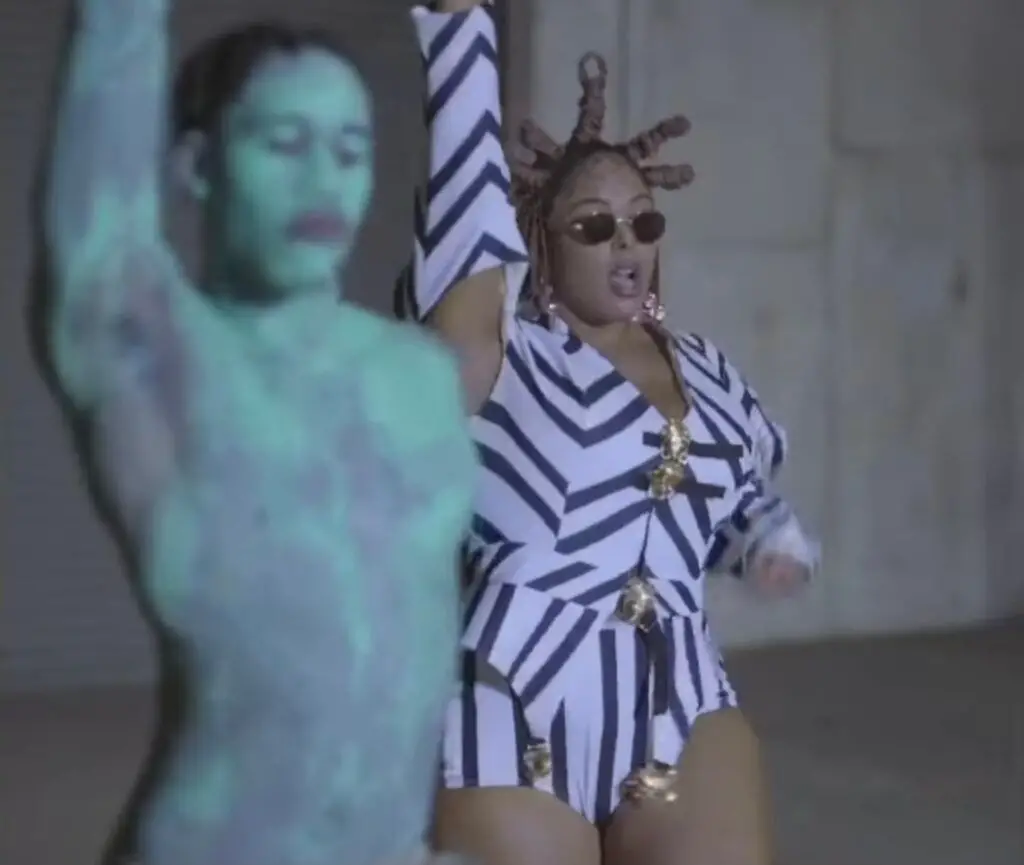 The captivating, Parkwood-esque production was choreographed by Kany Diabaté (who has actually worked with Beyoncé!!!) and directed by Matt Alves. The background dancers were lead by Jasmine Beaulieu and for the full credits, check out Tabria's touching sentiments because it truly takes a village to make something as magical as this happen. The Queen Bey bops and visuals that Tabria highlighted were 2003's "Crazy In Love," 2007's "Déjà Vu," 2008's "Single Ladies," 2011's "Countdown, 2013's "Partition," and 2016's "Formation."
But listen… Tabria Majors also included the infamous "Everybody Mad" performance from 2018's Beychella/Homecoming and a recreation of the "Already" visual featured on 2020's Black Is King that all feel like you're watching Beyoncé herself!
To execute Beyoncé and recreate every single look perfectly, it's clear that the big B stands for budget. Tabria expressed on Twitter that the project was entirely self-funded. Fun fact: Tabria had the "Partition" chaise customized for her size/weight and you have Set Designer, Lucy Holt to thank for that.
"It was incredibly expensive and I had to call in a lot of favors. In the end, I think it was worth it," she stated.
We are still gathering our edges and readjusting our wigs from this enticing display of sexiness. According to an Instagram Live interview, Tabria revealed she actually secured most of the actual locations where the original Beyoncé visuals were shot!
Did you catch that caption? Tabria called herself a nondancer. She has us fooled!
Another bomb she dropped was that Beylloween was shot in EIGHT days.
Do you know inspired us even more? How she was able to get many of the looks DOWN?! Like… we are still trying to discern if these outfits were custom 'cause honey, she was rocking each of these looks (in her size)! The glam team behind her looks were Sparkle Tafao on makeup, Yalina on hair, and Olivia Magdaleno on styling!
SHE OWNED THIS. Period.
Tabria Majors' Beylloween will go down in history.
It was, unfortunately, immediately flagged on YouTube almost as fast as it went up, but!
You can watch Tabria Majors' Beylloween video on beylloween.com.
What was your favorite part/look from Tabria Majors' Beylloween?!
While we may be at home, staying safe, this has not stopped various plus size influencers dressing up for Halloween! Have you?
Are you still participating in this year's festivities? Share your thoughts with us in the comments!