If you have been a follower of the blog, you KNOW that one of my favorite trends is what I like to call BOHO Luxe! An easy breezy, laid back chic style completed with natural fabrics dressed in teals, browns, olives, and all the shades in between, paired with chic accessories and details- I LOVE this trend which at times is a lifestyle of mines! Or maybe I dream it to be.
Anyways, for Spring 2011, continuing from Fall 2010 is the Boho Luxe and Bohemian Rhapsody look. From nature inspired and free-spirited to the Studio 54 Siren, the 70's trend has an essence of sex appeal and confidence woven into each key item.
70's Glam, The EVENING Gown, Denim Remixed, Bold and Saucy Prints are all key elements to this trend!
What to add to your closet for Plus Size Trends: Bohemian Rhapsody: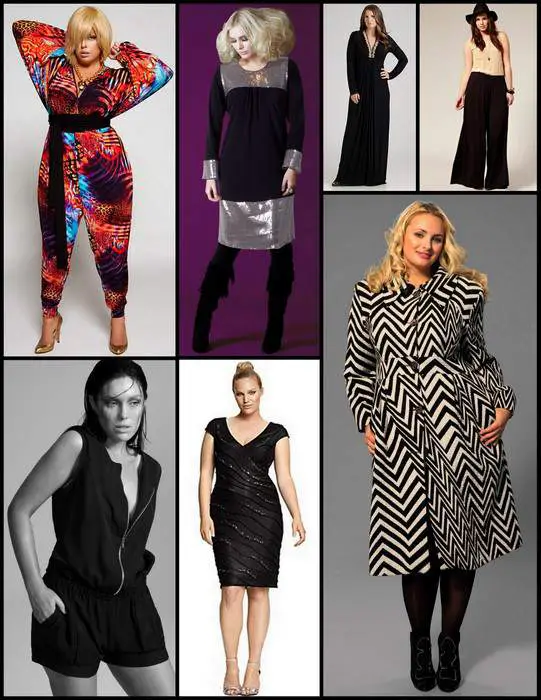 (Pictured Clockwise from left to right: Monif C. Jumpsuit, Anna Scholz Dress, Johnny Was Maxi at Nordstrom, ASOS Curve Wide Leg Pants, Anna Scholz Trench Coat, Tadashi Shoji Dress from Nordstrom, Damn You Alexis Jumpsuit)
Wide Legged Palazzo Pants
Deep V Plunging Necklines
Jumpsuits
High-Waist Pants and Shorts
Billowing Bow Blouses
Floor Length Gowns with high thigh slits
Metallics
Thigh High Boots
Make sure you check out designers like Johnny Was, T-Bags, and Rachel Pally whose plus size lines embody the 70's for your day to day wear!
Don't forget to Accessorize to Maximize your seventies Glam! The Jewelry: pile on lots of jewelry from fancy cocktail rings miles of bangles, and the strands of beaded necklaces!
Stay tuned for more Spring 2011 Trends for the Plus Size Woman!
Are you a fan of the 70's ?