It's a New Year, but a lot of us are still enjoying lounging about as we phase into this new decade. While you're enjoying your at-home vacay or just chilling in your spare time, wear your best plus size Pajamas.
You may not be going anywhere, sporting something cute and (more importantly) comfortable can make you feel like you did something — even if you did nothing at all.
Honestly, when it comes to plus size pajamas, we have a tendency of just throwing on an old T-Shirt and boxers that we stole from bae's closet. But now that we're in 2020, it's high time we do better and treat ourselves to some real sleepwear pajamas.
And the ones we're pulling for this new decade are far from the nightgowns your mom wore.
As of late, a lot of people have been borderline wearing sleepwear and lounge wear as clothing in these streets daily. We're obsessed with the fusion, however, some of us just want a regular degular plus size pajama set — one that's very obviously meant for your couch and bed.
Listen, we've got OPTIONS! There are slinky sexy negligees from Hanky Panky and how can we forget the sick sets from Savage x Fenty's lineup?
Ready to shop? Here are some of the best (we think) plus size pajamas on the market.
12 Really Cute and Playful Plus Size Pajamas You'll never want to take off!
As The Curvy Fashionista editors, we write about stuff we love and we think you'll like too. We often have affiliate partnerships, so we may get a share of the revenue from your purchase.
If you're still on the wave of the tie-dye trend, let us be the ones to tell you these joggers are perfect for staying in. Brought to you by Polaroid, this is the nostalgic-inspired lounge wear you want in your underwear drawer. 
Boohoo has been offering some really cute plus size pajamas that you'll want to wear to a slumber party. This one is a classic outlined PJ set that's currently only sold in a size 24. And yes, it comes in black and white. 
Photo Credit: www.hankypanky.com
Your pajamas don't have to be the traditional top and bottoms. Some of us like to get cute for bed and this Hany Panky nightie is made with the brand's signature lace style. The straps are also adjustable straps and it's approximately 35" long. 
Obviously, ASOS is a must when looking for cute plus size clothes, but have you peeped their sleepwear? This cute pajama shirt is button-down style with outlined cuffs and a matching pair of ruffled red cheetah print shorts. 
Photo Credit: lanebryant.com
Cacique from Lane Bryant has stepped up its game in the last few years. You can grab this color-blocked combo for $42.95 and the matching top for under $40. Plus, these are knit, so they'll keep you super cozy. 
Photo Credit: savagex.com
Combining sexy and comfortable is made easy with nearly everything in the sleep and loungewear lines under Savage X Fenty. These shorts feature the Savage X logo all over. And though they only offer cheeky coverage, they're an easy solution for a night where you're "in the mood." By the way, here's the matching crop top turtleneck.
Photo Credit: tomboyx.com
To us, TomboyX is one of the forgotten destinations for sleepwear and lounge wear. You can grab these cool non-gender-conforming joggers in a variety of print. Plus, everything in the brand goes up to a 4X. 
Don't knock Kohl's for plus size pajamas. Lauren Conrad currently has her own line and this confetti pajama set is straight from LC's collection. These cute PJ's are exclusively offered in sizes 1X to 3X. 
Photo Credit: anthropologie.com
Who says that your flannel has to be dark and checkered? This Anthropologie plus size flannel pants (and top) is perfect to take you into the spring season and beyond. Available in sizes 1-3X, you can snuggle up in style!
If you're prepping your Galentine's day early, may we suggest this adorably pink PJ set from Boohoo? Sadly, you can only get this in sizes 12-20 on the boohoo website, but it's currently on sale for $13.20!
A little animal print fun on your pjs? Ohhhh, yes! This made for Macy's set is sure to add a little excitement to your pajama wardrobe! This set is available up through size 3X!
There are some people who take their sleepwear very seriously.Have you checked out Target lately? Stars Above is giving you a modal blend in this cute pajama set. Offered in sizes up through a 4X, you can nab this $25 number. 
Regardless of your personal style, there's something in this list to fit a nighttime and daytime lounge look to reflect you.
Pajamas are sometimes the last thing you're looking for until you need some. Let us be your saving grace in your time of need!
Are any of these plus size pajamas calling your name? What's your stay-at-home mood? Do you prefer sleeping in less constricting clothes or something sexy?
Love it? Pin it and save it for later!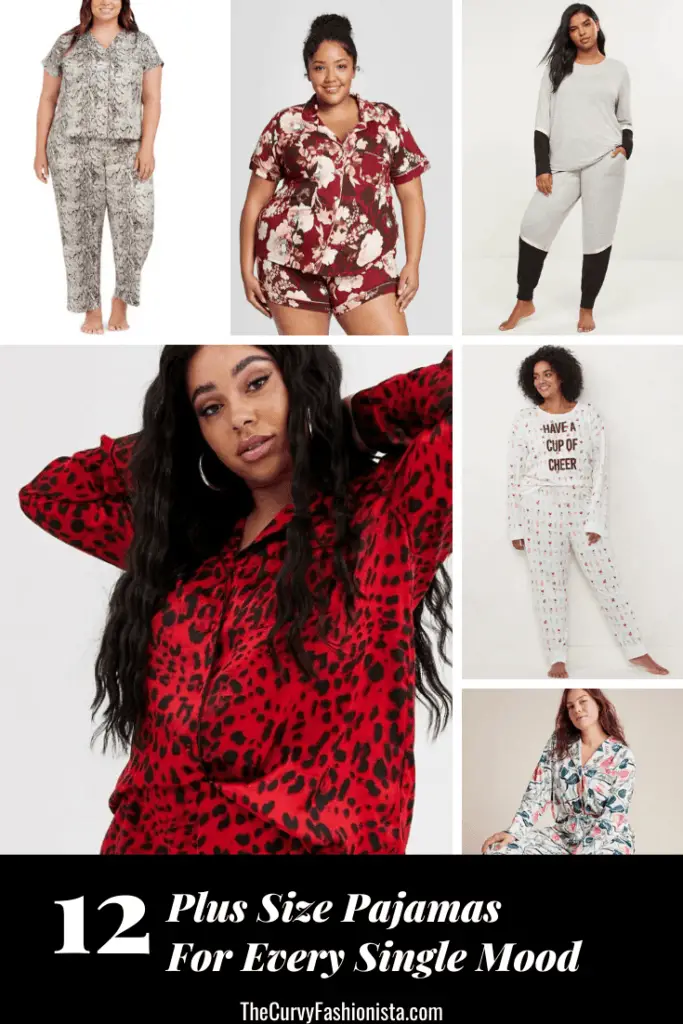 Let us know your thoughts in the comments below!