Ready for the weekend?? We here at The Curvy Fashionista certainly are, and we hope that part of your weekend activities includes catching up with our fashion blogger spotlight! If you missed us last week, get our spotlight on Tracy of BRXTRMN here and then stick around for today's spotlight – the lovely Denise of Fashion Love Letters!!!
I first found Denise on Instagram. Her gorgeous and colorful photography will catch your eye – she seriously must have found all the wall art in Chicago! If the photography alone weren't enough, Denise's beautiful, feminine style will keep you scrolling through her feed and have you coming back for more! Denise of Fashion Love Letters is a plus size blogger YOU NEED TO KNOW!!!
Meet Plus Size Blogger, Denise of Fashion Love Letters!!
Blog: Fashion Love Letters
Age: I just turned 28 (let's pretend 27 still)
Height: 5'3″
Location: Chicago, IL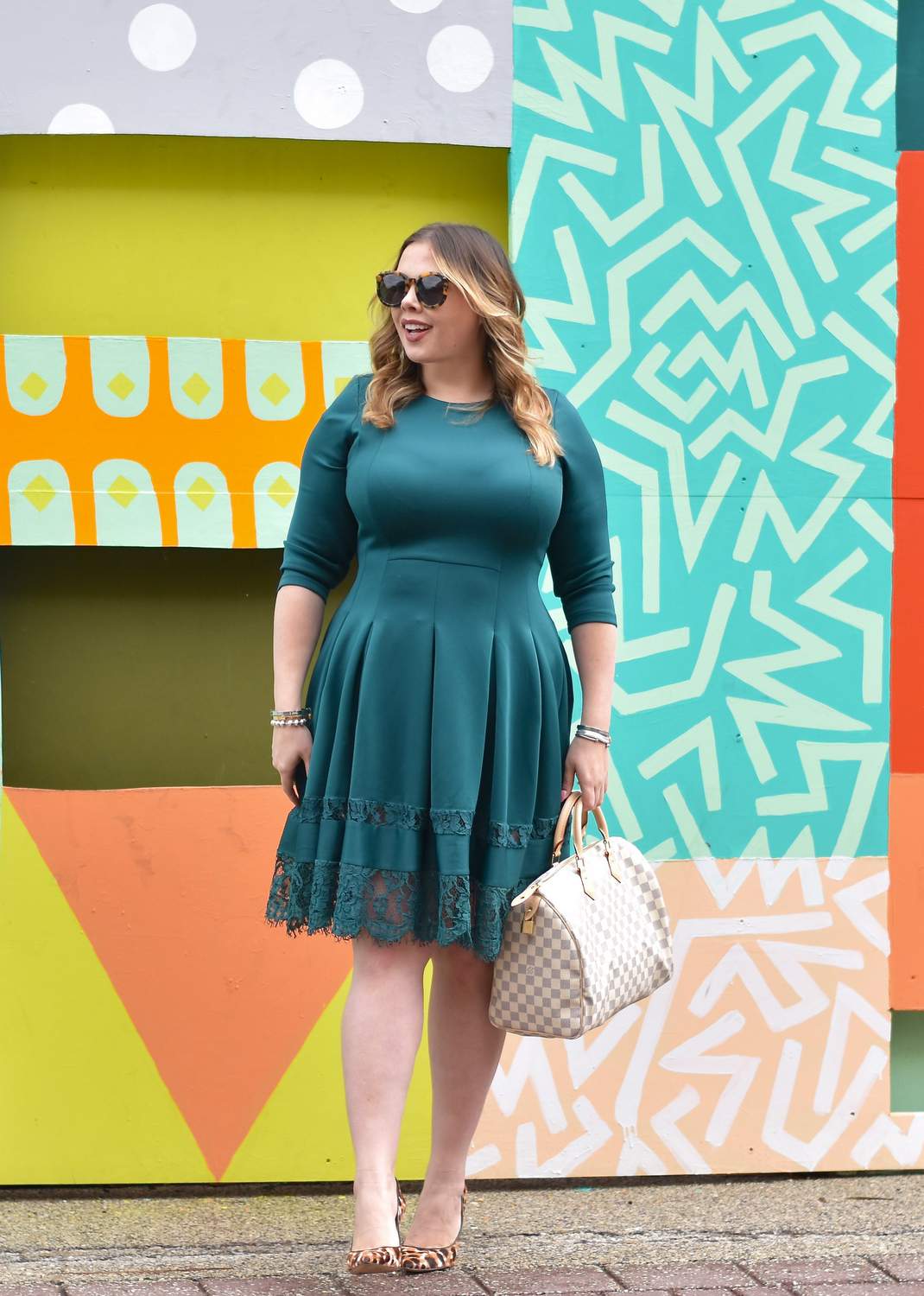 How long have you been blogging?
I have been blogging for a little over two years. My blog officially started in October of 2014!
What or who inspired you to become a fashion blogger? What led you to it?
I moved back from Korea in September of 2014 where I was teaching English. When I moved back I did not have a steady job, so I decided to start blogging as a hobby. I have always loved fashion and loved reading other blogs, so I figured why not give it a shot. My first few months of photos were NOT cute haha.
Do you blog full-time, for fun, as a hobby? Share your evolution!
No, I have a full time job as well. Blogging is definitely full-time for me at the moment, but I also have a 9-5 as well. I am not sure I could ever blog full-time, although I do think it would be fun! I work for a technology-based math program here in Chicago and I travel between several schools that run the program.
What is your favorite asset? Your legs, arms, waist? How do you play that up?
You know, it changes for me…. is that weird? I am quite short, so I tend to wear heels a LOT. I have pretty thin legs in comparison to everything else, so I do always try and show those off. But, I am also always trying to find pieces that will define my waist as well!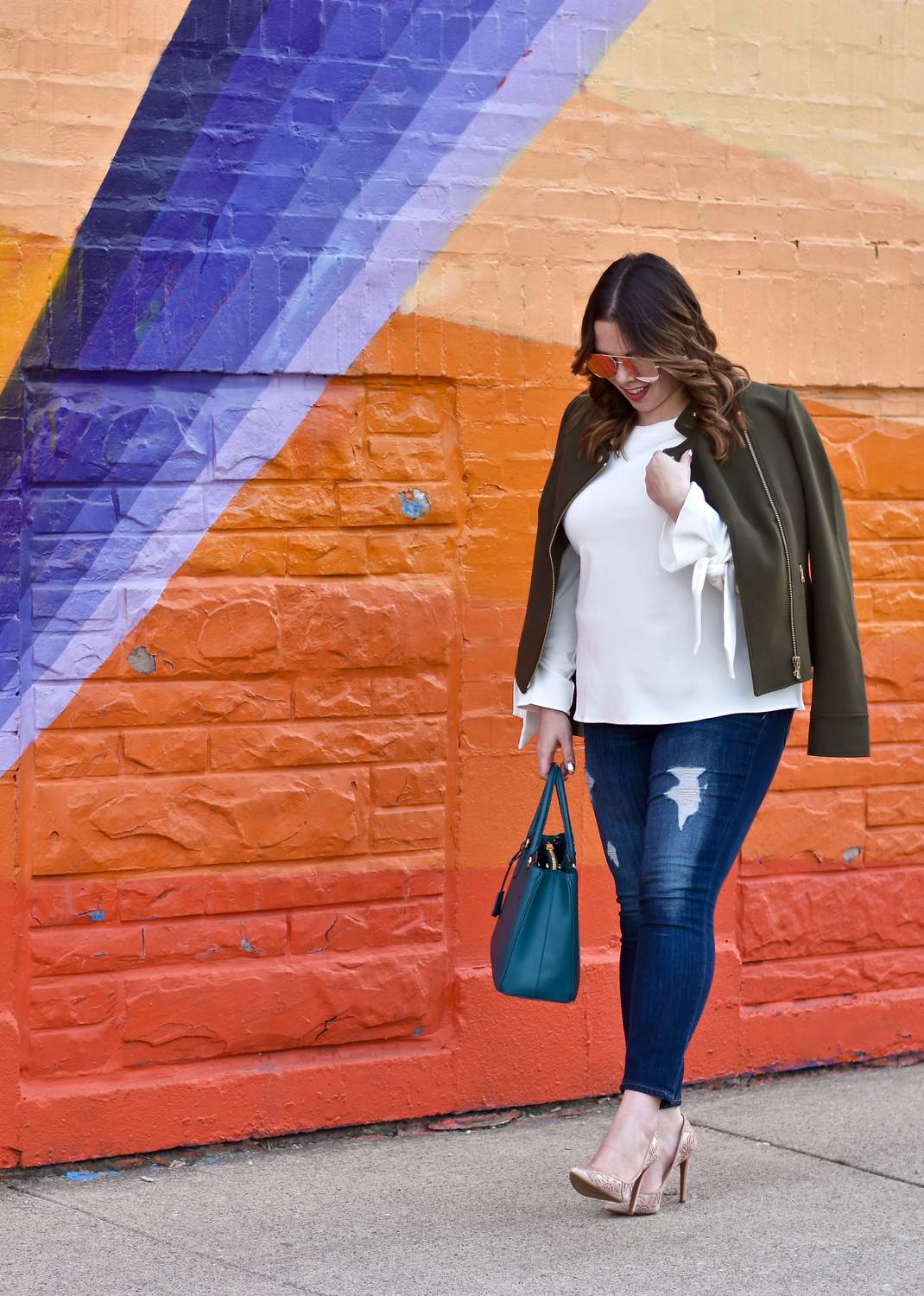 What are the challenges, if any, you face regarding being plus size?
This is tough for me because I kind of straddle the line between "plus size" and "regular size." I wear anywhere from a 10-14 in clothing brands. I do have to get things tailored, but it has always been difficult. A lot of companies I have tried to work with have told me I am too "big" to fit into their clothing, and I think for me that was the biggest let down. It really hurt, but it also allowed me to really see myself and understand my body and my size.
What's your favorite thing about being plus size?
I would say my curves. I think curvy women are beautiful! I know for so many of us, it is so tough. I think for so many women, there were not cute clothes for a very long time, and sometimes it still feels that way! I love being able to find cute pieces that fit a larger chest or bigger hips.
What's your favorite thing about being a blogger?
I think it would have to be the people I have met along the way. I have met shop owners, singers, big brands, other bloggers, and my readers. It is sooo nice to have such a large community around me. I think the best thing though is when readers tell me that they bought something because of me.

Who/what are your favorite designers/brands?
It really depends on what I am looking for and what I need. I shop at Asos alll the time, and used them when I lived in Korea as well (they shipped there). I recently have a new love interest with Eloquii, and I am obsessed with their dresses!

If I could afford it, I would wear Kate Spade dresses every single day…. but they are quite expensive! Quick shoutout to Eliza J and Rachel Pally for making amazing dresses in regular and plus size!
Describe your personal style.
My personal style I would say is dressy and quirky. I almost never wear pants…. I own like 3 pairs of jeans and just rotate them. I hate pants, and some girls at the school last year kept count of how many times I actually wore pants to work. I love dresses and have found that they really do my body justice. I like anything that makes a statement, whether it be a dress, shoes, or a bag. I always like one piece in my outfit to have a voice… if that makes sense.


Which bloggers inspire you? Plus or straight size! Any bloggers currently on your radar?
Gosh, there are so many. I think the first blog I ever started reading was Atlantic-Pacific and I still love her style. She is over-the-top sometimes, but I love it. Looking at her feed makes me think of a runway.

I love a lot of bloggers that I have become friends with as well! Straight A Style, she is the sweetest and her fashion is so relatable. The Boho Socialite is built more like me, but her take on boho is so fun to watch. Mustang Sally Two is a plus size blogger (we have met in real life) and she is so open about her experiences and is the sweetest person.

What do you think about where plus size fashion is today versus a few years back?
It has expanded for sure! I remember shopping at Lane Bryant years ago for family members, and thinking, wow, this all looks so frumpy and old. It was kind of a hunt to find trendy and cuter things for them. Now, I feel like so many brands are getting trendier and creating pieces that we would want to wear, not what they think we should wear.
What do you think or hear from readers, is one of the biggest myths about plus size fashion?
That because it was made for plus size, it will automatically fit us better. I still have so many struggles with clothing not fitting properly. I have a very large chest, and I think I even expected plus size brands to just fit better up there, but that is usually never the case!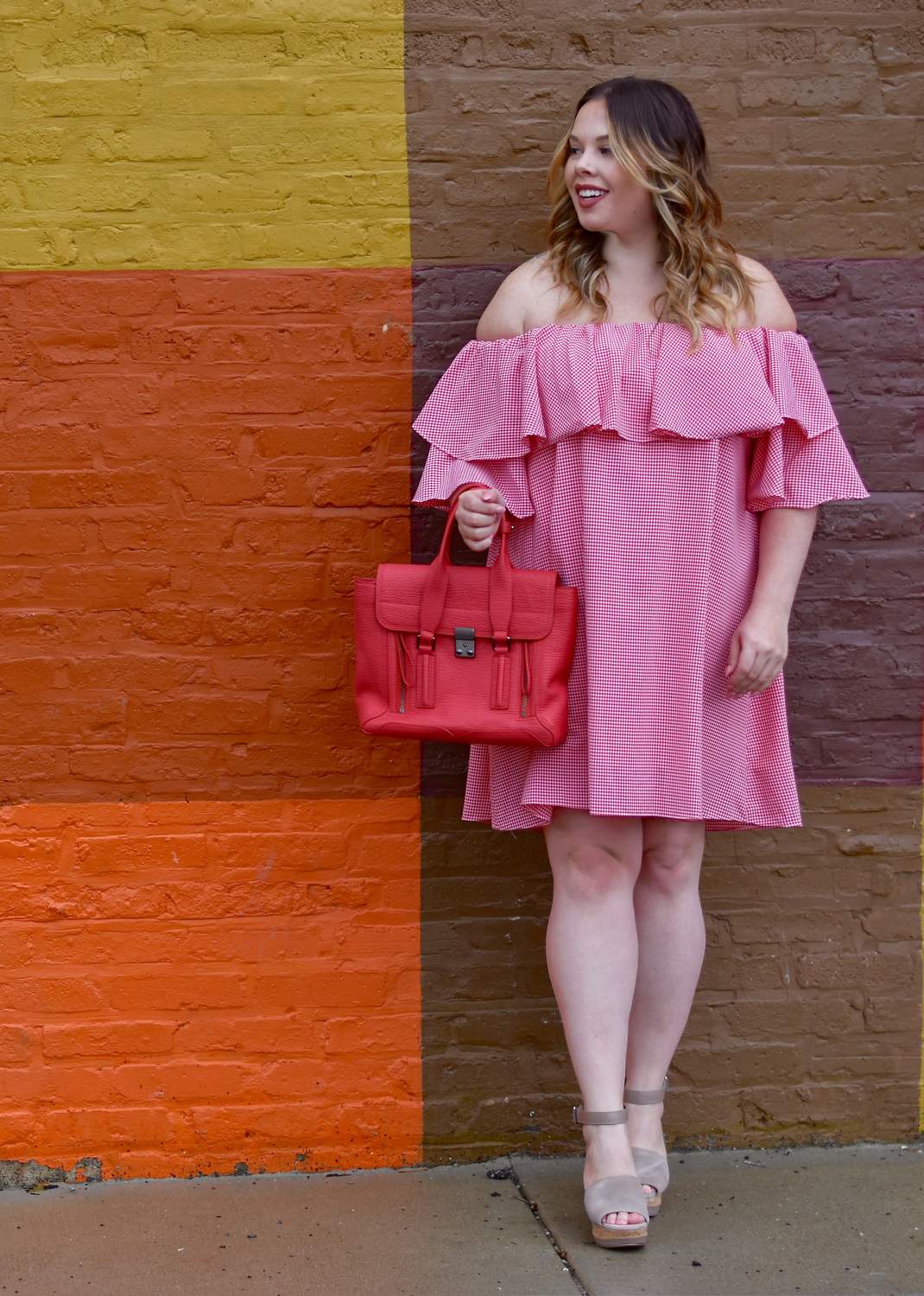 Are you working on anything or have anything to share?
I am always working on something haha. Just a few fun brands here and there!
Anything else you want The Curvy Fashionista's readers to know?
To always stay true to your style. If you see something on a blog, find your own spin on it, to keep it authentic. Also, reach out to bloggers with questions! I cannot tell you how many weird and random questions I have answered, haha!
Lastly, what does Curvy.Confident.Chic mean to you?
It means being able to rock whatever you are wearing and not feel uncomfortable. Wear that dress without Spanx, don't pull at your buttons all day because of that "boob gap". Wear whatever you are wearing with pride and make wherever you are your runway.

Do you dig her style? Which look is your fave? Let's talk about it below!!
Want to be featured?
Make sure you fill out your deets here,
so that we can feature you!
Looking for more plus size blogger style inspiration?
Make sure you check out all of the other plus size blogger spotlights!