Happy Tuesday, fellow curvy fashionistas and fashionistos!
Are you ready for some new plus size fashion? We have a brand new You Oughta Know for you and we're getting a bit sexy and seductive today! Last week, we introduced you to the Atlanta-based designs of Wolé Designs. Today, we're taking a trip across the pond to the United Kingdom for some flirty, frilly plus size clothing and lingerie coming soon to a boudoir near you! Please meet plus size boutique, MintedDiva.
"I noticed that as a plus size woman, I regularly would have to search between at least three brands to complete one outfit. I created Mintediva to elegantly dress women from undergarments to the outerwear from one store front. Plus size women should have the same luxurious fabrics and sculpting provided to mainstream boutiques."
Founded by UK fashion designer and boutique owner, Charlene Lecky, Mintediva is a playful nod to English slang (Minted being London Cockney rhyming slang for having loads of money), as well as the fierce and powerful women the brand is designed for. Being plus size herself, Charlene is no stranger to the frustrations that occur when shopping.
You Oughta Know: Plus Size Designer Mintediva
Mintediva is a brand that "wholeheartedly endorses the body positivity movement, and strives to help facilitate it for their customers." They know that the plus size movement is gaining some well-deserved and much-needed recognition!
Plus size fashion does not stop at just the clothing! It also applies to the undergarments- and there is soooo much room for this market to grow and Charlene has noticed an opportunity here…
Diamond Look Swimwear Set, Pre-order from Mintediva
Lace Reveal Corset, Pre-order from Mintediva
Having always possessed a flair for design, Charlene knew at an early age that she wanted to make the designs in her head a reality. It's taken three years of persistence, for her dream to come to fruition in the form of Mintediva.
" As my mind expanded with more design concepts, I was told to 'get back into the box' or to 'downscale my vision' numerous times but, I endeavoured on to create as much of the sample designs from the first collection, as I could."
Glitter Noir Dress, Pre-order from Mintediva
Blanc Lace Extravaganza, Pre-order from Mintediva
To take her dreams from England worldwide, Charlene has created a Kickstarter, to crowdfund the resources she needs to take her designs to the next level. It is her hope that for everyone who participates in the campaign, by backing her project, they will help spark the excitement plus size women will feel when they find an item that is beautiful, glamorous and in their size.
With Mintediva, this is a mood they want to have their customers feel always.
"I want to show plus size women, well women in general that even though there are adversities, even though some may not see you as royal; we can overcome and continue to overcome obstacles to bring our creative dreams and vision into fruition."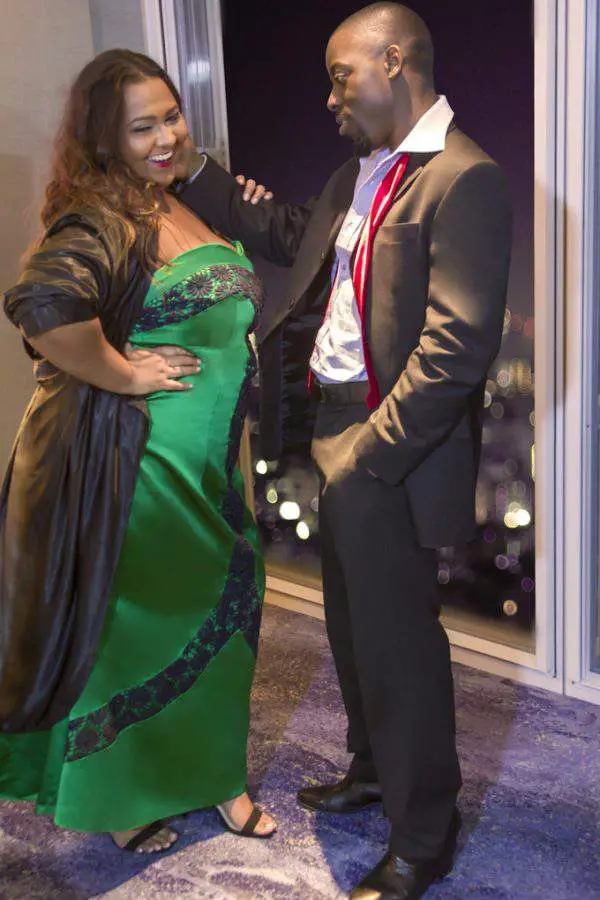 You can learn more and back the Mintediva project at Kickstarter.com!
I am a sucker for stories where women, armed with a "can do" attitude, seizes the opportunity to be the change they want to see in the world. While the offerings at Mintediva are not abundant (yet!), the potential for greatness is apparent, and I think it would be a great feeling to say one day when they blow up that you had a small part in their success. And that is precisely why I believe You Oughta Know Mintediva!!
Read all about what backing this Kickstarter project will entail and everything that is to come for this exciting new collection of plus size fashion and lingerie, available in sizes up to 28! Let me know which look was YOUR favorite in the comments!
AND if you are look for more places to shop,
make sure you check out our Plus Size Boutique Directory!
Until next time!!