Evans has done it again with word of its latest collaboration due to hit the stores and website for spring/ summer 2012.
Husband and wife designer team, Clements Ribeiro has just signed on as its newest and latest collection- and I could not be happier! For the last twenty years, Suzanne Clements and Inacio Ribeiro have taken to the catwalk with high fashion and a following to match! Clements Ribeiro is known its femininity and bold use of print and wool.
Clements Ribeiro and Evans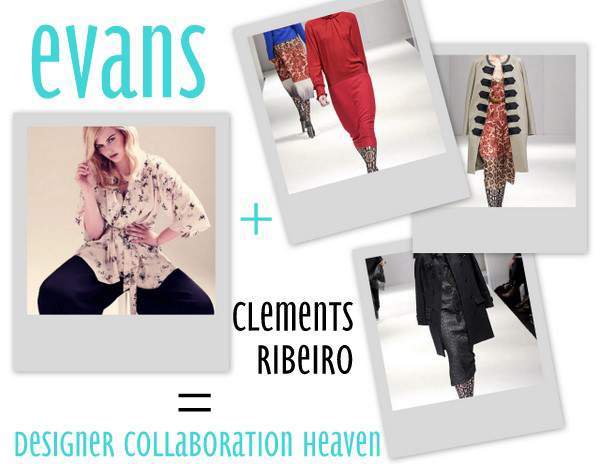 As shared on Racked, Inacio Ribeiro shares "Suzanne and I are very happy to confirm we are creating a line for Evans to be launched for spring-summer 2012… Fashion is waking up to diversity and acknowledging the different needs of women of all shapes, colors, and sizes. It is a very exciting opportunity for us to use our design skills, in order to create beautiful clothes for a market that has been largely neglected by the higher end of the industry. We are creating fantastic prints, great shapes, and great knitwear, of course."
This design duo is no stranger to the collaboration and designing for a particular client! From 2000- 2007, Clements Ribeiro fashioned a critically acclaimed line for Cacharel in Paris! Their collaborations with Dorothy Perkins were amongst their designer collaborations that went along famously! The most recent collaborations include: Iittalia, Blossom Mother and Child and couturelab.com.
WOOT!
For this collaboration to happen with Evans, I am beyond geeked to see what Clements Ribeiro will have in store for all of us!
Are you excited as I?
In the meantime, make sure you check out Evans and Clements Ribeiro!