Hey girl, hey! I just wanted to take a few minutes to let you know about some plus size art that I discovered while in San Jose last week. You guys know how much I just LOVE it when artists celebrate US in ways that are authentic and bold. However, what I love even more is when artists simultaneously encourage YOU to celebrate your body in whichever shape it is in. That's why I just HAVE to shine a light today on June Stevens and her fab Etsy shop, Once More With Feelings.
An author by trade, June dabbled in printables in her free time – just for fun.
One type of printable she played around with was greeting cards. Many of her cards focus on things that you wouldn't normally find on display at Hallmark. The REAL issues that people face on a daily basis. Things like depression, anxiety, and fibromyalgia, which have been labeled as "invisible' diseases because they can wreak havoc on a person yet have no physically visible symptoms.
Cards & Prints for when you want to say what you are really thinking. – Once More With Feelings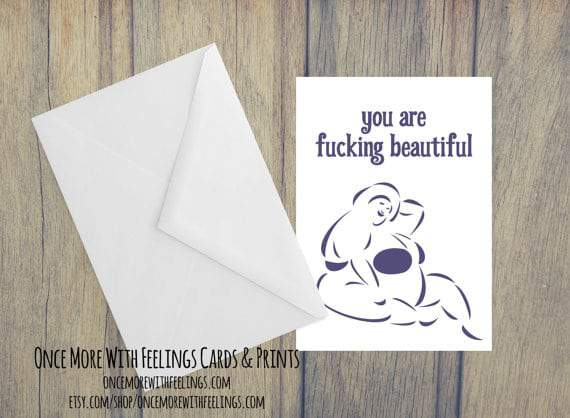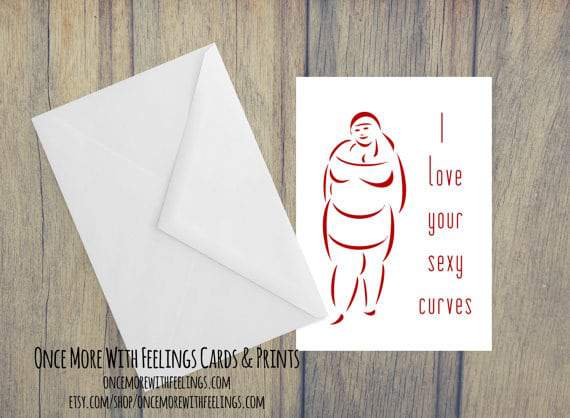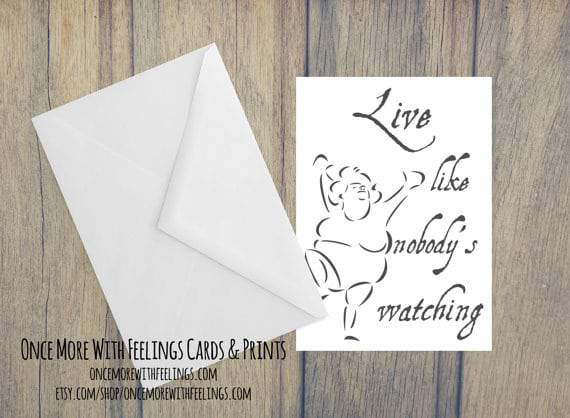 She also has cards dealing with things such as divorce, getting older, parenting, and retirement – all of which can be emotionally challenging parts of life. And she does so with a voice that I soooo appreciate. She doesn't sugarcoat things. In fact, she is rather blunt, sometimes silly, and sometimes a bit snarky. I love the way her cards feel like what people would say if they said what they were REALLY feeling (hence the name of her brand).
If you check out her Etsy shop, you will see that she has quite a few categories of cards that she creates. However, the one that automatically caught my eye was the Body Positive/Self-Esteem category. LOVE it! With cards telling us "you are effing beautiful" and "live like no one is watching", this category has given me LIFE!
You can shop them all at
Didn't I tell you? She's great! Did you see a print that you wanted? Tell me which one was your favorite.