Okay, ladies! Although Valentine's Day is just around the corner (time flies, huh?), TCF wants to encourage all of you to practice a little self-love all year round! We have all had a tough couple of years and may still be walking in the thick of it! Nothing says self-love like a DIY Boudoir Shoot! Break out some sexy lingerie or that dress that hugs all your curves just right; set up your props camera, and most importantly, feel good about yourself!
What's Needed for a DIY Boudoir Shoot?
Glad you asked! When they see or hear the acronym DIY, some people's eyes begin to roll. But the wonderful thing about DIY is this…it is for YOU! No time constraints, no awkward moments, no running up a tab. Also, don't be misled and think that DIY is low budget. I like to call it gorgeously affordable! Just because it's DIY doesn't mean your boudoir shoot has to be cheaply put together! If social media hasn't taught us anything, it should've taught us how to be resourceful in selecting items needed for DIY photoshoots or reels.
There are so many options to make your shoot unforgettable, from colorful backdrops, trinkets, pillows, and such! Think about what you want and go for it! Take notes on different concepts and even poses!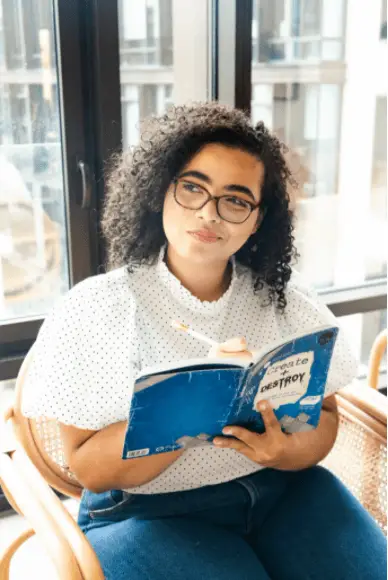 Check out these tips for a beautifully created, exquisitely done, DIY Boudoir Shoot! Let's have fun with it!
1. Get in the Right Head Space
Not too long ago, there was an article in TCF that was all about affirmations. So before you get into switching up your space or digging through drawers to find your favorite lace stockings, take some time to get your mind right. This moment is for you!
Go back and read 21 Self Care & Self Love Affirmations for Plus People and sit a while – all to yourself. Be thankful for the moment and for being present in 2022. Celebrate your body and its imperfections. Speak life into your heart and smile! You are beautiful!
2. Set the Stage
You are your own director! A "classic boudoir" is a woman's bedroom or private sitting area (hence the french word "boudoir"). However, in 2022, we are doing whatever we want to do! So set the stage anywhere you desire!
Want to stick with the "bedroom" scene? Make up a beautiful bed with beautiful linens, fluffy pillows, or not! You can be as neat or as messy as you want! Have a dope window that faces a fantastic view? Take a photo looking out onto the horizon! Want to do a kitchen scene? Clean it up or not, depending on what you have in mind! Have a plain colored or even a textured wall? Use it as your backdrop, or create a background using sheets, fabric, or a pre-made backdrop! This is your DIY moment!
3. Get the Look!
Now, this is the moment we have all been waiting for…dressing for your DIY Boudoir Shoot! Of course, what you wear or not wear is totally up to you and your comfort! So consider stepping outside of your own box and trying something new to make you feel sexy, sultry, and sensational!
Choose your makeup look, shoes (if any), and accessories. Go for it! Check out different looks on Pinterest or even Google "Boudoir Ideas" for some added inspiration!
4. Ready for Your Close-Up?
You have set the stage and created your look (or looks). You know where and how you will pose (or at least have some idea). Great! So, what about the camera? Camera? Cellphone? I would suggest a tripod to have the freedom to move around. If not, then prop up your phone using what you got!
Play around with lighting, either with a ring light or whatever you have. Don't stress over what you don't have and only focus on what you have. Do a few test runs to check for spacing. Use little pieces of paper to mark where you should be to flow creatively! Have a friend that will be a photographer for the day? By all means, use them or even make it a day with your closest friends and take turns! Solo or note, the key is to enjoy yourself!
Want to give this DIY boudoir shoot idea a try? Share your DIY Boudoir Shoot looks with us! Let's promote self-love worldwide, Fashionistas!