Hey Girl Hey!
Every now and then on the blog, we get a moment to shine the spotlight on artists displaying their love for the plus size physique in all forms of media. It's always a feeling of "you go girl" or "yassssssssss" when seeing these illustrations portraying us plus size girls as mermaids, superheroes, cheeky pinup models and my personal favorite, the Disney Princesses. No stranger to the pages of TCFStyle, Jonquel Norwood's body positive, curvy girls images have encouraged, motivated and inspired plus size women all over the world. Shouting to the world, that regardless of your size or weight, we are worthy and beautiful. So when we caught wind of Jonquel's latest project, "Magic At Any Size" series, we knew that we had to highlight this collection and share it with you!
You see, I've always been a fan of Disney princesses growing up. I loved how they overcame evil and always found their prince charming. Maybe the only issue I had was the lack of diversity within this prestigious set of fairy tale beauties. Not just in the terms of their ethnicity, but in their body. Growing up plus size with very little imagery of myself was a bit of a downer. I would have loved to see at least one Disney princess who wasn't stick thin. And this is what I love about today's plus size artist spotlight, Jonquel Norwood!
Check out how Jonquel reimagines and serves us the new Plus Size Disney Princess while rocking a few familiar pieces from a few fave plus size designers and brands!
Jonquel Norwood's "Magic At Any Size" Series
Cinderella
Snow White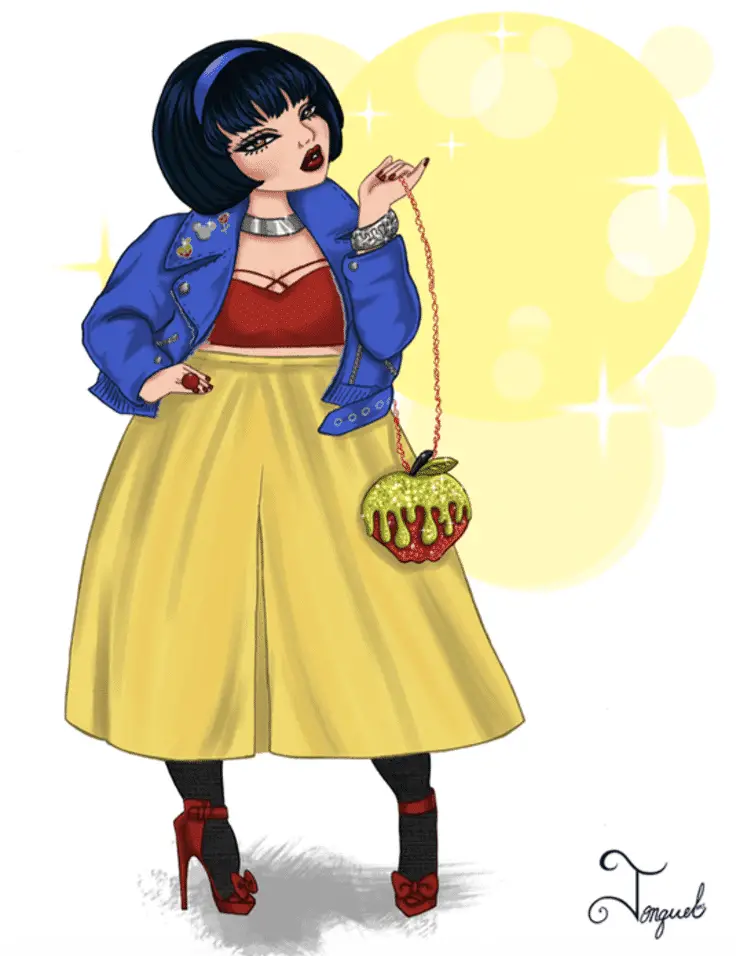 Tiana
Belle
Aurora
Ariel
Jasmine
Isn't this too cute!
Inspired by many of her favorite brands and ours, these plus size beauties are donning the hottest trends in plus size fashion. Snow White rocks out in a Lane Bryant's Christian Siriano cobalt bomber jacket and Society+ inspired cage crop. While the mermaid Ariel's gets dress up in a peplum dream inspired by Courtney Noelle's Lynn dress. I love how fashion inspires art and vice versa!
All I really want to know is….When is Tiana's two piece going online? I need it!
You can learn more and comission her work at jonquel.com
Which is your favorite? Really, what's not to love about the pure bad ass plus size girl positivity going on right now?
Thanks Jonquel for keeping us inspired!