You have to love when a few pieces of art motivate and move you. But what happens when life inspires you to make art to make a definitive statement? When life pushes you to help, motivate and inspire others to love themselves? Well, this happens to be the case for high school student, Mikhaila Nodel created the message driven zine, Cosmic Cuties!
Cosmic Cuties are feminist goddesses who protect women all over the universe! Mikhaila fashioned Cosmic Cuties to be "feminist goddesses that watch over all women" who were born from space dust! They "slow down the universe and fight sexist crime."
I love this and with themed topics and issues addressed, Mikhaila gives us something to think about, celebrate, and to channel our inner badass superhero with! And rightfully deserving of today's plus size art feature!
Mikhaila shares with Proud 2 B Me how Cosmic Cuties started:
Cosmic Cuties started as an art project. A lot of my friends are insecure and a lot of teenage girls are really insecure about their bodies. I decided that I wanted to make people's day better so I started making zines and I left copies of them in the girl's bathroom so that people could just pick them up. I think it's a really cool idea to make something that makes people feel better about themselves. I think that's really important.
Using markers to fashion her zines, I share with you my favorite Zine titled, "Cosmic Cuties for Body Acceptance" that you can buy on Etsy for only $4.00!
Cosmic Cuties Against Fatphobia by Mikhaila Nodel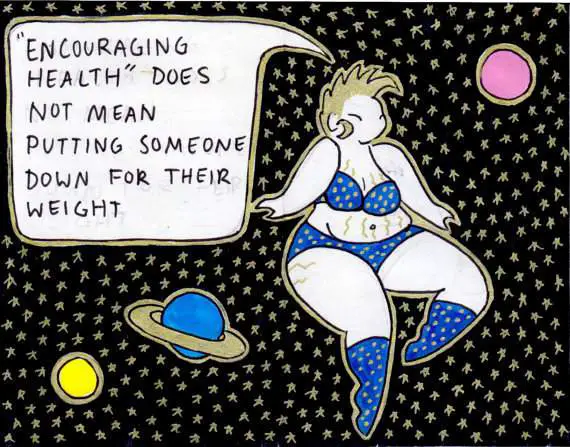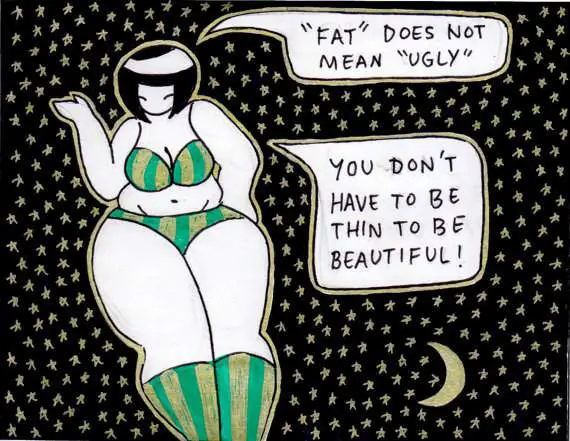 How cute are these? I wish I had these in high school! Wouldn't you buy them? I am sooo hyped that this came from a high schooler! Color me inspired! If you want to see more from the Cosmic Cuties, you can buy her other zines on Etsy.com:


Cosmic Cuties on Gender on Etsy.com | Cosmic Cuties and Body Hair on Etsy.com
Make sure you like her page on Facebook: Facebookcom/cosmiccutieszine
Isn't this really cool!