For the longest time, finding cute, fashionable, and structurally sound active wear for the plus size woman was a chore. For the longest, we were relegated to t shirts and men's workout gear, but this is changing! Just as the climate for plus size fashion is changing, so are the options for plus size active wear. Brands are paying attention and giving us what we need and such is the case with Los Angeles based plus size active wear company, Just Curves! On the heels of a successful Kickstarter campaign, stellar show for FFFWeek, and rocking out their booth for the TCFStyle Expo, Just Curves is back with a few more pieces to add to our wardrobe!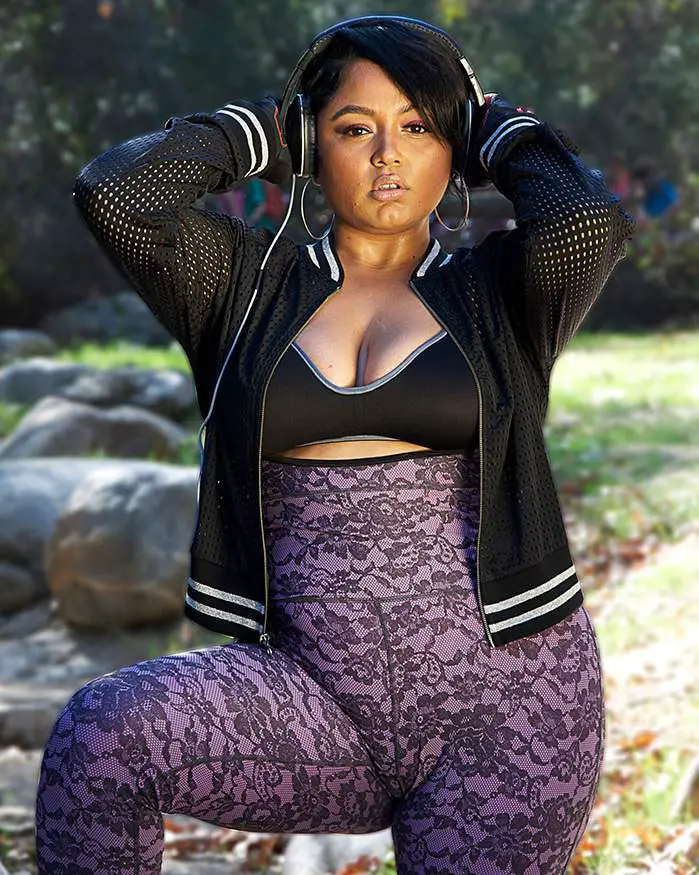 If you are not familiar, Just Curves is body-positive active wear for women sizes 10-28. Remember the OnderSuit that I shared on Facebook? (Are you following us over there?) Well, THIS is THAT company! Made in the U.S.A, Just Curves offers us chic, comfortable, and fashion-forward options, with a bit of attitude! The reason for the launch? Founder and designer, Yolanda shares it best:
"Clothing is emotional. Whenever you put something on, you feel something about yourself and others feel something about you too. Why not feel sexy and confident while you're working on your fitness? When you look good, you feel good, which boosts confidence, and helps you reach your goals, which is my mission for the woman wearing Just Curves."
And now, she has a few more pieces to add to the collection, teasing us with what is to come and what is already on sale! Are you ready to see? Well, let me show you!
I recently scored the leopard tights, and let me tell you, I will need about ten more of these to add to the mix! The fabrication is seriously top notch and constructed amazingly! I am here for them!
What else does she have coming up? Take a peek at the Just Curves FFFWeek Runway show!
Just Curves at Full Figured Fashion WeekJust Curves rocked the runway at #FFFWeek with pieces that will take you from gym to drinks without missing a beat. Sign up today and get notified when your favorite pieces will be available for pre-order. Curvy girls CAN look fly at the gym!#HealthyCurves

Posted by Just Curves on Wednesday, August 19, 2015
And if you need a few affirmations to keep or add to your list (do you have one?), take a peek at the ones that Yolanda shares:
I believe true transformation can only be achieved through self-love and confidence.
I believe if we change how we view our bodies, we can create a new standard of beauty, one that is inclusive of all body shapes and sizes.
I believe outward appearance should not be a determining factor of your inward health.
I believe life should be lived authentically and fully at whatever size you are today.
I believe in being a size happy!
You can shop these pieces NOW at JustCurves.net!
On her mission to empower women through fashion to lead a full and healthy life, Yolanda and Just Curves wants to inspire and motivate women to love themselves, no matter their size, striving for health and happiness, instead of a dress size!
Have you shopped Just Curves? What do you think? Are you ready to shop them? Well, what are you waiting for?