I have heard you my petite and plus size Curvy Fashionistas. In the comments, on Facebook, and on Twitter! You are looking for resources to shop that are tailored just for your curves AND your height.
Finding the two to coexist can at times be hair pulling frustrating… since the original post, we have added a new contributor, Cass from Style Cassentials to assist on these posts, sharing a few of her tips, style inspirations, and finds for you!
BUT, there are a few places that cater, deliver fashion, and are quite accessible! It is all about the combination of these three!
While it may take a little searching, I have wrangled up a few options for you to play with and in!
8 Places to Shop Petite and Plus Size
Talbots
While a bit more conservative and classic in its style offerings, Talbots offers a full lifestyle range of petite plus size offerings, especially for your closet wardrobe staples from 12WP- 24WP.
Lane Bryant
Denim and trousers, Lane Bryant has a dedicated section on their site for your plus size petite offerings. I have not seen dresses or jackets here, but while you are shopping there, know that you have a few options here!
One Stop Plus
Avenue, Woman Within, Roaman's, and Jessica London, One Stop Plus offers varied options in petite plus size fashion from jackets, trousers, denim, and dresses- all in essentials and classics.
Simply Be
Did you know that Simply Be has a dedicated selection of petite plus size fashion on their site? One of the most fashion forward selections that I have seen at prices that are wallet friendly too! YEP! Take a Peek!
Land's End:
If you are looking for a few great work essentials, then you will find great fit and classic silhouettes at Land's End. I am really loving this herringbone blazer offered here!
eShakti
I recently shared my customization experience with eShakti in my latest personal style post here! Just about every item on the site tailors to your size and height up to a 36W!
Macy's
Macy's offers its private label brands, INC, Charter Club, and a few other brands in a variety of styles in petite plus size. From jackets, coats, denim, and trousers- Macy's offers a range of options to get you started.
Evans
While the range may be limited in the trouser and denim collection, one of the things I really liked about this site is that there are two different petite plus size lengths- short and extra short!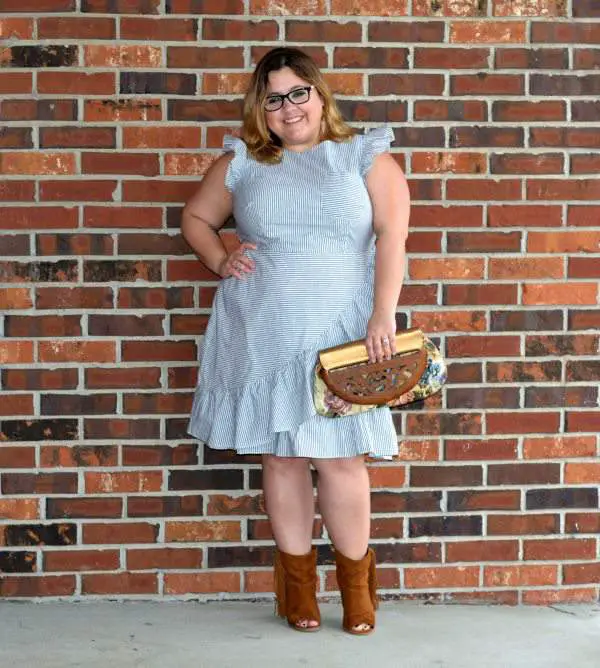 A Few Tips:
Become best friends with a tailor- This is not just a "petite" woman thing, but a woman thing, period. A tailor can make a ten dollar dress look like 100 with the perfect fit!
Patterns and prints can be rocked out too! I have heard a few of you say that "I'm petite" and cannot wear that as an excuse… NO! Just check for scale and placement! It is all about where you want to draw the eye to or away from!
DO NOT just shorten a pair of pants- The break in the knee is different and if you have done this in the past and wondered why they do not look the same, this is because chopping them alters the entire line of the leg. If you do get them tailored, make sure they are also accounting for the shape of the entire pants!
Dresses and Jackets- This is a tricky area, especially if you want a specific style. Pay attention to where the waist is emphasized and the length here! If you are lucky enough to have an amazing tailor, you should be fine. Regardless of style, a tailor is your best friend here!
While there are a few other sites that fashion a few options, I wanted to share those that had a breadth of items to shop from!
Are you a petite Curvy Fashionista? Where do you shop? What tips can you share? Leave a comment below!