*Marie's Note*
So every once in a while or quite often, I need help. In order to bring you fashion from specific perspectives, I have reached out to a blogger who thrifts so effortlessly (I suck at it), a petite plus size blogger, and an all-around natural fashionista to bring varied points of views and tips to the blog. SO today, I wanted to shine the light on them, who they are, what they do, and of course, their style! Please keep on reading as Cass hooked this roundup/feature up so nicely! Are you ready?
Today, the fashion blogger spotlight is on the The Curvy Fashionista team. The TCF team contributes pointed and specific style and how-to posts to The Curvy Fashionista, but did you know that they have fashion blogs of their very own? YES, they do! And today you are going to get to know a bit about each one! Are you ready?
Meet Whitney of Whitney 'Nic' James, Kim of The Natural Fashionista, and me – Cassie of Style Cassentials.
Fashion Blogger Spotlight: TCF Edition
Meet Whitney!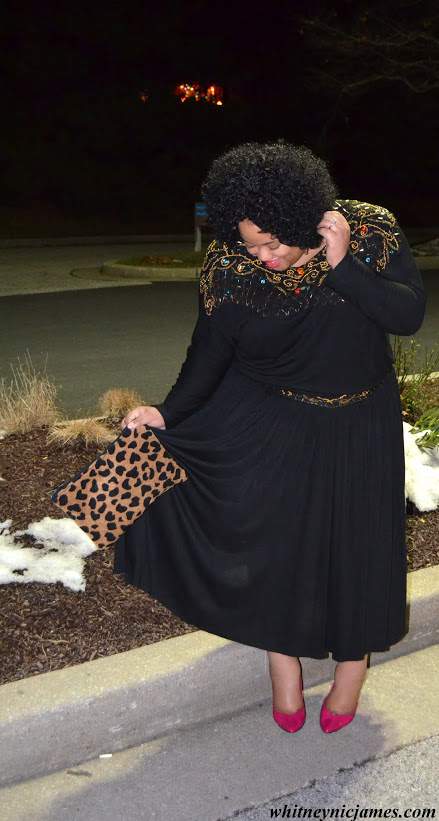 Blog:  whitneynicjames.com
Height:  5 ft. 7 in.
Age:  28 yrs. old
Location:  Columbia, MD
Who/what are your favorite brands/designers?
I'm an avid thrift shopper so a lot of my wardrobe consists of a lot of random brands/designers. However, I'm a huge Nordstrom & Nordstrom Rack shopper because they house designers like Michael Kors, Sejour (plus size brand), and Tory Burch to name a few. Typically I shop those brands for denim, tops and shoes.
Describe your personal style.
I describe my personal style as functional, unique and stylish. I love the aesthetics of certain fashion trends, but I like to pick and choose how to work them into my personal style. I must say that I'm a sucker for leopard print! 😉
What's your favorite part of writing for The Curvy Fashionista?
My favorite part about working with TCF is being able express my love for fashion through a positive online community that encourages plus size shoppers, like myself, to be stylish and try new things. Marie has created something truly amazing with TCF and I'm just blessed and happy to be a part of it.
Meet Kim!
Blog: thenaturalfashionista.com
Height:  5'3
Location:  North Carolina
What's your favorite thing about being a blogger?
I love talking with women from all across the globe.  It is a beautiful thing to be able to cultivate relationships with women that you have never met before, but you still feel a connection with.  When someone tells me that I inspire them it makes me want to continue to work hard and develop relationships, so connecting is definitely the best part of blogging.
Who/what are your favorite designers/brands?
That is always changing, but I recently I have developed a serious love affair with Ann Taylor.  The clothing has up to size 18-XXL, so when I find something that fits I always grab it.  The clothes from that store are just really lady-like and chic.
What's your favorite part about working with The Curvy Fashionista?
I love The Curvy Fashionista!  It is such an amazing resource for women everywhere.  It is the place to go for everything that relates to plus size fashion!
Anything else you want The Curvy Fashionista's readers to know?
The most important thing about being fashionable is being confident in yourself.  You have to be able to look in the mirror and be happy with what you see, even if nobody likes you or your style.  That is what true fashion is all about…confidence!
Meet me, Cassie!
Blog:
http://stylecassentials.blogspot.com
Height:  4'9″
Age:  36
Location:  St. Louis
What's your favorite thing about being a petite plus blogger?
I'm an in-betweenie – meaning I mostly wear straight sizes, but also wear some plus-size.  At 4'9″ with a curvy body, it's a constant challenge to get clothes that fit properly, and I have almost everything altered.  That said, I love who I am.  I love my curves, and I embrace my shortness.  I love being able to show that even though I have a body type that is the antithesis of what is often thought of as the ideal "fashion" body, fashion can be fun.  Short and curvy girls can wear any style they choose!  My motto is that fashion is for everyBODY!  Through blogging, I get to encourage other petite plus and curvy women to try styles they might have been too scared to try and to see that fashion can be for them too.
Describe your personal style.
Modern classic with a lean towards feminine/romantic with an edge.  I prefer to wear neutrals, especially black, but I'm not afraid to wear color.  Lately, I've been investing in higher quality items – classic pieces that will last several seasons but with interesting or unique shapes or details.  I love mixing unexpected textures and fabrics, like chiffon and tweed for a look that feels rich, and I've never met a moto jacket that I didn't love!
What's your favorite part about working with The Curvy Fashionista?
Since I do wear mostly straight sizes and am so petite, I haven't always felt connected to the plus-size "community" even though I have always felt like I had more in common with this group than I have the straight size fashion-loving community.  I love providing a voice for in-between and petite plus women, and I love being able to show the diversity of the plus-size community through the spotlight on fashion bloggers from all over the world and with such diverse styles.  Working with Marie has been such an amazing experience!!
And there you have it. The ladies who help Marie along to bring you the best in plus size fashion, the tips, the how-tos and the trends! Make sure you keep telling us what you want to see more of, read about, and get information on, as you can see… Marie listens and works to bring it to you!
Hope you enjoyed meeting the TCF team! Do you already read some of our blogs? Any plus-size bloggers you want to see featured?  Let us know below!
Are you a plus size blogger who wants to be featured?  Please make sure that you contact us, and we'll be in touch!