Disclosure: This article is in partnership with Old Navy. Our thoughts are our own.
When Old Navy announced their BODEQUALITY launch in August, we were absolutely thrilled! If you may have missed the news, Old Navy announced they were integrating the plus size section in-store and online, allowing people of all sizes to shop one seamless experience. Old Navy will permanently include their full-size range IN STORE AND ONLINE! No more extended sizes only online, no more having to go to a designated section of the store to look through one or two racks, nope…we get to shop all styles, in all sizes, at the same price.
For folks that aren't plus size, that might not seem like a big deal, but trust us… This is huge! We hope more stores follow Old Navy's footsteps soon because as a person who has to do most of her shopping online, in-store shopping almost feels like a luxury in itself (and it really shouldn't feel that way at all).
I decided to go to my local Old Navy to check out the new and improved in-store shopping experience for myself, and I'm taking you guys with me!
My In-Store Shopping Experience
I walk into my local Old Navy, and I am immediately greeted with a gorgeous display of size-inclusive mannequins, along with signage in both English and Spanish, explaining their new BODEQUALITY initiative. I have to admit; it made me feel so great that the plus size mannequins were right next to straight-size ones! It drives the point that all sizes are welcome, and all bodies are valid and deserve access to clothing at the same price point!
Before I started browsing, I grabbed a few of their large shopping bags at the front of the store because I had a feeling I was about to do some damage (lol)!
Muscle memory almost made me book it straight to that one section (the plus size section), so it was hard (in the best possible way) to figure out where to begin! But once I started, I couldn't stop filling my shopping bag full of clothes!
For reference, I am a size 28/4X in most brands. I am happy to report that there was plenty of 4x in stock in each style! So, after filling up two big shopping bags, I head over to the fitting room to try it all on!
The fitting rooms themselves were surprisingly spacious and accommodating. They all had a place to sit, many hooks to hang clothes on, and nice big mirrors for all your selfie needs!
Here are some of the things I tried on: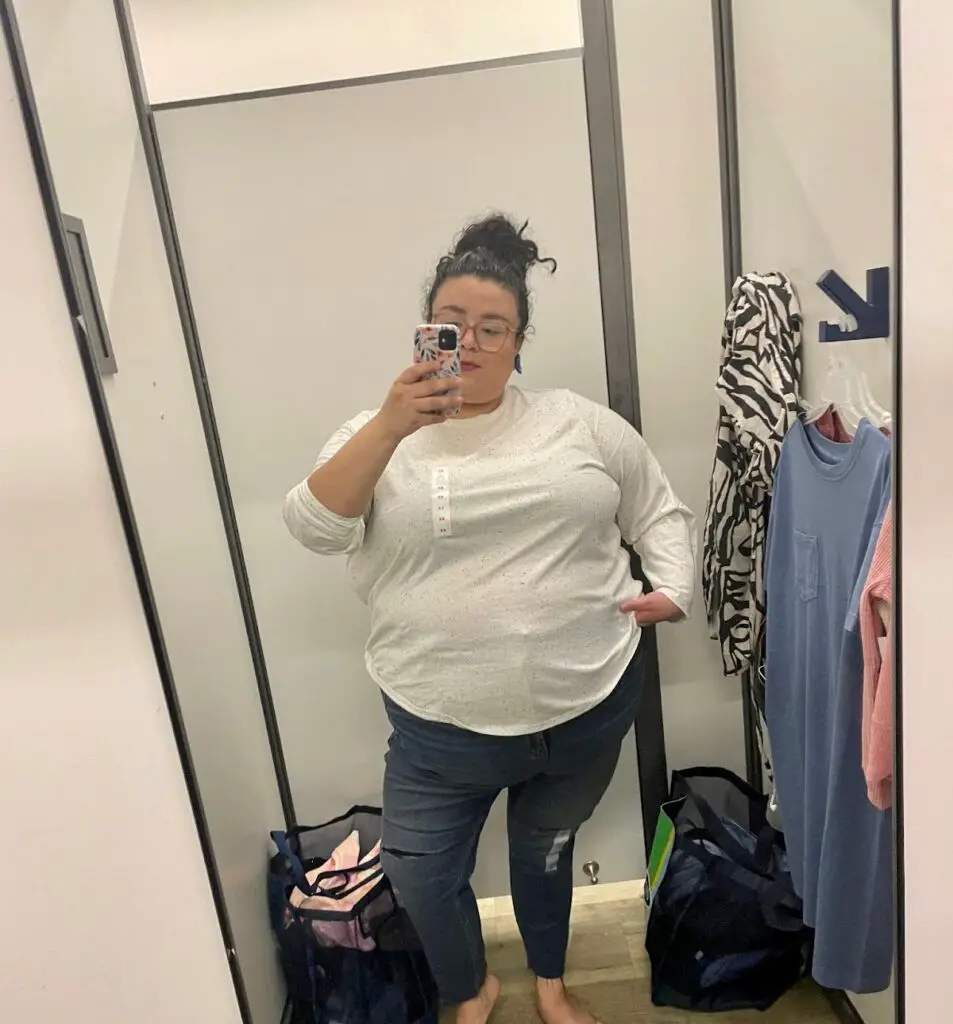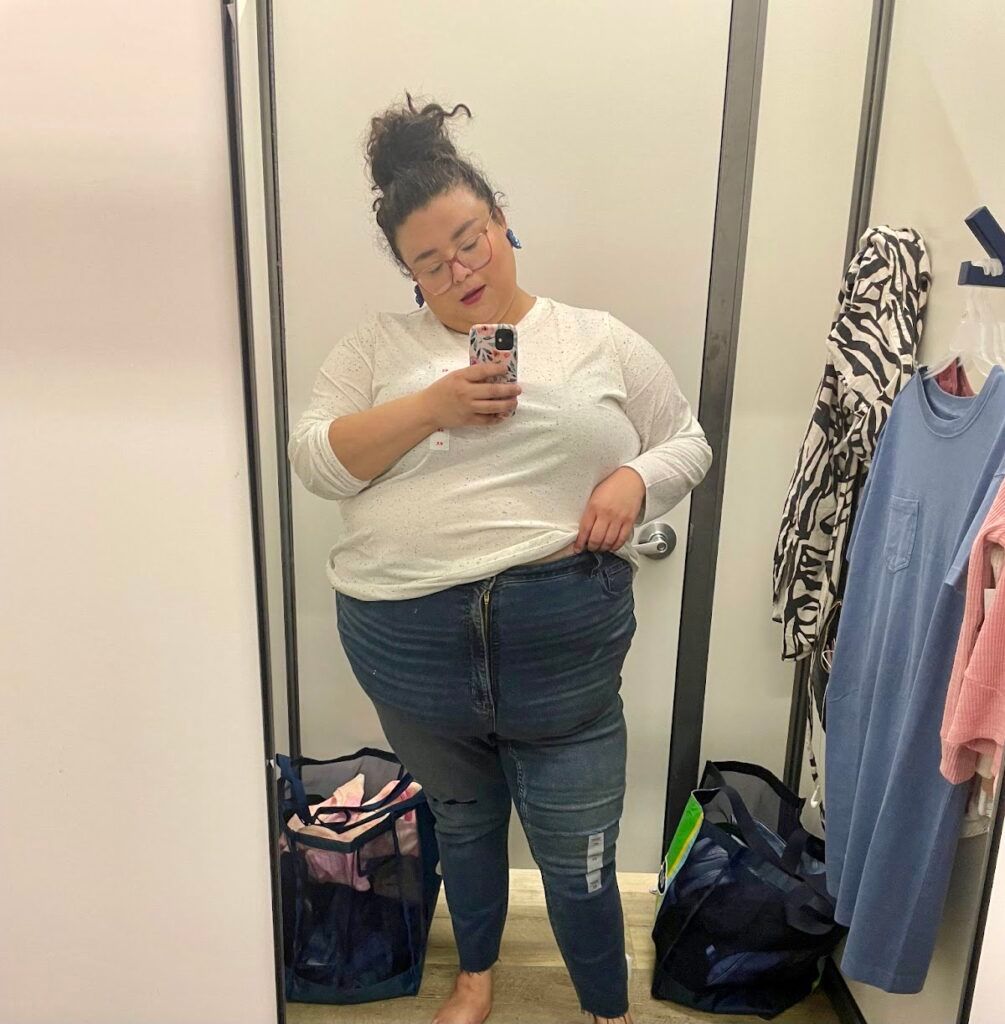 Old Navy has soooo many options when it comes to jeans! It was so fun being able to look through all the displays and have the ability to choose any style I wanted! But this one was my favorite! They had a fun, on-trend vintage look, with the slightly faded wash, distressed knees, and frayed ankle hem. I tried them on with this super comfy and versatile long-sleeve top.
These jeans also fit so well! Usually, mid-rise jeans do not work for my apple shape, but these were easy to slide on, and I felt confident in them. It is so hard to find jeans for my body shape, but I can tell that Old Navy will now be my go-to place for denim.
Speaking of denim, I tried on this great denim jacket (they had lots of different washes and styles to choose from), and I loved the slightly boxy fit of this one. The slightly oversized fit made me feel casual and cool, and it looks and feels a lot more expensive than its $44.99 price tag!
This forest green color on this midi dress caught my attention from the rack, and it did not disappoint! It is the perfect transitional piece for fall and can easily be worn for multiple seasons. The drawstring waist was a nice touch, allowing you to create your ideal fit. You can wear it loose to add a boho feel to it or cinch it to define your waist. Best part? It has pockets on both sides of the dress! Love!
This dress is a MUST HAVE! The midi-length would flatter every height, and the fit and flare of the silhouette are so feminine. The square neckline is so chic. I can see myself wearing this in the winter with tights and a long sleeve underneath! The fabric is soft and deliciously textured, too! This dress definitely came home with me.
This activewear outfit was my favorite of the whole try-on experience, and let me tell you why:
I thought this print was pretty when I saw it on the rack, but I fell in love with it when I tried it on in-store! This is why it is vital to have all sizes available in the store- because without being able to try it on, I would have passed on if I saw it online!
It is SO important to be able to shop alongside your straight-size friends and family; to be able to touch the fabric, see how it fits on your body and try it on! The head-to-toe off-duty yoga outfit is super on-trend. I'm doing everything from my morning yoga routine to walking my dog in style in this super cute and hella comfy set!
Final Thoughts
I walked in, not knowing what to expect, but walked out incredibly happy that I now have the option to go into Old Navy for all of my wardrobe needs! I even bought myself some cute belts! In addition, all of the inclusive imagery dispersed throughout the store enhanced my shopping experience as well.
In short, my shopping experience left me with really good vibes. I didn't feel frustrated or disappointed. On the contrary, I left hopeful and excited to tell my friends about my experience! This is how everyone should feel when they shop… No matter your size!
Disclosure: This article is in partnership with Old Navy. Our thoughts are our own