[box type="shadow" align="aligncenter" ]Editor's Note: My partner in crime from the EVANS and Clements Ribeiro Campaign is literally a walking textbook when it comes to bras. Asides from Georgina being extremely gorgeous, she is incredulously sweet. I needed -NEEDED her to lay down some of her knowledge with you!! I hope you are ready! Here we go: [/box]
Full Busted Bras
Hi, my name is Georgina Horne and I write the blog Fuller Figure Fuller Bust. I am a UK based fashion and lingerie blogger, and I have become something of a bra fit expert over the last few years. I am passionate about spreading the word of good fit, and I hope that my post can help educate you on how a bra can and should fit, as a great bra makes the wearer look younger, slimmer and happier.
Bras are tricky little minxes. They dig in, they ride up, they hurt, the wires come free, the cups create bulges. And that's just what we, as women, have to put up with. Right?


Wrong.
You should never ever have to put up with an imperfect item of clothing and tolerate ill fit and discomfort. And as your underwear is the foundation of your outfit, and serves not only to fit well, but also to give support and structure, it is especially important to be clued up on how and why a good fit is essential and can be achieved.
The Back Band
The band of the bra is the most important part, and the bit you should concentrate on first and foremost. The size of back band you need often depends on your measurement under your boobs. A lot of places will kid you into thinking you need to add inches to your under bust measurement to determine your band size, but the truth is that you rarely need to add anything to what you measure in inches under your bust. The reason for the inches adding method, is that bras used to have a lot less stretch to them, and so if you measured 28 inches under your bust, you'd need something closer to a 36 band to get a good fit. Nowadays, the majority of bra manufacturers make bras that fit the same amount of inches as indicated by the band size – hence why my 35 inch ribcage wears bras in a 34 or 36 band, with the odd 38 band that has less stretch too it. However, measurements are not the best place to start, and you often don't need to use a tape measure at all if you are knowledgeable about how and why a bra should fit. There is no exact science, and knowing measurements is not where finding a perfect bra ends, just like when you buy a pair of shoes. You need to try that bra on, out a t shirt on top of it, raise your arms, jump, and only then, if it is perfect, should you make the sale.
The bra band takes 80% of the weight of the bust – not the straps, like some people are led to believe. It needs to be on the loosest hook when the bra is new, and when as the elastic stretches you should move it along the hooks. Investing in an extender is a great idea, as sometimes new bras take a bit of betting used too and you may need that extra inch or so until you get used to the feeling of a tighter band.
The back band should never be so tight that it digs into your back in a painful way that leaves long lasting red marks. A few marks that fade within an hour or so are fine, but any bruising or cuts made by the band indicates that you may need to move up a size. Likewise, it should never be so big that it arches up at the back or moves around. Your bra should be at the same level all the way around to provide the best possible support. A rising back band means drooping cups and boobs, and no one likes that look!
The Cups
The cups of the bra are the second most important part. Cup size is an indication of relativity. So, for example, a 30F woman and a 38F woman will NOT have the same size bust, but relatively their bust compared to their torso will be the same size. That is why a 'D cup' is not an actual measurement, as without the back band measurement it makes no sense. It would be like telling someone the time as 'half past' , without saying or knowing the hour – 'half past' is not a measure of time on it's own, and it changed depending on the hour you paid it with, just like 'G cup' changes depending on the band size it belongs too.
I myself am an H cup – that's a J cup in America.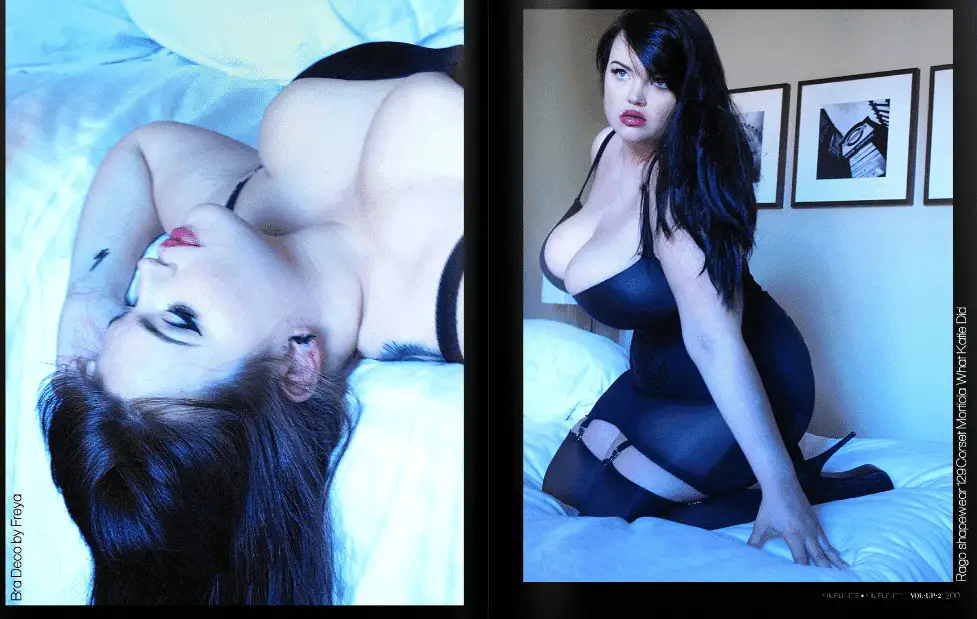 A 36H. Pretty big huh? But not so big that I am crippled with back pain, unable to find clothes and bras and dreaming of a reduction. Do not assume that sizes beyond a D or an E are mythological and absurdly big. Like I said, without the back band measurement, you cannot know the cup size. A 36AA has the same bust size as a 28D – that's not so scary!
The bra cups are essentially the wires that encase the breast, covered by fabric. The wires should always sit around the bust, never on it. If the wires sit on the bust it will be uncomfortable and bad for your bust shape. The most common place for the wires to sit on the bust is inbetween your boobs. This is a sign that your bra cups are probably too small for you and you need to move up a cup or two.
If your bust is spilling out over the top of the cups or under the arms, this is also a sign that your bra cups are too small. Likewise, if you have a lot of gaps and gaping in your cups you will need to try a smaller size. If you have asymmetrical breasts that are visibly very different and it's something that bothers you, it may be worth investing in some chicken fillets to help even out the imbalance.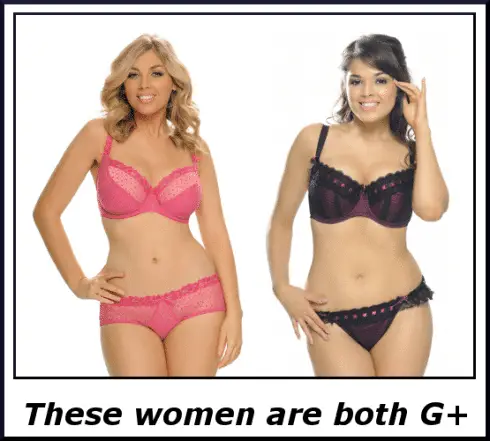 As I said, bra cup sizes are relative to band size, and I touched on 'sister sizes' earlier. A sister size is a size that has the same cup volume as another size with a smaller or larger band. So if you need to change band sizes for something smaller, but your cups are spot on, you will need to go up a cup size. A 34HH is one of my sister sizes at 36H. I go down a back size and keep the same relative cup size if I need to go down in the band size.
The Bra Straps
As the band takes 80% of the bust weight, the straps serve to take the remaining 20%. That means that on a larger heavier bust they may dig in somewhat, but they should never ever be uncomfortable or cause the wearer pain. If the straps dig in too much try to loosen them – ideally you should be able to comfortably slide two fingers underneath the strap. If they are so loose that they fall down, tighten them up to the two finger tension.
If tightening your straps causes your back band to arch up then this is an indication that your bra band is too big.
Even after you have perfected the fit of your bra, you may still not be able to get the perfect fit. This is because not every style suits every person, as with other items of clothing. If you are lucky enough to have a store nearby by that caters to your size then go in, try something new on and find that perfect fit.
If you are not able to get to a store, then there are some fab websites that cater to a huge range of bust sizes – sizes that Victoria never even dreamed of!
Some Useful Full Figured Bra Sites: 
Brastop.com is one a site for cheap bras and bikinis. They have an amazing fitting section and several great informative videos.
Bravissimo stock a huge range of sizes, and they are on hand on their social media sites and emails should you need further assistance.
Figleaves are another great site that stock a multitude of sizes and designs.
Debenhams have frequent sales on boast some great deals.
A Sophisticated Pair is a great US based store.
Butterfly Collection is based in Canada. The have a great bra calculator that will help give you some idea of the size you might need, and a bra size conversion chart.
Here are some UK lingerie models modelling some gorgeous D+ bras. I can assure you with complete certainty that not one of them has an augmented chest – it's all the bra!
Lauren Colfer: 30G wearing a Curvy Kate Tease Me
Lizzie Haines: 32H wearing a Curvy Kate Emily
Laura Butler: 30GG wearing a Curvy Kate Smoothie
Sophie Morgan: 30H wearing a Curvy Kate Princess
Heather Crook: 30G wearing a Freya Taylor
Jada Sezer: 34FF
I hope that you have enjoyed my post and that it makes sense to you. If you have any questions or comments then don't be shy, please write them below! Alternatively you can email me: [email protected].
I had to add this video for your review, so you can see why I ADORE HER!
What Do You Think? Have you been able to learn something there? Sound off in the comments below! Share your tips too!