The modeling world has long been discriminative of plus-size women, but in recent years plus-size models have been more in demand than ever. Granted, there is still a loooong way to go as far as acceptance and steady, diverse work, but the modeling industry has made significant strides over the years. Modeling agencies that represented plus-size models would have a separate division for those over a size 10 and in some cases over a size 8 (hey, i knowwwww).
However, last week, news was announced set to change all of this. A new model agency, Jag Model Agency was just launched by former Ford (Plus) Model agents Gary Dakin and Jaclyn Sarka, and they are looking to shake up the game with straight-size and plus-size models treated equally. Their models will range from size a US 6 to 18. They are looking to get their models seen regardless of size.
Dakin says, "The average size of the girls [we represent] is a 14/16 but there are 10s and there are 18s and if there's a size 8 or a size 6 that we fall in love with we'll take them on. We're not going to limit ourselves, because the industry shouldn't be limiting to anybody."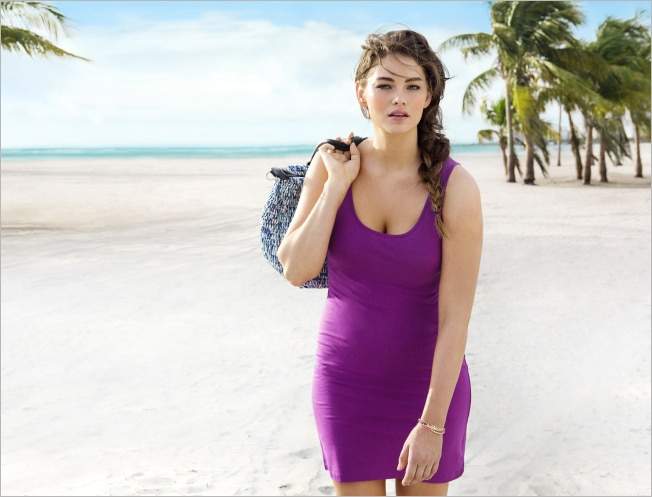 Image Credit: H&M
When I heard about this I was like this is great! Why segregate? Just show off your great models regardless of size! But, as I thought about it I was like, how will that work? Is this a good thing? I feel like it's nice for them to showcase everyone side by side, BUT IN REALITY, it doesn't matter how your agency merchandises its models, it matters what your clients are willing to book. The bigger issue is changing client's mindsets. If they want a 6 you can't send your 16. What happens then? Will JAG also work in consulting, helping these brands choose or fine tune their direction?
The fact that this is happening on the agency side is quite intriguing. Most of the times, these agencies are the ones who push for models of a certain size and look, thus influencing the brands. IMHO. But what happens when a plus size brand comes to them? Will they push their size 8? Or will they match a size 14,16, or (wait for it… ) an 18? I want to know what Jag will be doing to convince top companies to show models over a size 4 in their campaigns with a variety of sample sizes.
One of their clients is Jennie Runk of the infamous H&M plus size campaign. It was great that H&M featured her on their homepage without even mentioning plus-size. I mean she's a size 12, she's normal, an everyday woman. I mean add to thus buzz that Tara Lynn was their campaign Plus Model and one could be like… okay, that's nice. But, we need MORE companies to be willing to do this for this agency to be truly successful. I really hope Jag succeeds in fostering change in the modeling and fashion industry.
We all know its LONG OVERDUE.
Jag launches with a well-rounded roster of about 30 models including Bree Warren, Chloe Marshall, Geo Burke, Jennie Runk, Kaela Humphries, Kamie Crawford (Miss Teen USA 2010), Mckenzie Raley and Myla Dalbesio.
I still have questions, but I am curious to see what comes next.
All change has to start somewhere, let's hope this is the beginning of something great.
Read the full story here
What do you think? Do you think Jag can get enough companies to feature a more diverse size and range of models?