I am really excited to share with you that I have partnered with Nordstrom to bring you my favorite picks, generate awareness of, and celebrate plus size fashion with their Encore Department!
So, as you may or may not know, Nordstrom is one of the few department stores (in over 100 stores) that carries plus size fashion not only online but INSIDE their stores. The ENCORE department is there with the same designers you know and love online…
With their exclusive partnerships, bringing us the inception of White Label by Rachel Pally, Lucky Brand, Vince Camuto, Nation Ltd, and quite a few others, Nordstrom want YOU to know that they are quite size inclusive and I am here to help you know this!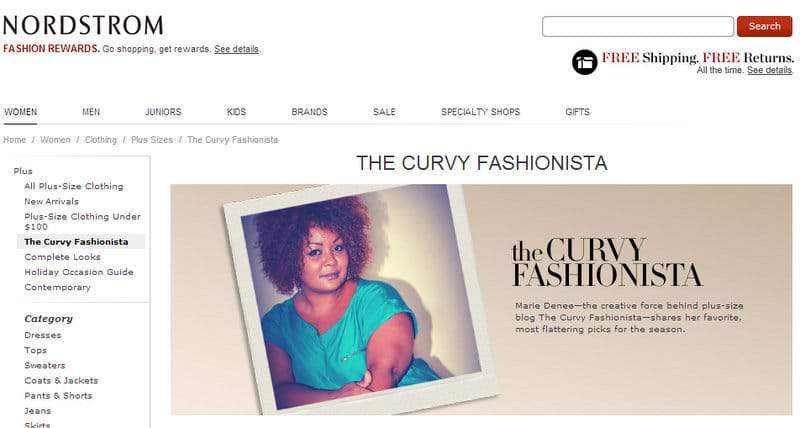 Over on the Nordstrom Plus size page, you will see The Curvy Fashionista tab on the left hand menu! If you click it, you will see my favorites from the new arrivals that come into town! Yes! Every two weeks there will be newness on my page with the newest arrivals and some of my fave accessories!
BUT IT DOESN'T STOP THERE…
I will be taking this offline to host a few events across the US, just like I did at South Coast Plaza this summer!
First Stop?
CHICAGO!
Are you a Chicago Curvy Fashionista? If you are in town on the 8th of December, then I invite you to join me as we talk fashion, trends, and designers who cater to us! Here are the details:
What:
Nordstrom Encore Fashion Presentation
Where:
Michigan Avenue Nordstrom 
When:
December 8th, 2012 1-3pm
Do you want to go? Then RSVP here and I will see you there!
In the meantime, check out my Favorite picks from Nordstrom Here!
How cool is this?!?! I am hyped and excited!!!!