I was walking in my neighborhood of Bedford-Stuyvesant Brooklyn this past weekend, when I was jostled into the season by the sounds of the Mister Softee Ice Cream truck. It instantly reminded me of what's to come this spring and summer. The fun, the laughs, the adventures, and of course… the sweet taste of ice cream. Many of us have enjoyed an ice cone in the past. It's a simple and tasty way to give yourself a little treat when out and about. But for one Illinois woman, making the decision to treat herself, resulted in heartbreak.
A reminder that as members of the plus size community, we don't always get the luxury of being fat and eating an ice cream cone in public, without scorn. Shauna Arocho wanted to celebrate a personal goal with a simple treat. After months of sticking to a strict Paleo diet, Shauna decided that she was going to take advantage of Dairy Queen's Free Cone Day and have a small treat for herself.
What happened next was devastating, the details Arocho shared in a very personal Facebook Live video.
When Shauna sat outside the store to enjoy her well-deserved treat, a group of men in a passing car decided to disturb her moment of peace by yelling out, "Eat that ice cream you fat b—!" These men actually stopped their car, in the middle of a busy street, solely for the purpose of being cruel.
This incident caused Shauna to speak out.
What do you get out of making me cry for the last 15 or 20 minutes? I finally calmed down enough to make a video, and I'm only doing it because I think that sharing this kind of thing is important.
After vulnerable video sharing her experience, she received over 10,000,000 views and 44,000 comments from supporters who backed her outrage against body-shamers. One such viewer was Torrid's Model Search Winner, Maria Gimena. Proud of Shauna for sharing her story and speaking out, Maria wanted to do something extraordinary for the 27-year-old woman.
Maria flew to Chicago to surprise Shauna Arocho and take her on a one-in-a-lifetime shopping spree at Torrid. Bring obviously moved by Shauna's story , she together with Torrid , wanted to extend this small gesture because, frankly Shauna deserved it.
I was so excited to meet Shauna and was looking forward to surprising her. I was so moved by her story so I wanted to brighten her day and hopefully help her find clothing that makes her feel confident and beautiful!
Maria shared the surprise via her Instagram stories. Fair warning: You WILL get a swift kick in the fee-fees watching this video. I was more than a bit verklempt on several occasions, and I am not ashamed to admit this.
Maria took Shauna to a local Torrid store, where she was Queen for the day! Hands on care, gifts from Torrid's corporate offices, and of course, Maria to guide her through selecting just the right items. It was an experience that not only touched Shauna's heart, but the hearts of everyone involved, especially Maria!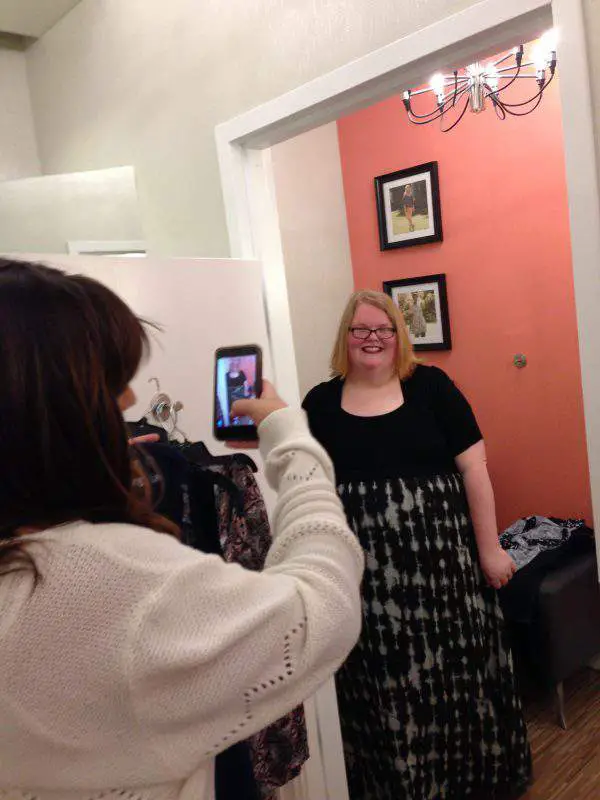 My favorite moment was when she tried on a particular dress that she was not too sure about. I had suggested the dress earlier in the afternoon and she mentioned that she felt a little insecure about it. It was a white dress (a color she usually avoids) with black stripes and a cut-out detail on the back, which made her hesitant as it showed a part of her body she is was uncomfortable with, or so she thought. Towards the end of our shopping spree she finally tried it on and ended up taking it home! Just seeing her smile made the experience complete for me. I knew then she was happy and that's all I wanted! ~Maria Gimena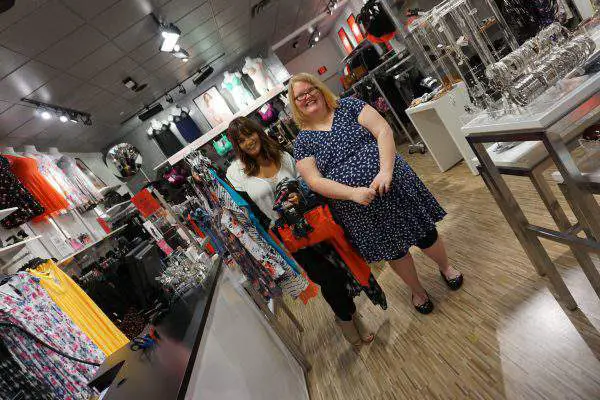 For Shauna, the experience wasn't just a chance to go shopping with a plus size model. It was most importantly, a safe space where she can flourish and be seen as the beautiful woman she IS!
The highlight of the day was definitely getting to know Maria. She is such a fun and kind person and made me feel so comfortable. She really helped me see that I am beautiful just the way that I am!

My favorite piece of clothing was a beautiful floor length floral Torrid dress, which made me feel so feminine and pretty. I felt like I could do anything I set my mind to in that dress!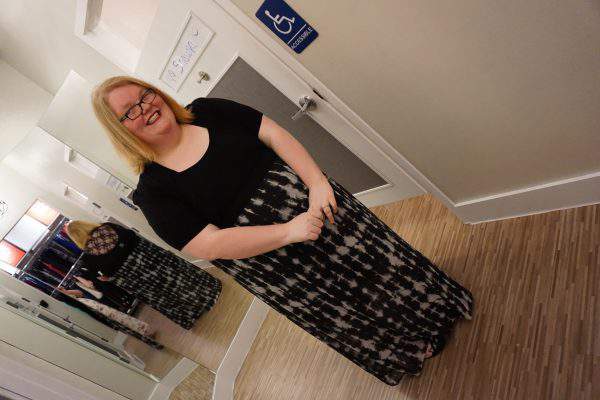 Do you know what I think?
I think she's 1000% right!
Looking fabulous, Shauna!!!
This story resonated deeply for me, as I (Like I'm sure many of you) have been personally attacked by strangers as a result of my size. This is why it is especially necessary for us to see images of plus size women and men, not only existing or living, but thriving and enjoying their lives.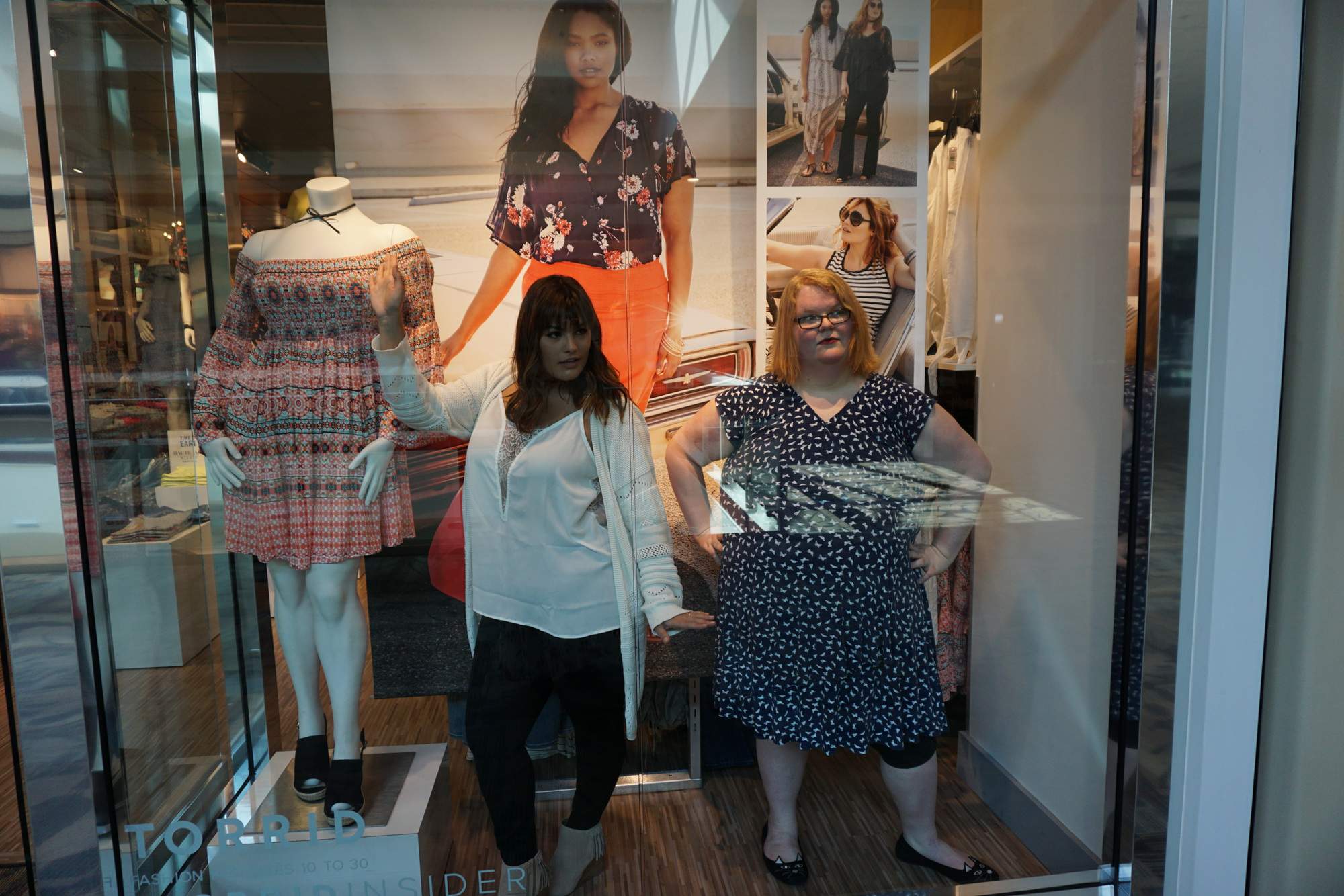 It's why we love to share stories like this with you all. And it's why we are so grateful for Shauna speaking her truth and we share in Shauna's joy at experiencing this sensational experience!
What are YOUR thoughts on this story?
Have you experienced fat shaming recently? Show the world how beautiful and strong you are by sharing your story in the comments! We look forward to connecting with you!