This article is in collaboration with Lincoln. Our opinions and thoughts are our own.
If you spend any time in your car, especially in traffic, then you know that if you are going to be in traffic, you're going to at least want the drive to be peaceful- or as peaceful as you can make it. So, when Lincoln debuted the "Coastal Mornings" scent with Serena Williams at Art Basel  and shared a reimagined interior sanctuary with Rejuvenation Moods, it caught our attention!
Lincoln celebrated its centennial at Art Week in Miami to celebrate Lincoln's never-ending quest of "serenity, smoothness, and the "Power of Sanctuary"."
The mysterious part? (We love a good teaser!) Serena Williams even grabbed our attention on the 'gram with the news of her possibly dropping a new fragrance—but this is not one that you or I can wear—we can only experience, exclusively inside of Lincoln Star™ Concept vehicle. Futuristic, luxurious, and calming? Oh, we're listening now. 
An interior sanctuary inside your car? We are always here for things that inspire or make space for an improved mental health experience. Always… and with the traffic we've endured and will continue to brave?
If there is anything that could make a 2-hour drive in traffic, to go 30 miles, smoother? We need to know all the details, and of course, share them with you!
The Power of Sanctuary at the Lincoln Art Basel Activation
Before the activation even began, Lincoln invited a few influencers down to Art Basel, keeping them completely in the dark about this secret sanctuary reveal!
Ambassadors received an invite and perfume bottle in the mail and were told to show up in Miami ready for a huge announcement! There was no call out to Lincoln, just a bottle, an invite, and a mysterious hint that Serena Williams would somehow be involved.
The mystery and suspense, right?
When the influencers arrived at the SLS Hotel, they were excitedly surprised to find out this was all a part of Lincoln's year-round commitment to the "Power of Sanctuary". Lincoln announced that the invite and perfume bottle, received just days earlier, is in fact one of the car's sensory-provoking Rejuvenation offerings- but one that can only be experienced INSIDE a Lincoln vehicle.
But the activation did not stop there…
At the Intersection of Scent & Sanctuary
Lincoln hosted "The Intersection of Scent & Sanctuary" with tennis icon and Lincoln brand ambassador Serena Williams to speak on the "future of sanctuary and the importance of scent." She was joined by Estee Lauder's Design & Hospitality Creative Director Gabriele Chiave, and Lincoln Interior Design Chief Ryan Niemic.
This is kind of ingenious, right? For those of you who are returning to work and the ridiculous commutes they require, being able to take self-care and serenity into your car is quite smart.
"Sanctuary is a place where you can relax, refresh, and release from all of the stress and the worries of the world. The scent for me evokes cool and calm, the sea at dawn, it's really beautiful and nice and refreshing." – Claire of FashionBombDaily
Some of us already use car fresheners, but what if we could really ideate a spa-like experience inside of our car? From scent to massages, to lighting, playing off our senses and stresses? How many of you already find yourself zoning out in your car for 30 minutes before you even get inside your home?  What if that time could be spent intentionally, to relax, relate, and release?! 
Following the panel, Lincoln unveiled an installation featuring the Lincoln Star™ Concept. Revealed earlier this year, the concept hints at the brand's design for its future electric vehicles. The Lincoln Star™ Concept also calls for a reimagined interior sanctuary with Rejuvenation Moods, a "harmonized sensory experience involving massage, motion graphics, audio and even scent."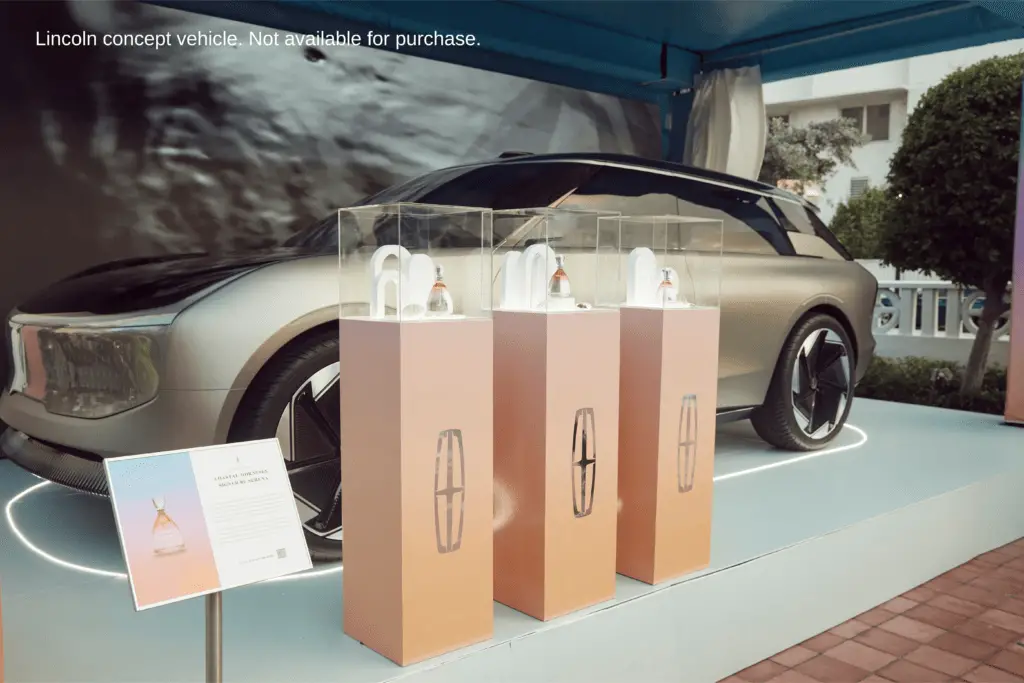 Did you catch that? A car that provides aromatic scents, chairs that massage you, specific audio sounds that transport you to relaxation, and more? This is what these Rejuvenation Moods are all about!
The Power of Sanctuary in Your Car with Rejuvenation Moods
Lincoln's Rejuvenation Mood Scents are a unique and brand-specific experience and make drivers feel inspired and at ease. We are here for anything that will help keep us at ease, especially while we tackle the stress from the traffic on the road.
The installation showcased that the scent Serena teased on her channels was in fact, "Coastal Mornings!" Coastal Mornings is one of three Rejuvenation Moods in the Lincoln Star™ Concept and uses "gentle, oceanic sounds, a fragrance of sea mist and the soft, warm glow of the sun with dynamic lighting throughout the cabin to replicate a stroll on the beach at sunrise."
Can you already imagine this type of experience?
 Jenee of HighLowLuxxe shares that "Scent inspires my mood for the day, how I feel for the day. Coastal Morning scent gave me a feeling of calmness, but also you have some warm notes in there-a little bit of both. A lot of calm but of warmth and getting ready and amped up for the day."
Creating a third space of comfort, relaxation, and serenity- a new kind of Sanctuary- is what Lincoln is up to and after. Get into these three rejuvenation moods that can provide a true sanctuary INSIDE your car:
Coastal Morning uses gentle, oceanic sounds, a fragrance of sea mist and the soft, warm glow of the sun with dynamic lighting throughout to replicate a stroll on the beach at sunrise
Mindful Vitality is meant to reenergize the senses, with invigorating, upbeat audio, dynamic abstract artwork, soft, glowing lighting, and a flowery fragrance throughout
Evening Chill mirrors dusk using a calming night soundtrack coordinated with night sky video and an evergreen fragrance
The three moods are built around the body's natural circadian rhythm of morning, day and evening. With the help of connected technology, the moods will offer content updates and ways for clients to personalize their settings into the future."
Even more interesting? You can only experience this sanctuary and scent inside of a Lincoln.
Learn more about the Power of Sanctuary and the Rejuvenation Moods, at Lincoln.com!
What would you do with a sanctuary in your SUV? Could you imagine your drive home being stress free? Would you begrudge having to navigate the traffic or embrace it as a bit of YOU time?
Either way, we could all use a bit of sanctuary in our lives, right? A little peace and calm as we are on the road to whatever destination we have- right?!
Right.
Let us know what you think!
*Lincoln Concept vehicle. Not available for purchase.