If you missed Lavender's Jungle Fashion Playhouse this weekend, you missed a show. Skits, Music, Pole dancing (YASSS!) and Fashion completed this cleverly entitled "The Fashion Show Playhouse" evening. When I first mentioned the show's announcement (Save the Date) in February; I was truly excited to see what Team Lavender's Jungle had in store. The Fashion Show Playhouse was just that, a mastery, skilled presentation, that combined Lavender's Jungle designer, Lakrisha Joseph- Baker's love of theater and fashion. She shares in a recent interview about the show's concept, wanting it to be "a full night of entertainment and not just a clothing walking down the runway."
Indeed it was and with the who's who in plus size fashion from Atlanta to new York, the room was packed full of those wanting more from plus size fashion and Lakrisha and her amazing team gave it to us!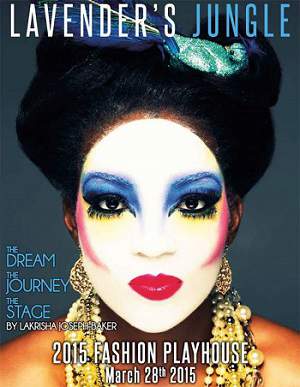 Can you imagine a themed fashion show with five collections and theatrics? It was soooo good. I knew it was going to be a production, but in some places, I wasn't ready for all of the goodies that came my way!
Lavender's Jungle Spring 2015: The Fashion Playhouse
The first scene entitled The Dottie Collection was dedicated to Baker's Great Grandmother, Dorothy Sheely known as "Dottie" to her loved ones. The woman behind her love for sewing and design; this collection of sweet vintage dressings mixed with African inspired prints will surely take you to church.
The second scene: The Thirst Collection was created for hot, summer days and nights. This collection of flowy skirts, linen culottes and maxi dresses had me ready to book a flight for a hot retreat! However, the third scene: The Preppy Girl Swag Collection was made for the woman who "Swag" is on 100…
Traditional structure remixed with funky mixed patterns and prints. A labor of love, Baker created with a little swag influence from her son.
After intermission, the audience was presented with the spectacular pole skills of the beautiful Ro'Yale, a local plus size pole dancing queen (Yes, pole dancing has no size limit either…Werk!)
This was the audiences' introduction to scene four: The Wet Collection. A collection of sensual pieces will demand your full attention. We shared a clip on Instagram and Facebook and you could NOT get enough of it, so how about we share it for you here:

The final collection and scene was all about romancing the audience with The Royal Ball Collection.
Accompanied by the smooth vocals of Eliah Keaton; this collection of beautiful velvets, smooth satins, regal colors and voluminous skirts were fit for a queen.
For more information on when this collection will be released, to purchase these and other fits, or general fangirl questions, visit LavendersJungle.com.
Soooo what do you think? Cool huh!?!