As The Curvy Fashionista editors, we write about stuff we love and think you'll like, too. We often use affiliate links, which means we receive a small share of the revenue from your purchase. This does not affect the amount you pay for the product in any way, shape, or form.
Have you been a fan of Jibri, the plus size indie brand from the Atlanta area, but the contemporary plus size brand was just slightly out of your budget? Well, the Jibri x The Drop by Amazon has just released and we are here to share the collection that we know that you will be hyped about!
What makes the Jibri x The Drop by Amazon so exciting is that Jibri is the first plus size designer to partner with Amazon! Yes, we have had The Drop with plus size influencers, but this is an interesting development. Especially as we have been calling for more designer collaborations with indie plus size designers!
What do we get with the Jibri x The Drop by Amazon collection?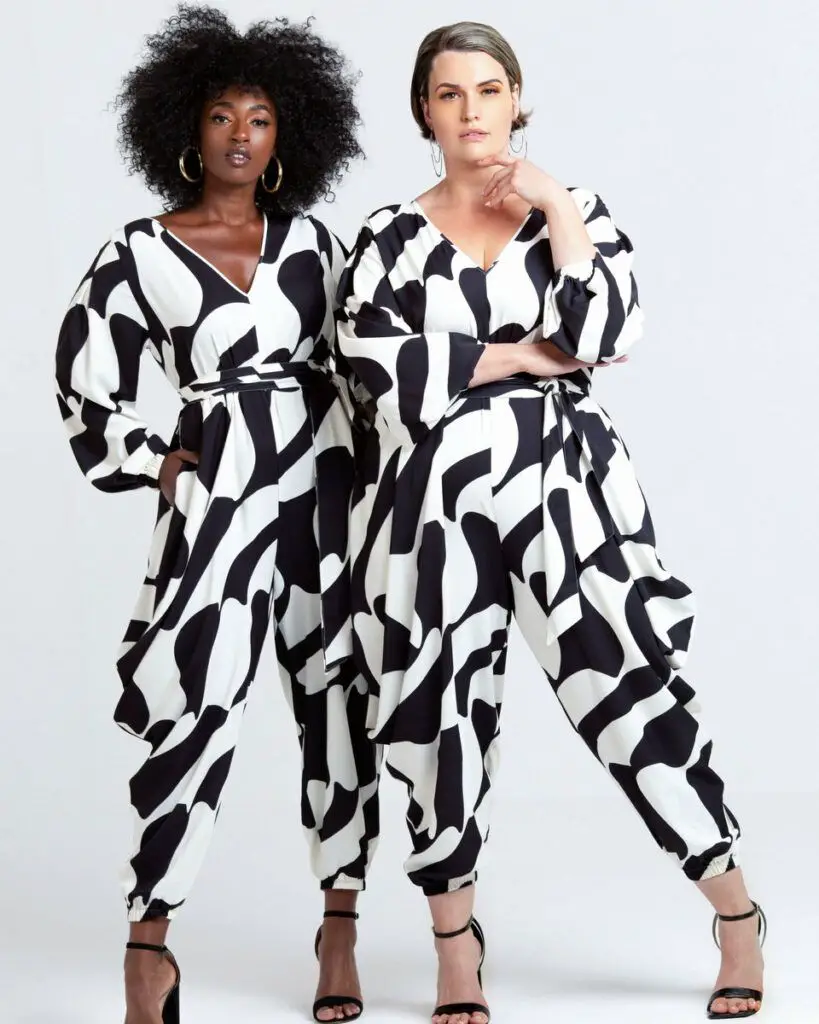 Well, for one, we only have 30 hours to shop the collection. THIRTY HOURS. This means that if you find yourself on the fence, it will be better for you to score a piece from this collaboration, immediately.
For those who are curious, the entire collection is under $100!!! So, if you have had budget constraints shopping the Jibri line, the Jibri x The Drop by Amazon Collection is the perfect option for you to play in!
We get 8 pieces in this collection that gives us black, white, and royal blue options with pops of pink and citron- giving us versatility in our plus size wardrobe.  If you've been eyeing the Jibri signature jumpsuit, you have your chance to play in one! Looking for a luxe maxi dress? We get our pick with a citron or black and white print maxi dress.
What is even cooler about this collection is that we get range! Size ranges from an XXS up through 5X! This size range is even wider than Jibri's collection!
Shop the Jibri x The Drop by Amazon Collection, NOW at Amazon.com
And for those of you who are curious about shipping, if you can shop Amazon, then you can shop this collection. BUT!!! Shipping is not the Amazon Prime that you are used to. Prepare for shipping to take 5-6 weeks. That is because the pieces are not made until you place your order! We appreciate this…
Other than that, this is really exciting for the plus size community! We hope that this collection opens doors for various plus size designers to get their piece of the fashion pie from Amazon.
Are you excited about this collection? Are you shopping the collab? Have you already shopped The Drop?
Let us know in the comments below: Which pieces from this collaboration have your interest! Can you see yourself in a few of these items? We need the jumpsuit and maxi dress- immediately! What about you?
Congrats again to the Jibri team on this collection! This is extremely exciting and sooo cool to see happen!