You know how we have asked for high end designer fashion in plus sizes? Well, add another designer to the list!!
When I found this out, (thanks to a tweet from the homie Jenise), I was taken aback and soo geeked! See, I actually have a piece of FUZZI. It was my first high end designer piece I bought from Bloomingdale's around 2004? It was on an uber sale, so I scored! Then poof! They closed up shop!
Let me share a little bit with you about FUZZI.
FUZZI was founded in 1954, and has a long tradition of luxury prêt-a-porter! Licensing brands you and I know, FUZZI owns the licensing of Jean Paul Gaultier knitwear and beachwear.
The FUZZI FW 2012/2013 inspiration is from the concept of overlaying and contemporary taste for contamination. A timeless fusion between east and west using original prints in an adventurous play of shapes and materials. Mini and maxi, pieces are overlaid and echo the heydays when a woolen "turtleneck" was worn under a silky shirt. In this collection kimono prints meet the Carnaby Street-style of London in the sixties, and simple oriental shapes are overlapped onto European prints.
NOW, Let me Share My Fave by FUZZI With YOU!
This FUZZI Wrap Dress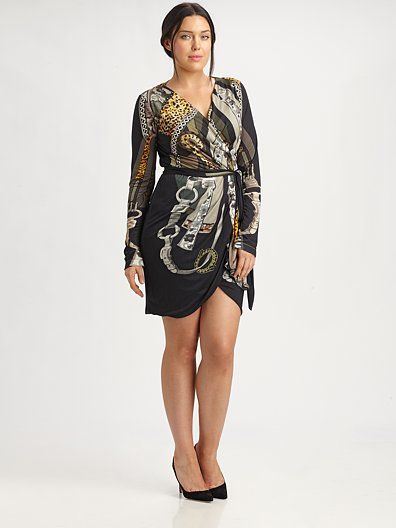 The FUZZI Collection in plus sizes, is only available at Saks Fifth Avenue right now! Let me remind you, this is high end plus size fashion, so the quality, fabrication, and fit is top notch! A must have piece in your closet for the discerning woman!
FUZZI now joins the likes of Marina Rinaldi, Persona, Roberto Cavalli and Elena Miro in Italian brands for plus size fashion! How amazing is this? Hopefully this will encourage and inspire additional brands to expand their plus size fashion horizons!
What do you think about this new High End Plus Size Designer entrant? Are you excited like me?