Last week, we met up with Canadian blogger Aggie of Plus Size Panda, and today, we head back to the States to bring you Farrah of Estrella Fashion Report. Farrah, a former model and fashion lover, shares plus and straight size fashion news, runway fashion, outfits of the day, as well as beauty and lifestyle posts.
Winner of several awards, Farrah has been featured on CNN Latino Tampa, Telemundo Tampa, and Mira TV. In addition, Farrah is part of the 2017 TCFStyle Squad, and she will soon be sharing her insider experience from the TCFStyle Expo! She is a plus size blogger YOU NEED TO KNOW!!!
Meet Plus Size Fashion Blogger- Farrah of Estrella Fashion Report!
Blog: Estrella Fashion Report
Age: 40
Height: 5'9″
Location: Tampa, Florida
How long have you been blogging?
I have been blogging for 5 years.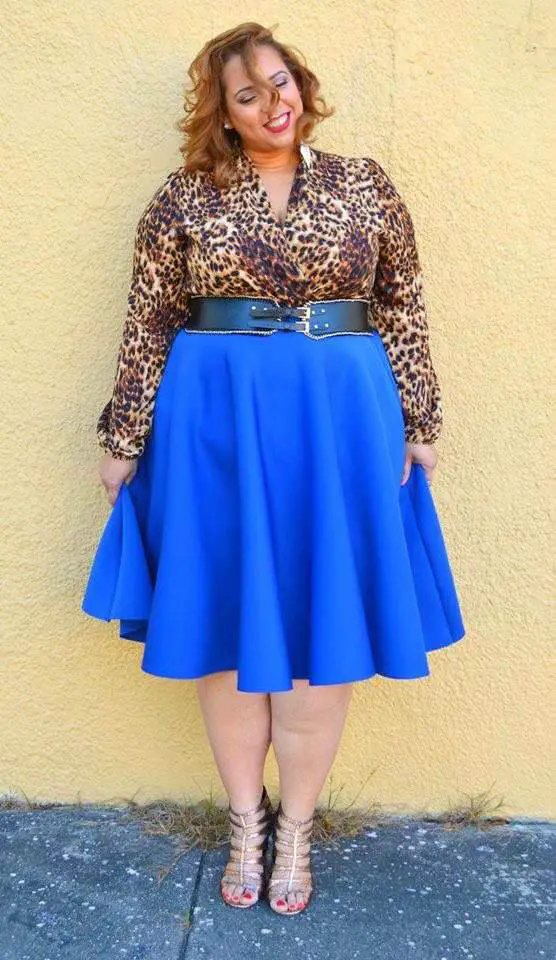 What or who inspired you to become a fashion blogger? What led you to it?
When I was young, I used to model, and I have always loved fashion ever since I was a little girl. My mom used to sew my clothes in the Dominican Republic where I am from. As I got older, I stopped modeling and put fashion on the back burner for a while. After my divorce, I wanted to get back into fashion, but not necessarily model. I heard about blogging, so I did some research and started writing for Examiner.com (they are no longer in business) and I also started my blog.
Do you blog full-time, for fun, as a hobby? Share your evolution!
I started blogging as a hobby, just for fun. Something to do after my divorce, to attend events, get out of the house and get dressed up. It became fun for me, more than a hobby, a career. I am happy to say that after 5 years, I am a full time blogger now.

What is your favorite asset? Your legs, arms, waist? How do you play that up?
I love my smile, I laugh a lot, and I love my hair because I can wear it curly or straight. I have a pear shape and I try to play that up by enhancing my waist and wear fit & flare dresses and belts to accentuate it.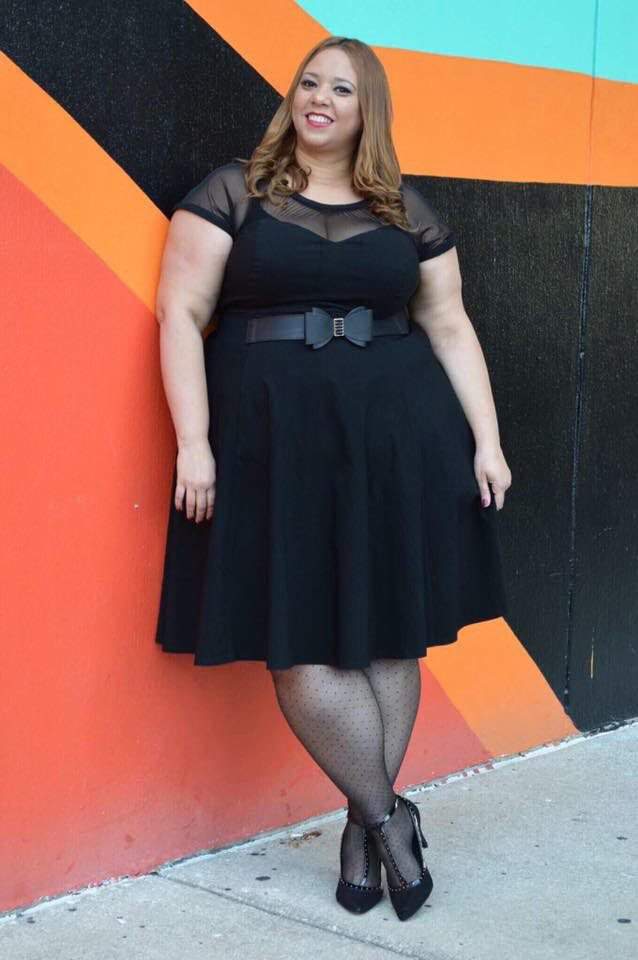 What are the challenges, if any, you face regarding being plus size?
As a size 24 plus size woman, there aren't that many options available for us in stores as our size 12 or 14 sisters have. I can't really go to a store to buy an outfit or a fancy dress on a short notice without going to several stores. Most of the time they don't have anything in my size. I have to order things online and always have a plan. I plan ahead and have several outfits in my closet in case I have to go out on a short notice.
What is your favorite thing about being plus size?
My confidence. I am more confident now than I have ever been. Maybe it's age or maturity but mostly growth. Fashion has allowed me to express myself and be happy with who I am. I have been every size, from a size 4 to a 24 that I am now, and I feel beautiful. Seeing other plus size fashion bloggers has also inspired me to be even more confident and daring not just with fashion but in life,
What's your favorite thing about being a blogger?
OMG! So many things. I love all of the friendships and all of the great people that I met along the way. I love attending events, shaking hands and seeing the growth of our community. I also love how much I have learned about business and being my own boss.
Who/what are your favorite designers/brands?
As far as plus size stores, I love Ashley Stewart, Torrid, Lane Bryant, Macy's and Nordstrom. As for high end designers, I love Gucci, D&G, Chanel and Louis Vuitton. For high end plus size designers, I like Marina Rinaldi and LaFayette 148.
Describe your personal style.
Classic, classy, casual, fun and colorful. Very colorful. I love color and prints.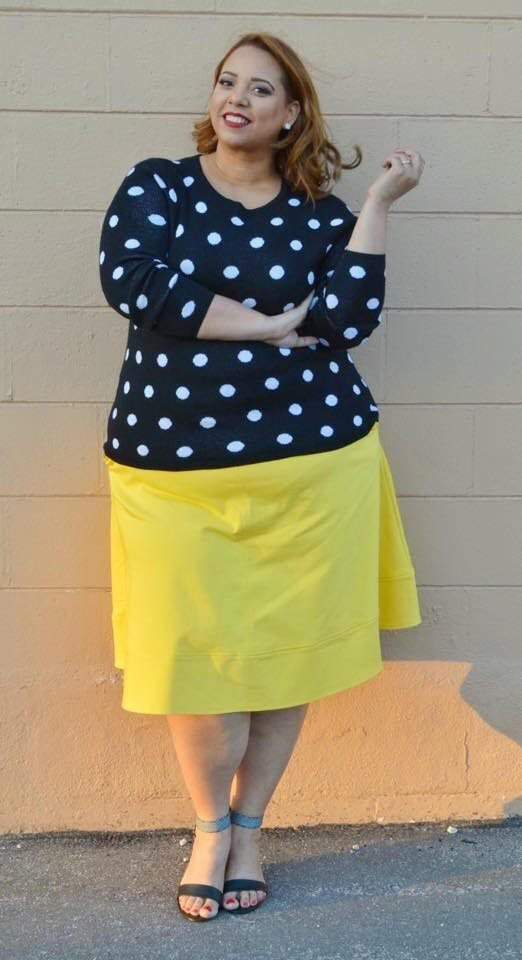 Which bloggers inspire you? Plus or straight size! Any bloggers currently on your radar?
So many, but I will name a few: I love Alissa Wilson from Stylish Curves, she is very elegant and classy. My fellow Latina bloggers La Pecosa Preciosa, Madeline Jones and Nadia Cohen. My fellow Tampa bloggers (straight size) Natasha B. of Fashionably Fab and Vstylist Tamy Lugo
What do you think about where plus size fashion is today versus a few years back?
Oh my goodness, we have grown so much. From having plus size models in major magazine covers, to trendy fashion lines, to having models rocking the runway during fashion week. The plus size community has grown a ton, and I am happy to be a witness to all of that growth. We still have a long way to go, but we are making strides and that is a really big deal.
What do you think or hear from readers, is one of the biggest myths about plus size fashion?
That we hate color, prints, stripes, and that we can't wear this or that. Too many rules, we can wear anything we want. Also that we don't spend money. The plus size industry is a 17 billion dollar industry as of 2016. If we don't spend money, where is all that money going?

Are you working on anything or have anything to share?
I have several projects in the works that I can't say much about because of NDAs, but there are a lot of exciting things coming up for my brand that I can share including re-branding, an EFR online Shop and many more surprises.
Anything else you want The Curvy Fashionista's readers to know?
I just want to say thank you to all of my readers for supporting me and to The Curvy Fashionista readers for supporting me as well. It has been an incredible 5 years. I hope that you guys get a chance to check out my blog as well and join me on this amazing journey. The best is yet to come!

Lastly, what does Curvy.Confident.Chic mean to you?
It means loving yourself no matter what size the scale says you are. Respect others and treat them kindly. Putting out positive energy into the world, and it will come back to you tenfold.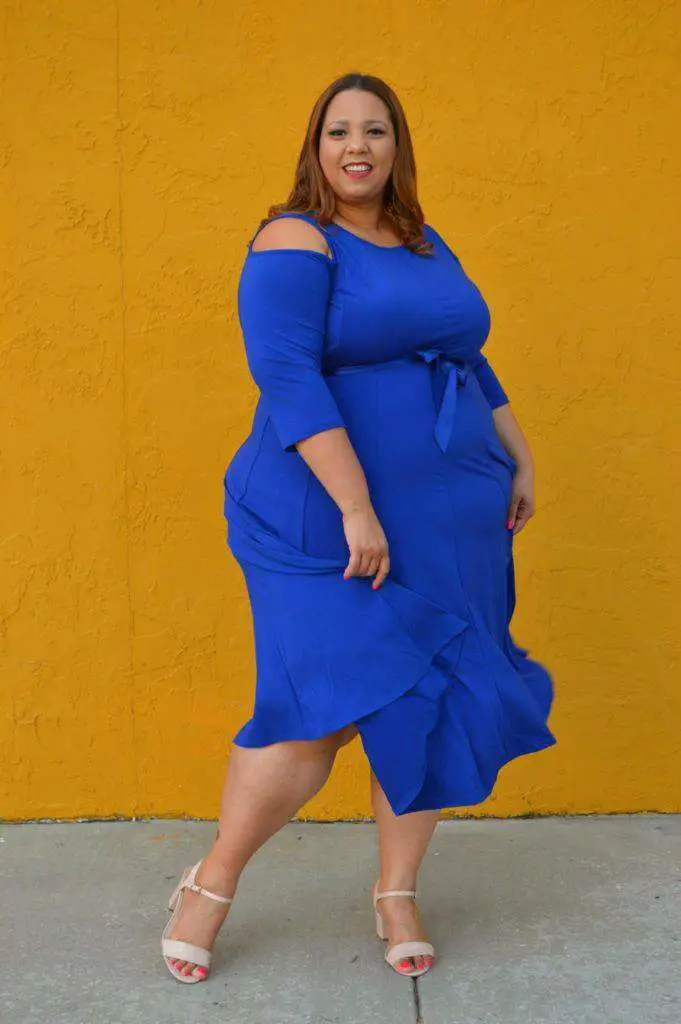 Do you dig her style? Which look is your fave? Let's talk about it below!!
Want to be featured?
Make sure you fill out your deets here,
so that we can feature you!
Looking for more plus size blogger style inspiration?
Make sure you check out all of the other plus size blogger spotlights!