Let's have a Fall Dinner Party!!! Is it okay to share a few fall dinner party ideas with you? Fall is such a wonderful time to have a dinner party.
Either having an intimate setting for just a few special folks or a grand celebration of a holiday, birthday, engagement or anything grand, planning a dinner party can be fun but can also be taxing.
Well, I have grown to be a much better planner and to really, really, be creative and enjoy throwing a dinner party without all the stress and mess!
Check out these Fall dinner party Ideas and a few Tips!
Tip #1 : Where the Party at?
Location, location, location! This is a very important factor in planning your Fall dinner party. Your house, someone else's house, or an altogether different venue, the choice is yours! Once you have decided where the party will be, then you have what I would like to call, "a blank canvas".
Since the Pandemic, many have become Instagram and Tik Tok famous for home décor and table décor for dinner parties.
I personally find it so much easier to throw a Fall dinner party in the comfort of my own home rather than to travel to a location. I would rather create an environment at home than bring all of my decorations, "knick-knacks", food, and all that jazz, fearing that I would forget something.
Influencers on TikTok and Instagram have motivated me tremendously to make my home beautiful and my dinner table fabulous! But… do what you think is best for you and YOUR personal comfort. The hostess must always feel at ease in entertaining.
You are doing this for yourself as well! Remember that!
Tip #2: Guess Who's Coming to Dinner? Fall Dinner Party Guest List
Now, it is time to get your guest list together! Synergy at a dinner party is super important. If the people you invite can't even get along, then why create a possible "night of horror"? And… stop trying to FORCE people to get along who may NEVER see eye to eye? It is a waste of time, energy, and a perfect night!
Women have a tendency to try, try again… and in some cases, that is a plus. But in the case of people, you must KNOW who you are dealing with and be truthful! Stop sugarcoating situations that may end up totally WRONG!
Let your guest list include people you will enjoy being around and help make all your hard work worth it!
Tip #3: Whatcha Cooking? Fall Dinner Party Cuisine
Here is the fun part! What's on the menu of YOUR Fall dinner party? Do you want to do something big like a family-style meal, where the food is in the middle of the table and sharing can be a nice change of pace? Or…do you want to do a tapas-style night or even a buffet?
The internet is full of menu ideas for dinner parties and trust me, there is something for everyone! Think about if you want to do Hors d'oeuvres or just a soup and salad for starters. What will be your main entree? Do you want different entrees before you even get to "main course"?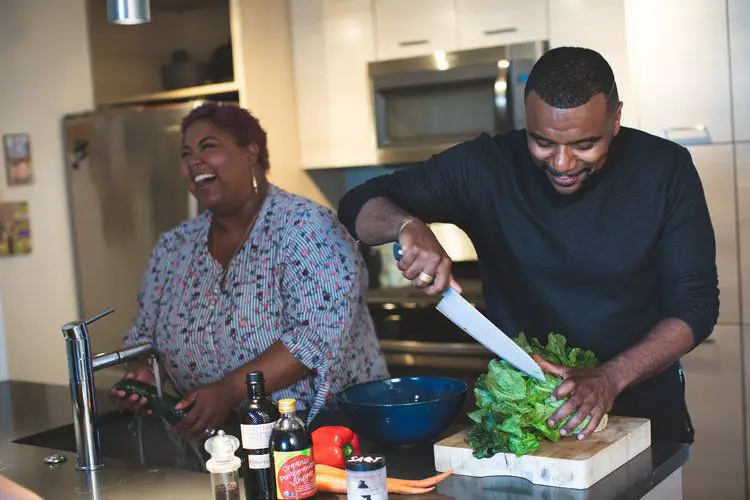 The choice is yours! Have fun with it! You can even ask your guests to bring a dish.
Another fun part of designing your menu is your choice of beverage. Some dinner parties will have wine, where others will jazz it up with a signature drink – alcoholic or non-alcoholic.
Want to be safe? Try old-fashioned iced tea with a lemon slice and mint leaf on top for garnish.
Tip #4: It's the Décor for Me! Fall Dinner Party Decor
Decorating for your Fall dinner party can be a fabulous experience! If you don't want to go overboard, then keep it simple with a heavily decorated dinner table and just a clean house!
Want to go all out? Then jazz it up with a theme or flowers or even color to make the room pop!
Instagram is full of decorating tips for a dinner table with charger/plate combinations, faux flowers, shimmery runners, and wine goblets to die for! Be creative! Check out Pinterest, which is one of my go-to resources on décor.
Tip #5: Get it done! Execute Your Fall Dinner Party
Okay! Now that you have your location, menu, and decor set, let's get it done! Plan in advance to give yourself time to enjoy executing a great dinner party!
Nothing is worse than rushing all over the place and feeling out of sorts the day of your dinner party. Many will be so concerned with making things perfect that they forget to take time for themselves! Breathe! Relax!
Take a bath before people show up. Pull out that perfect dress or outfit you have been dying to wear. Take time for hair and make-up.
Indulge in a glass of wine or cup of tea after everything is put in place so when your guests arrive, the vibration of your "Fall dinner party" can be beautifully calm and wonderfully "chill".
Tip #6: It's Clean Up Time
So you did it! You had the best dinner party ever! Clean-up time can be as easy or as hard as you make it. Rule of thumb. If your guests offer to help, let them! This is their way of saying, "Thank you."
An even better rule of thumb, there are plastic stemless wine glasses and faux ceramic plates… even bamboo plate sets that are… DISPOSABLE! Efavormart.com is one of the best places on the planet for all things fabulous and easy to dispose of.
Here are a few of my favorite Fall Dinner Party Ideas!
Now that we have made it through the planning tips, how about a few fun fall dinner party ideas? Scroll through and take a peek at what we have come up with!
Bollywood Themed Dinner Party
Decor: Purple, Fuchsia and Turquoise Table Decor with Gold Accents
Hors d'oeuvres: Samosas, Curry Chicken Kabobs, Coconut Shrimp with Coconut Cream
Menu: Chicken Tikka Masala, Biryani, Basmati Rice, Garlic and Cheese Naan, Spiced Apple Chutney
Drink: Reisling, Cranberry Spritzer, Ginger Tea
Dessert: Coconut Gelato with Grilled Mango
Other Ideas:
Everyone can wear the colors of "Bollywood" (fuchsia, burnt orange, purple, turquoise, gold, etc…) or wear Bollywood-inspired attire.
Hire a Henna Tattoo Artist for the Evening.
Have a Hookah Pipe on a Cocktail Table in the Living Room and turn your space into an instant Hookah lounge.
Create an area for a Spiced Hot Tea Station.
Play Bollywood Movie Excerpts on the Big Screen with Bollywood music playing in the background.
Oktoberfest Themed Dinner Party
Decor: Blue and White
Hors d'oeuvres: A Pretzel Board with soft pretzels, hot dog pretzels, etc…and a variety of mustards; A Beer Station with a bucket of different types of beer from draft to flavored; Brotzeit Platter with Rye sourdough bread, preferably seasoned w/ caraway seeds, Hams and cold cuts, Sliced Bavarian cheese, Radishes, gherkins, tomatoes, Smoked bratwurst
Menu: Pot Roast, Roasted Potatoes, Sliced Pork Tenderloin with Apples, German Spaetzle (or baked Mac and Cheese with breadcrumbs on top), Purple Cabbage and Sauerkraut
Drink:
Apfelsaft – apple juice
Birnensaft – pear juice
Brombeersaft – blackberry juice
Traubensaft (weis or rot) – white or red grape juice
Dessert: German Chocolate Cake or Apple Strudel with Vanilla Bean Ice Cream
Other Ideas:
Play Beer Chess, Giant Checkers and Play German Music
Midnight buffet Dinner Party
Decor: Decorative Pillows, Blankets to match, Slippers, etc….
Menu: Grilled Cheese Minis, Tomato Soup, Shoestring Fries in Spicy Ketchup, Mini Hot Dogs and Burgers, Mini Waffles and/or Pancakes with Fried Chicken Bites and Syrup, Community Extra Large Pizzas
Drink: Sparkling Sodas such as San Pellegrino Aranciata Rossa Sparkling Blood Orange or Old Fashioned Sodas in a Bottle
Dessert: Cookies and Milk Platter, Fried Mini PB&J Sandwiches with Banana Gelato, Coffee and "Decorate Your Donut" Bar
Other Ideas:
Play old school movies or television shows
Tell Everyone to come dressed in their PJ's
Make "doggie bags" out of "brown paper bags" or lunch boxes
---
Whew! I can't even count the numerous dinner parties that I have planned where I found myself running around sweating, cooking, decorating, and trying to execute a great party – just waiting for the right moment to pass out!
What did you think of these fall dinner party ideas and tips? Do they give you a little inspiration to set things up and become the hostess with the most-est?!