Hey y'all, Phat Girl Fresh here and I don't know about you curvy cuties, but I am over society making rules that exclude us. First it was the beauty standards and now it is fashion. "Fat girls can't do this…" "Plus size women can't wear that…" "You are too fat to be pretty…" "You are pretty for a fat girl…"
Blah Blah Blah! BRUH, Why can't we just live!?!? How many times have you heard, "she is too big to wear that?" Personally, if I had a dollar for every time I heard it, I would be rich or so close to it, that I could run for president (joke).
Be honest cuties, have you ever restricted yourself with statements like: "I don't want to show my arms" and "I can't wear a crop top?" In my opinion, these statements come from society's idea that plus size women are not capable of slaying, while rocking certain fashion trends.
These statements also represent the insecurities that many plus size women have, based on society's ideas.
However, at a size 24, with quite a few rolls and giggly parts; I can honestly say, I wear what I want.
Why?
Because this is my body and I love every inch of it and because I love it; I dress it accordingly.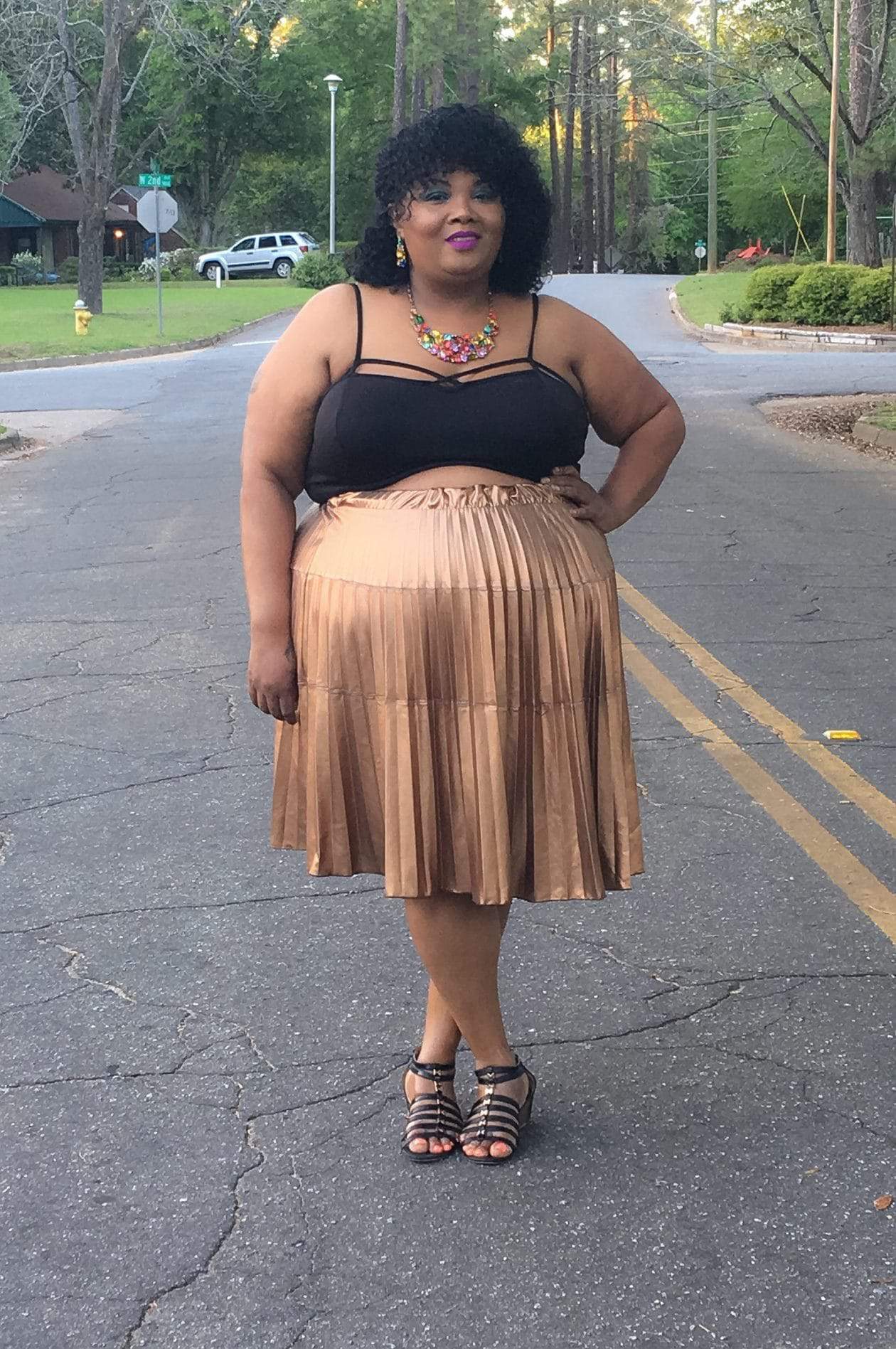 Recently, while out with friends rocking a crop top and showing a little skin, one of my fellow curvy cuties attempted to adjust my clothing. While that bothered me (I don't like being touched by strangers), my bigger issue was the statement that she made.
As she grabbed the back of my skirt she stated, "I am just fixing your clothes because you know we can't be showing our belly."
This got me heated and before I could check myself, I replied, "Maybe you can't show your belly but I can show mine."
This exchange bothered me because despite the considerable growth of the plus size community, there is still this sort of ignorance, projection, and shaming present. What makes it even worse? That it is coming from one of us.
Lately, the plus size community and industry have more support and inclusion in fashion and other industries. However, the thing that has helped the plus size community more than anything else is the change in attitudes of many plus size women.
Yes, we have released ourselves from the box that society placed us in and begin to absorb our absolute truth; we are fabulous, beautiful and capable of doing and being whatever we desire, right now at the size that we are.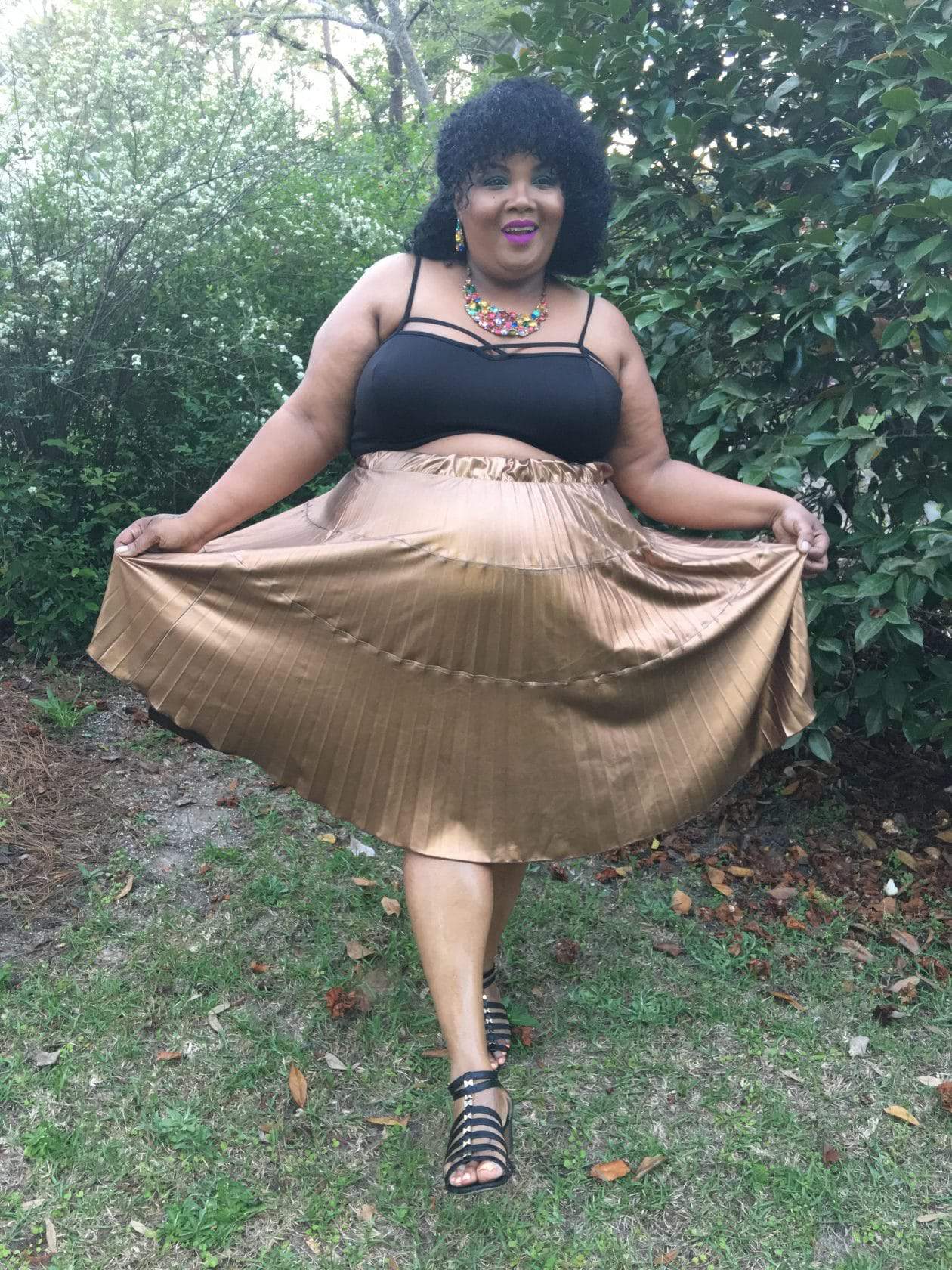 Who said you had to be summertime fine to show and little skin? Hell, who said that being summertime fine meant being a size 2 or that we aren't already fine… PERIOD?
Despite the beliefs of some ignorant individuals; like the editor of O Magazine who said you needed a flat tummy to rock a crop top, plus size women are capable of slaying whatever trend we desire.
While ignorance in any form is sad, it is so disheartening to witness this ignorance among some of our own…
Which leads me to the crop top. This crop top that I am wearing and a few tips that I wanted to share with you, so that you can look and feel just as amazing!
Tips To Slaying In A Crop Top Even Though You Have A Big Belly
Make sure that your undergarments support the crop that you plan to wear. If you have spaghetti straps, wear a strapless bra.
Be sure that your crop top fits properly, even if that means going up a size. In some instances the cut of the crop may be smaller than desired, based on the design.
Make sure that your bottom compliments your curves in a way that will allow you to execute the look you desire. Side note: My stomach is top and bottom heavy, so I rock my crop tops with flirty skirts.
Make sure you are comfortable and confident with the overall look because this is the major key (in my DJ Khaled voice) in assuring that you slay.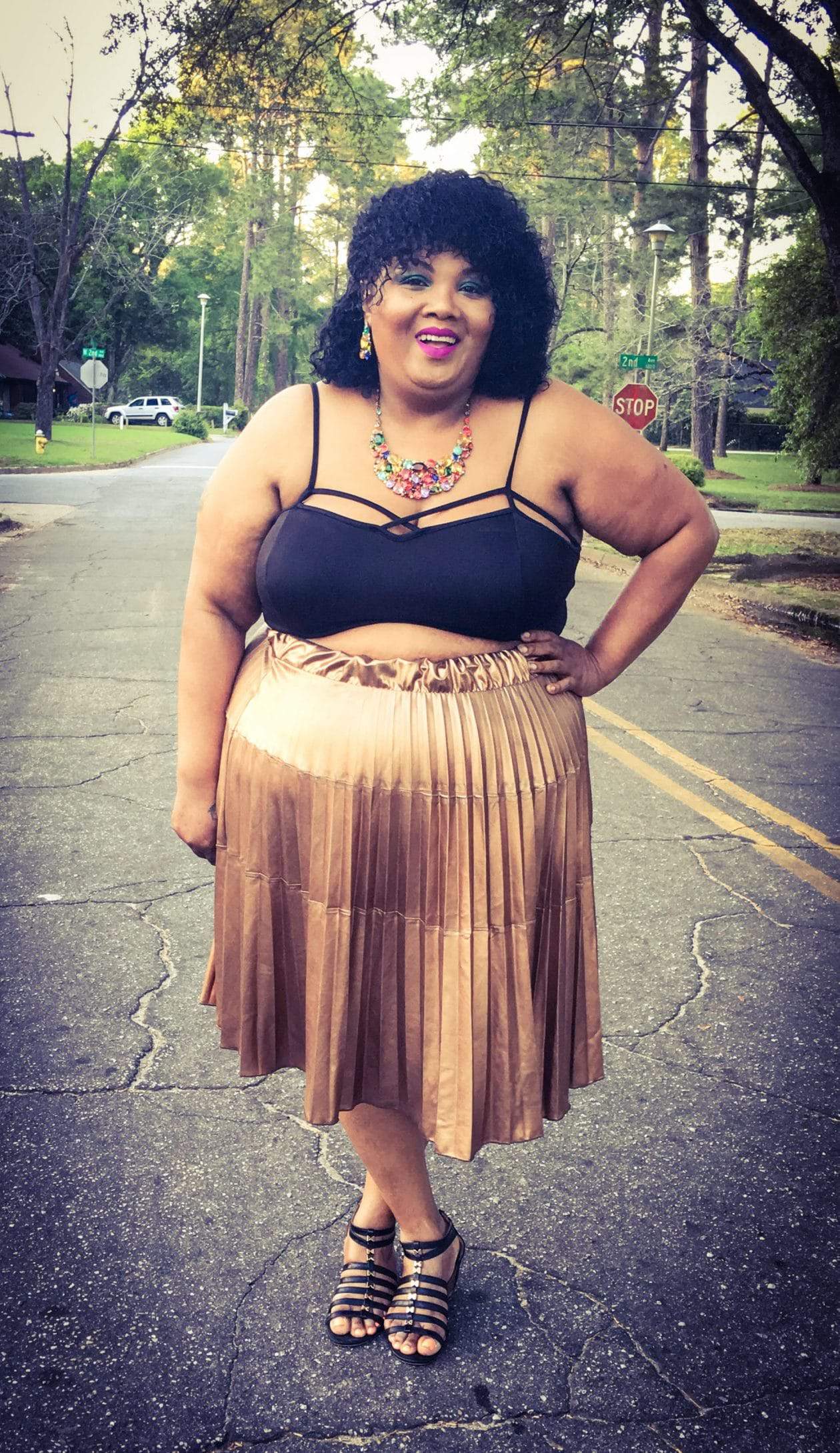 What I Wore
Black Caged Crop Top by Society+
Bronze Pleated Skirt by Society+
Black Strappy Sandal by Westinghouse for Sears (similar)
In spite of the views of other, my fashion declaration is, "I wear what I want!"
What is your fashion declaration? Are you bold enough to wear what you want? Do your rock your crop top and let your arms show? If so, share your photos under this post on our Facebook page.
Come on, Chime in ladies I want to hear from you!