New fall fashion anyone? Today, we are so happy to see another indie plus size designer that has pulled through for us, this fall season. It is all about, options right? Well, Youtheary Khmer is back with a new collection that has us digging more than a few pieces.
If you didn't know, Youtheary Khmer is no stranger to us! The Los Angeles-based fashion designer made her start as a plus size model and with time, she found her passion in and through fashion. With each season, she has been killing it, and has us making a list and checking it twice…
But enough talk and more action right?! Scroll down to see the Fall Collection and be prepared to fall in looove!
Check Out the Youtheary Khmer Fall Collection
"I get some much joy seeing a woman wear one of my designs. I put my heart and soul into creating more than just a pretty dress, but being a part of making someone feel beautiful. Their pain, struggle and sacrifice, is my pain, struggle and sacrifice. Seeing someone else smile, let's me know this is my destiny. This is my gift to you. From one curvy girl, to another" Theary Sim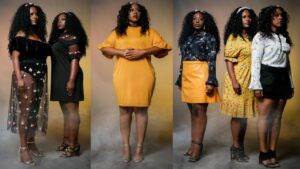 I really think she hit the nail on the head this time! All the styles are very clean with a touch of attitude!I dig the color story, black and white with pops of yellow? Sign me up. The AMIRA Floral Ruffle Blouse was probably my favorite!
Each piece stands alone but can also slide into your closet seamlessly… It is all about how many times you can rock a piece with many ways- right?
Ohhh and they also carry up through a size 4x! And yes, she does ship internationally!
Sooo what do you think? Which one would you rock?! Let me know I'm curious! (lol)