Disclosure: This is a sponsored video with Chafezone. While the post is sponsored, our thoughts and opinions are our own.
What happens when you gather a few ladies from Team TCF and start chatting about plus size fashion, life, and the woes of chub rub? Well, thanks toPlus Zone by ChafeZone, you get a hilariously raw and candid conversation about our thighs, boobs, and other places where plus size women experience painful chafing, affectionately dubbed, chub rub.
Here at The Curvy Fashionista, we have shared a few products, tips, and solutions to combat chafing. BUT! Ever have we pulled back the curtain to share a little bit about how we end up with our content and the various conversations that surround them, until today.
Have you heard of ChafeZone?
If you do not know…
The company started in 2001 working with high intensity athletes. In 2017 they created a brand and product line for the plus community and continues to work on delivering new products in this market to help people feel better. It has a full product line to help people Prevent, Treat & Manage aches, pains and irritations that people suffer from year round.
With the help of Plus Zone by ChafeZone, in the video, we share why we are friends of the brand, how they work for our lives, and even make a convert out of our editor, Aaronica!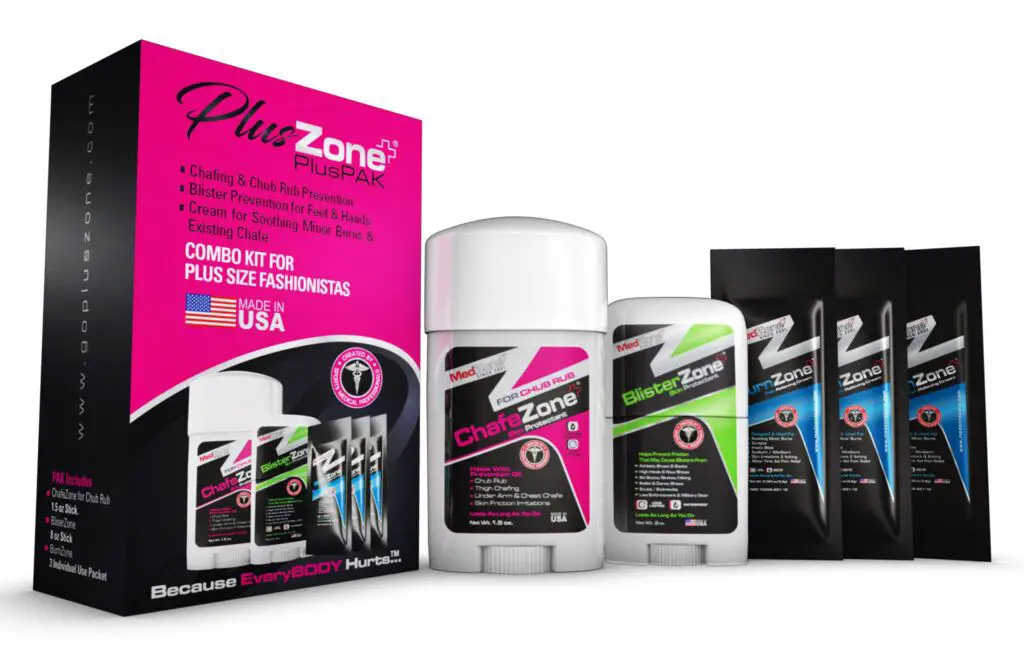 If you do not know, ChafeZone is a product tailored for the plus size woman, with changes to scent and coloring. But even above ChafeZone is the family of products created by MedZone. They are brand that provides an array of products to address a variety of your life's needs, some of which have become additional traveling favorites for us!
Like what? Well in addition to ChafeZone, additional faves are…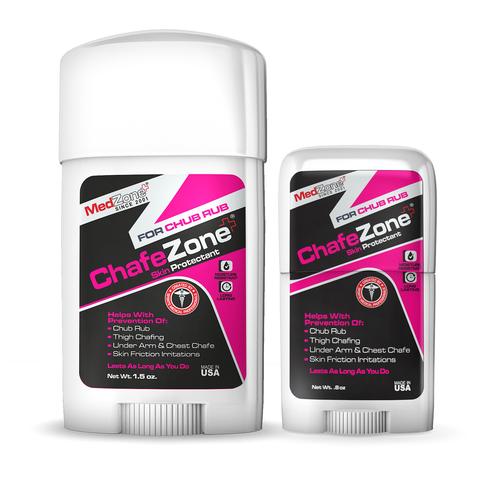 BlisterZone. PROTECTS THE BODY: Applied to any area that is rubbed by the wearing of swimsuits, backpacks, or straps of any kind to prevent irritation. Works on hands for outdoor work, cross fit, golf/baseball gloves. Applied to the feet, BlisterZone prevents friction and blisters for wearers of all types of footwear.
PainZone. RELIEVES PAIN: The topical analgesic relieves tired muscles, joint pain, aches, and eases back pain due to sports, activity, or work. Also works well on arthritis symptoms and sore muscles!
BurnZone. RELIEVES PAIN & ITCH: from minor sunburn, turf burn, kitchen burns, insect bites, chafing. Helps with minor insect bites, existing chafe or blisters; great for vacation or sport travel
What I do appreciate about the brand is that they have handy travel size options, making life a little less painful when you travel.
Shoes hurt? BlisterZone.
Sore legs or back? PainZone.
Spent a little too much time in the sun? BurnZone.
All solutions for your life's travel woes… something that I will always need in my life!
So, as you can see, ChafeZone should be in every purse, backpack or medicine cabinet to prevent friction issues before they start. I appreciate that their products are long lasting and moisture resistant! Talk about year-round comfort…
You can learn more about all the products at GoPlusZone.com!
SO, tell us, after watching this video, what points stuck out to you the most? Which pieces of advice or tips are ones you already use?
When it comes to chafing, how do you combat chafing?
Have you tried PlusZone?
Disclosure: This is a sponsored video with Chafezone. While the post is sponsored, our thoughts and opinions are our own.