Plus size women were doing BIG THINGS in 2013, no pun intended. News related to plus size women was everywhere in this year. Curvy girls were breaking down barriers and making their voices heard. But, what made 2013 different is that the rest of America and the world took notice. Retailers debuted plus size lines, plus models and celebrities were more widely featured and the plus size community showed their power is a force to be reckoned with. Take a look back at the plus size news stories that had us talking in 2013.
Eloquii Shuts Down Then Announces Come Back


Eloquii, the plus size brand owned by the Limited, launched in 2012…quietly. Other than in the blogosphere and a few online ads, there really wasn't much marketing of the launch. The online shop quickly became one of my favorite stores. Great quality clothing that was trendy and classic at affordable prices. But, Eloquii decided to close its doors in July 2013. Those in the plus community who knew about the store were highly upset. The Curvy Fashionista herself, Marie, even wrote a great open letter to Eloquii. So it came to much surprise when in December Eloquii announced its returning in Spring 2014!! Eloquii announced that because of the plus size community asking them to come back, they are! Just another great example of what our voices can do to the fashion industry.
Debenhams Debuts Plus Size Mannequins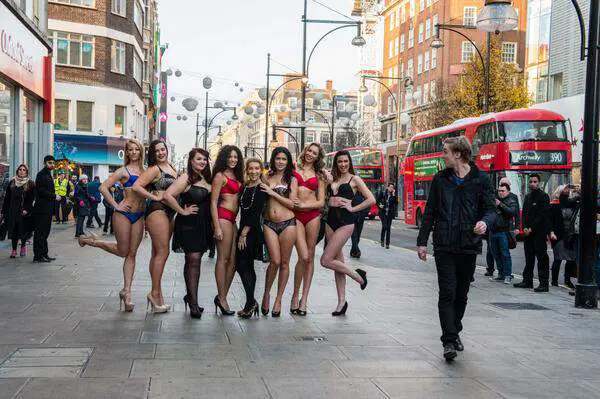 London retailer, Debenhams, revamped its flagship store this year and unveiled its new size 16 plus size mannequins. But, these mannequins aren't relegated to the plus size section, they are mixed in with the straight size mannequins…SCORE! Finally, someone is getting the point that we all come in different shapes and sizes and we all want the same thing: GREAT FASHION. Stop segregating us. Debenhams didn't stop their though. In promotion of the revamp unveiling, it featured models of all sizes outside modeling its lingerie. Can Debenhams school some of these U.S. retailers please? I'm just saying.
Abercrombie Disses Anyone Over a Size 10

Who could forget the hot mess PR disaster that was Abercrombie & Fitch this year and their "we only want skinny beautiful people in our stores" foolishness. In case you missed it, CEO of Abercrombie & Fitch, Mike Jeffries, gave an interview for Salon Magazine in which he said, "We go after the attractive all-American kid with a great attitude and a lot of friends. A lot of people don't belong [in our clothes], and they can't belong. Are we exclusionary? Absolutely." RIIIIIIIIIIGHT. This set off a firestorm of boycotts and angry protests. Now, Abercrombie is changing its tune and expanding its line to include larger sizes *ROLLS EYES*. Ummm, try again.
Curvy Girls Taking Over Magazine Covers and Spreads

Curvy plus size divas were everywhere in 2013 and magazine covers were no excpetion. Gabourey Sidibe in Harper's Bazaar? Melissa McCarthy on Elle? Who would have thought that this would happen? Even plus size models were given covers with Tara Lynn gracing the cover of Elle Spain. This is so GREAT for the fashion industry and for girls and women everywhere to see. Let's hope the trend continues into 2014.
Mango Announces Addition of Plus Size Line Violeta

Mango has gotten the memo: plus sizes are where its at. Their new plus size line, Violeta, is set to launch in 7 Mango stores on January 15th and by the end of 2014 will expand into 100 stores . Their goal is to launch Violeta stand-alone stores! WOOT!
H&M Plus Size Collection Debuts

H&M launched initially launched their plus size collection in August 2012 and it was much better than their attempts in the past. The collection is small, but growing, and features mostly basics, but they have gotten better over the last few months with offering a more trendy selection. But the Swim range, It debuted to little fanfare until they featured plus size model Jennie Runk in a swimsuit on its homepage that linked to the plus size section. This choice sent the Internet and news media on fire! It garnered a ton of attention for their plus size collection and sparked the ongoing debate about plus size models. Let's hope this collection continues to grow and H&M offers items just as on-trend as the smaller sections.
Militant Baker and Abercrombie & Fitch- Attractive and Fat

Mango has gotten the memo: plus sizes are where its at. Their new plus size line, Violeta, is set to launch in 7 Mango stores on January 15th and by the end of 2014 will expand into 100 stores . Their goal is to launch Violeta stand-alone stores! WOOT! After the CEO dug himself a hole after shunning and insulting the plus size community, the ever so bold and witty blogger, Militant Baker came back with the most epic reply and letter to him. Not only did she fashion an open letter, but she also hooked up her own photo shoot that played on the brands words- ATTRACTIVE & FAT.
There was definitely much more news that happened, make sur ethat you check out the latest in Plus Size News on the blog!
What other News from the year was also monumental for you? She with us in the comments below!