Shopping as a curvy girl has definitely gotten better over the years. For way too long, the options given to us were few and far between. There's now a wide assortment of shops that are plus centric or size inclusive. That's AWESOME. But let's introduce you to one to know, A Conversation Piece by S.Benson!
With so many options, I've noticed that some lack the recognition others receive. They are just as deserving as other brands, but for some reason… They aren't as well known. Well I think that should change, and I am here to share some DOPE stores I love and I think you will love, too!
For my first You Oughta Know feature, I am sharing a shop from my not-so-secret obsession… Etsy!
At first glance, it may seem like there are not a lot of plus size options on Etsy. Sure, a lot of shops have the option to make custom designs. But sometimes the excess fees can be a real turn off. That is why I was so happy to find A Conversation Piece.
The shop boasts that it makes PLUS SIZE FASHIONS… for everybody. How dope is it that the shop is primarily for us, but our skinny friends can get fly, too? Usually it's the other way around, and I have to admit that I love feeling the role reversal.
Am I petty? Okay, I admit that it's a little petty!
You Oughta Know: A Conversation Piece by S. Benson

A Conversation Piece is the brainchild of designer S. Benson, who had an interest in sewing since childhood. Disappointed with the (for lack of a better word) slim pickings for women in the plus-size market, she purchased her very first sewing machine for her 21st birthday in 2001. Armed with only her memory of home economics class, she began creating her own designs to wear.
Her sewing skills received rave reviews from those in her inner circle, who insisted she make clothing for others as well.
Leaving a 9 to 5 job in corporate America, SB returned to school to hone her craft, after being accepted into the Master of Fine Arts program at Savannah College of Art and Design.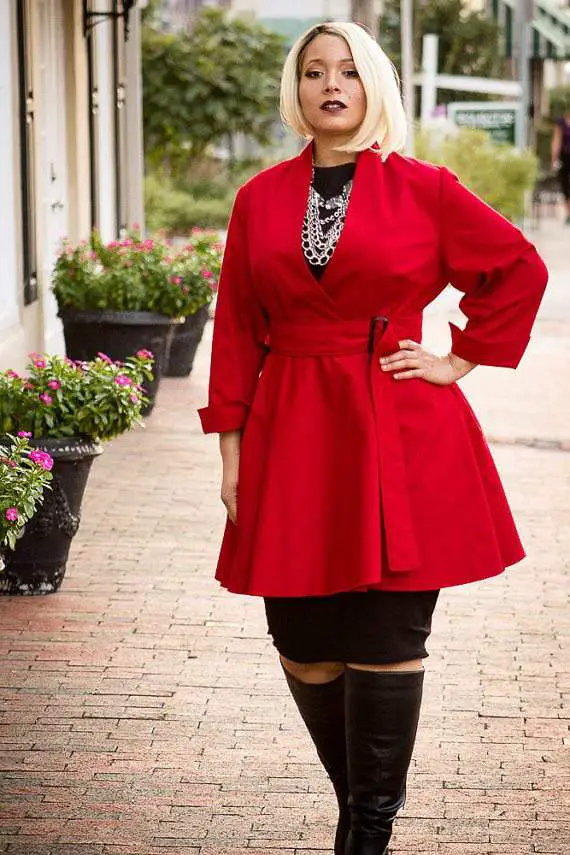 S. Benson says that she started A Conversation Piece because she wanted "to provide women with an option to be different." She enjoys using unconventional materials, which is not always something curvy girls can find when shopping for something unique.
Her goal is to design clothing that is comfortable, versatile, and gives you the opportunity to hide any imperfections without being super obvious. She calls this "The David Blaine effect" (Don't you just LOVE that?).
And when she says clothing that is versatile, she means it!
Learn More and Shop Now at etsy.com/shop/aconversationpiece
What I enjoy the most about S. Benson's fashions is how unique they are. I get the distinct feeling that if I were rocking one of her pieces to an event, I'd be the only one wearing them. This isn't an easy feeling to come by in our community.
This is why I believe you oughta know A Conversation Piece by S.Benson!
Check out the store on Etsy to see all of the amazing designs by S. Benson and leave a comment below telling me which look was YOUR favorite.
Until next time!