Yes, we are in the midst of a curvy uprising, body and size acceptance increased quite a bit in 2015 and in 2016 we are taking things to another level. While this is a great thing for the curvy community, there is still so much work to be done. I can't speak for my fellow fat girls but it grinds my gears that despite the numbers, we are still don't receive the love and respect we deserve. Listen, I got 99 Problems And Being Fat Ain't 1!
You would think that since we are now the majority, we would rule… BUT OH NO! Democracy has no place when it comes to fat girls. We are still under appreciated and accommodated in so many areas of society.
Now I know what most of the slim (and some of the fat) people are thinking, here she is again making complaints for the fat girls, when will they be satisfied. Well, you are right; I am here on behalf of fat girls all over the world to express to you how unwelcomed society continues to make us feel.
Because despite all the growth that has taken place in the plus size community, we still have more fat girl problems than we can bare.
Why do I say there is still work to be done? Because I live with many of these fat girl problems on a daily basis. Things that may seem small to some but they are major to myself and other fat girls. No, we don't expect you to roll out the red carpet but it would be nice to be accommodated a little…
OR IS THAT TOO MUCH TO ASK?
I really hope it isn't too much to ask because we are asking, wait… we are demanding! 2016 is the year to own everything that we want and we refuse to be hindered by anything; so either get right or get left.
I know some of your wish we would, "have several seats" and maybe we would, if we could fit them.
If you plan to fly, ride the bus or even take a trip to your doctor's office, be prepared to be uncomfortable. Why? Because the seats are just too damn small. Whose ass are these things made for anyway?
Haven't you got the memo that over half of society is fat?
C'mon son! I think maybe you should have a seat and we will keep standing and wait on you to upgrade.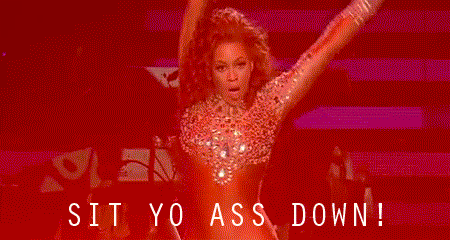 Speaking of seats…
Can we go out to eat and not be forced to sit in those small ass booths that squeeze our stomachs like a waist clincher? Dear Applebee's hostess, you know damn well this is not going to work; can we have a table…
Please and thank you!
And while we are talking discomfort…
I know many (not me) curvy girls would love to go to a carnival or theme park and ride a roller coaster or two… BUT OH NO! That damn bar, will kill you and not movie dead… dead, dead!
Hey fellas!
Please know that we are not a fetish! We are women, we are not a secret trophy that you must obtain. If you are not interested in getting to know us… step aside because we are not here to fulfill some sexual fetish and/or fantasy.

And while we are on the subject of stepping aside…
We can hardly do that in some of these dressing rooms and bathroom stales. We should at least be able to move our damn arms and not feel like the walls are closing in on us. Honestly, there is no place like home; I would rather make a return or sacrifice my bladder than to put myself in an uncomfortable situation.

PLEASE. PLEASE. PLEASE… Stop disturbing the chic!
Retailers, stop playing! If you don't cater to plus size women, we are cool with that. Our issue is that you claim to be plus friendly but based on the fit of your clothes… LIES!
You know I could go on and on but I will give it a rest for now, just know that we (fat girls) want results. We refuse to spend 2016 silent, If there is an issue it will be addressed properly.
What are some of the fat girl problems that you are totally over and don't want to deal with in 2016? Chime in ladies!