Hey there lovely people! As promised, I'm back to share my 5 Plus Size Thrifting Tips. With springtime quickly approaching, I'm sure you're itching to add some new pieces to you spring wardrobe, right? Well, don't count out the thrift store. Check out these 5 plus size thrifting tips that will make thrifting as a plus size shopper a bit easier!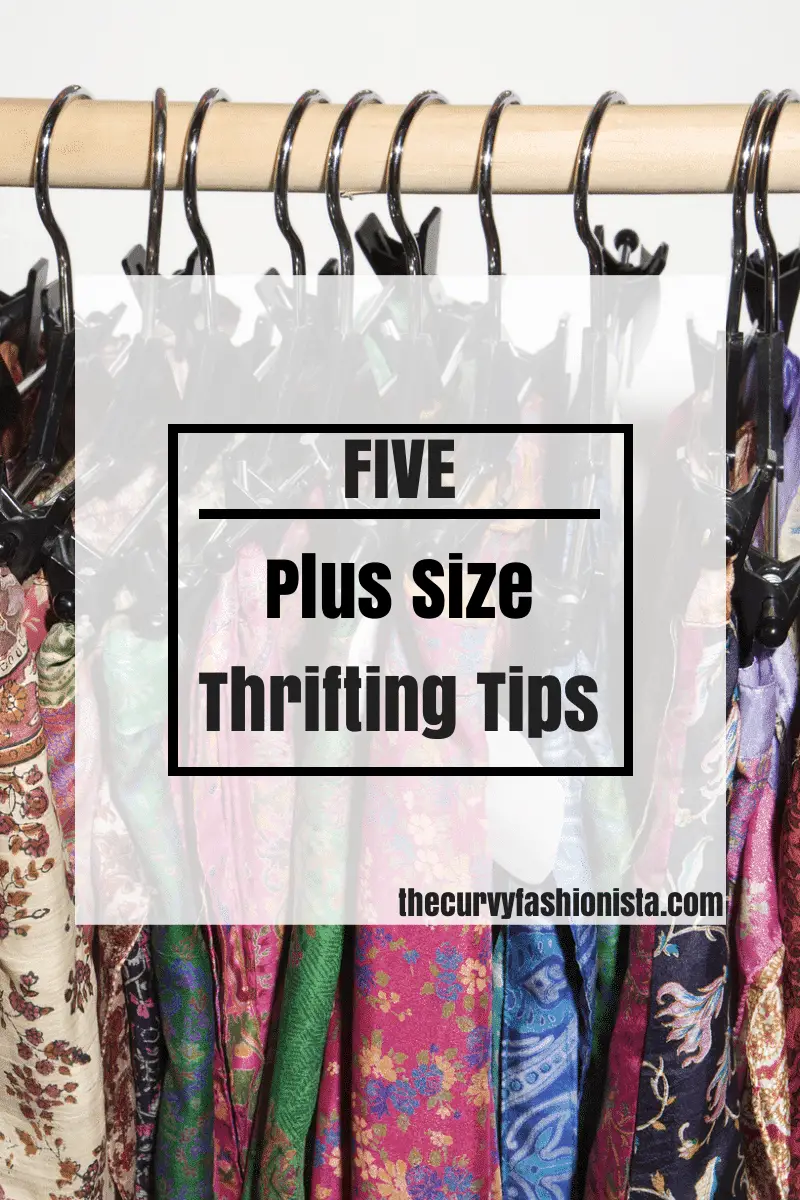 Check all sections – even those not labeled "plus". Most thrift stores I frequent don't necessarily have a designated "Plus Size" section. I don't let that stop me. Instead, I come prepared to hunt. I tend to find a lot of plus size gems snuggled between smaller sizes. So, be sure to look through all sections and sizes.
Don't be afraid to try the menswear section. As a plus size thrifter and a woman who has semi-broad shoulders, I tend to find most of my blazers and jackets in the men's section. It's true that the structure of men's blazers tend to be boxy. But when you find the one that's a perfect fit, you feel like you hit the jackpot!
Don't overlook the footwear. I know some hardcore thrifters who never find shoes while thrifting. I like to think that I'm one of the lucky ones because I always find great shoes, ranging from sizes 6 to 12! If you're looking for more modern styles, I suggest the Goodwill locations. They carry a lot of the "leftover" shoes (and clothes) from Target. If you're looking for something more unique and possibly one-of-a-kind, stick with your local thrift chains like Value Village, Village Thrift, etc. Now, thrifting for shoes can be tricky. Vintage shoes are usually cut very narrow, so I tend to buy shoes a size (or ½ size) up. Even if the shoe is your size, I suggest trying it on. Bring a pair of nylon footies with you and slide those babies on!
Be creative. You may find a piece that is indeed plus size, but it lacks shape and excitement. No worries! Think about the items you already have in your closet that can add some pizazz to that drab piece! If you can't think of anything, head to the accessory section – I guarantee there's something there to help jazz up that boring frock!
Shop more than just clothes. Thrifitng for more than clothes makes you a well-rounded thrifter. I love thrifting jewelry and accessories. From gorgeous vintage inspired handbags to unique belts, these sections (at most thrift stores) are goldmines!
_____
So tell me, do you find these tips helpful? Are you planning to hit up some thrift stores this spring? Let me know and feel free to share your plus size thrifting tips as well! See ya next time…XO!