As a petite and curvy woman who has been interested in fashion all of my life, I've spent more than my fair share of time poring over fashion magazines. If you've ever read a fashion magazine or even watched "What Not to Wear," then you know that "rules" abound for creating the most flattering looks for different body types. Generally, the word flattering is used as code to mean taller and thinner. So we talk 7 Petite Plus Fashion Rules to Break NOW!
Whether considered "plus" or not, I've always been more on the curvy side. Certainly, I've always been petite. I spent years dutifully trying to follow fashion rules, but somewhere over the years, I have realized just how limiting these rules are. What's more, I realized that if you are petite AND curvy/plus, the rules are often contradictory, providing even fewer "legal" clothing options.
If you're a fashion lover, then the idea of wearing one type of skirt, hem length, jacket cut, etc. for the rest of your life is a positively dreadful notion. So, while these "rules" are great as guidelines for flattering your beautiful physiques, they really should just be taken as suggestions and nothing more. There are no real world fashion police coming to arrest you – so wear what you want!
Ultimately, great style and looking fabulous comes down to how you feel about yourself in your clothes. Do your clothes make you walk taller and move with increased confidence? If they do, then they are doing more than just their basic job of preserving modesty.
Rules built on absolutes and prejudice towards a certain ideal are begging to be broken! So, with that, here's what a little rule breaking looks like:
7 Petite Plus Fashion Rules to Break NOW
RULE 1: Mini-skirts

Well, a petite, plus girl can't both avoid and wear mini-skirts, so wear what you want! Love showing off those gorgeous gams? Do it!!!
RULE 2: Horizontal stripes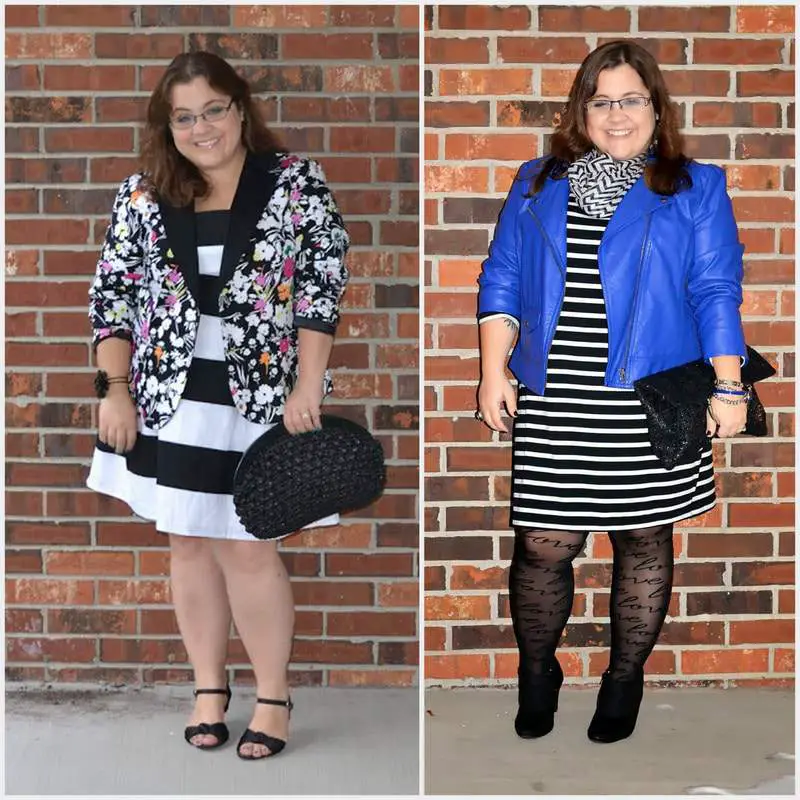 Here's my take on the "Avoid Horizontal Stripes" rule. No one is ever going to mistake me for being tall, nor for being a waif. Our bodies are what they are – own them. As women, we're often told me shouldn't take up too much space (physically, culturally, politically, etc.). Horizontal stripes send an unapologetic message. We're here – take notice!
RULE 3: Head-to-toe Black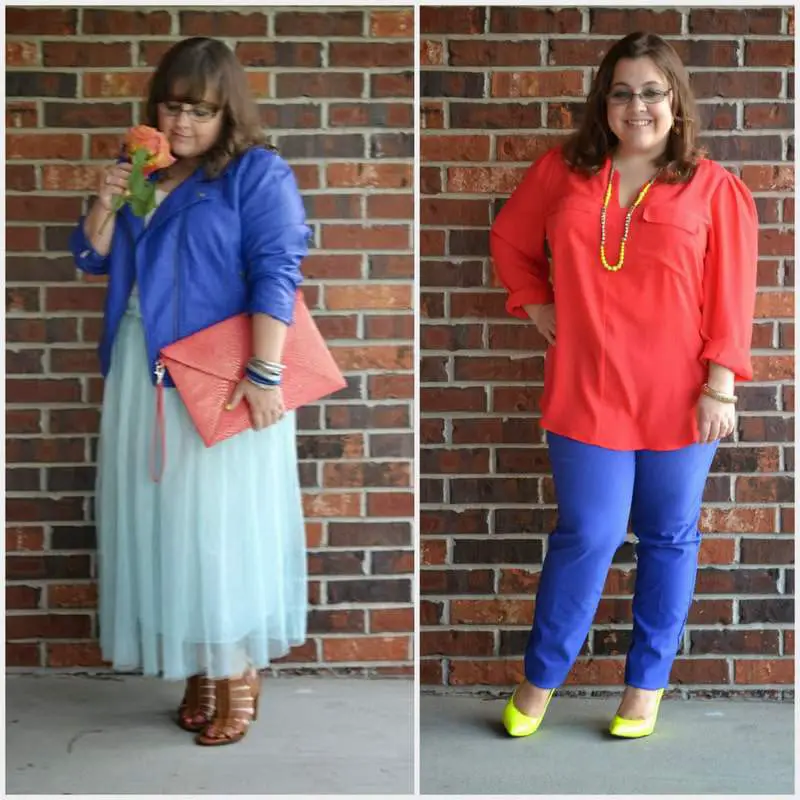 We've probably all heard that black is slimming and that head-to-toe black is lengthening to the figure. Now, don't get me wrong – I love me some black, my favorite neutral by far, but too much black can simply be boring. A rainbow-inspired palette projects confidence. When you want to get noticed, color is definitely the way to go!
RULE 4: Cropped/Ankle pants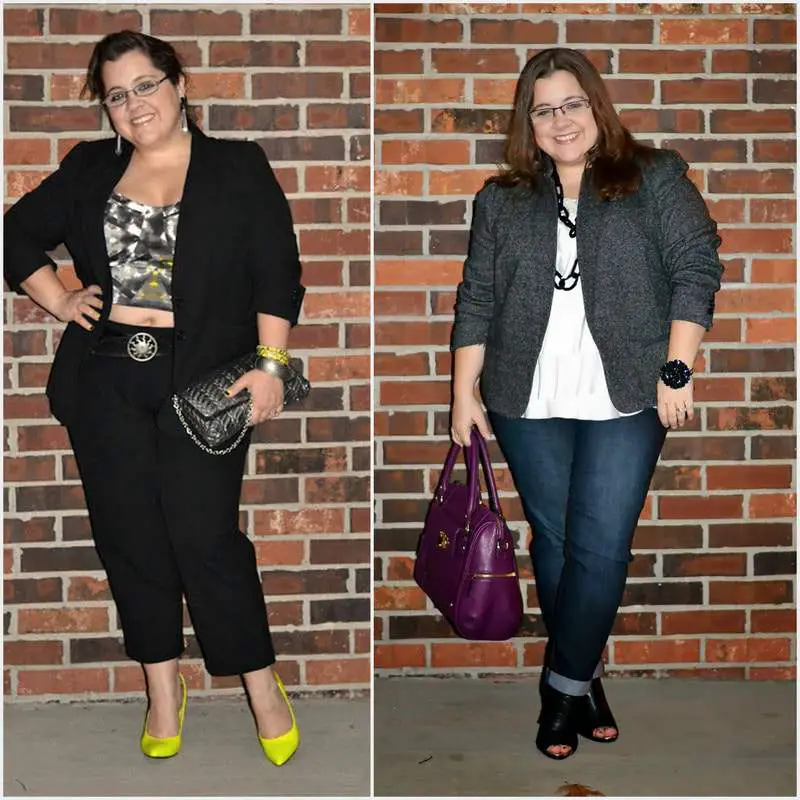 Cropped and ankle pants add variety to a pants collection. If you like to let your ankles breathe or just enjoy the silhouette, then go for it! Tapered or slim legs are almost just as flattering in the conventional sense as full-length pants but have a little less formality making them perfect for casual and evening looks.
RULE 5: Oversized or voluminous clothing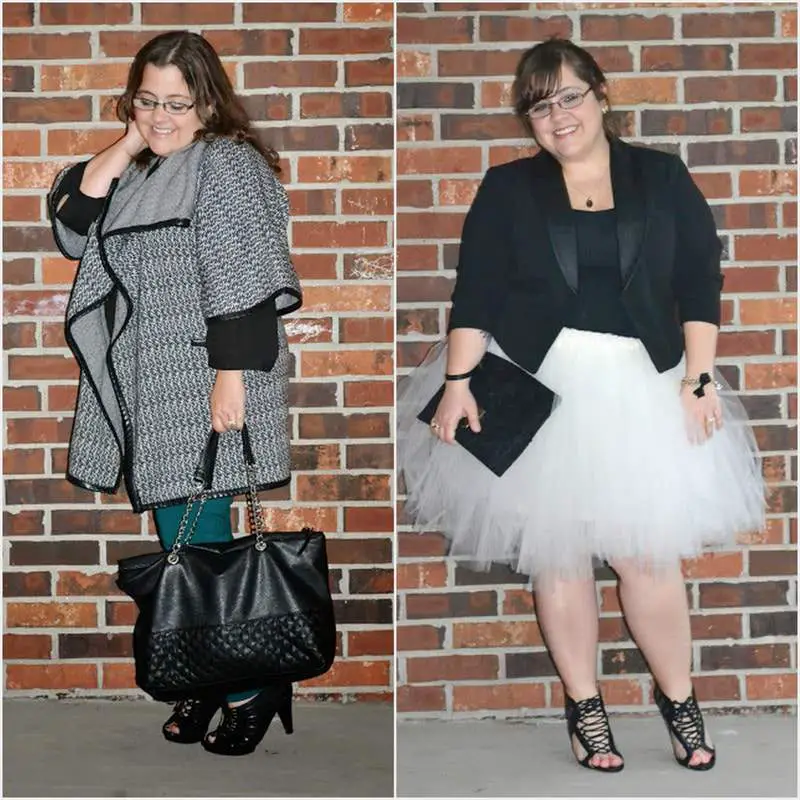 Yes, there was once a time (in the not too distant past) where plus-size fashion meant shopping at Muumuus R' Us, but fashion rules have changed and now the general rule is that plus size women should avoid oversized or voluminous clothing. Now, I'm not advocating muumuus (unless that's what you're in to), but playing with volume adds interest to a look, and petite plus-size girls need not be afraid of it.
RULE 6: Midi- and Maxi-length hemlines
For years, I've heard that petites should avoid midi and maxi-length hems – that they make petites look even shorter. Plus ladies are told to avoid midi and maxi-lengths and encouraged to show off one of their "best" assets by flaunting their calves. So, if miniskirts are out and midi and maxi skirts are out, that essentially leaves petite plus girls the option of knee-length skirts. Knee-length is great, but too much of a good thing can still get stale. Besides, we can decide for ourselves what our best assets are!!!!
RULE 7: Large prints, accessories, and handbags

Another contradictory "rule"! You could compromise and stay trapped in medium size everything (generally considered to be universally flattering), but where's the fun in that?
Ultimately, what you wear should be your own decision – based off of what makes you feel great and not what you've been taught you should wear. Fashion "rules" can be great guidelines, but one should never feel bound by them. For petite curvy/plus gals, finding a great fit can be difficult enough – you should at least get to wear what you love!
What do you think? Do you tow the style line or are you a fashion rebel?