With spring here and summer right around the corner comes warmer weather for many of us and the desire for easy, breezy dresses. Spring and summer bring weddings, high school and college formals, concerts, graduations, and many other events that give us excuse to check out the newest offerings of dresses.But what about my petite plus size ladies? Finding dresses can be a bit tricky… No worries! We are her to help you out a bit and share a few petite plus size dresses and tips to help you out!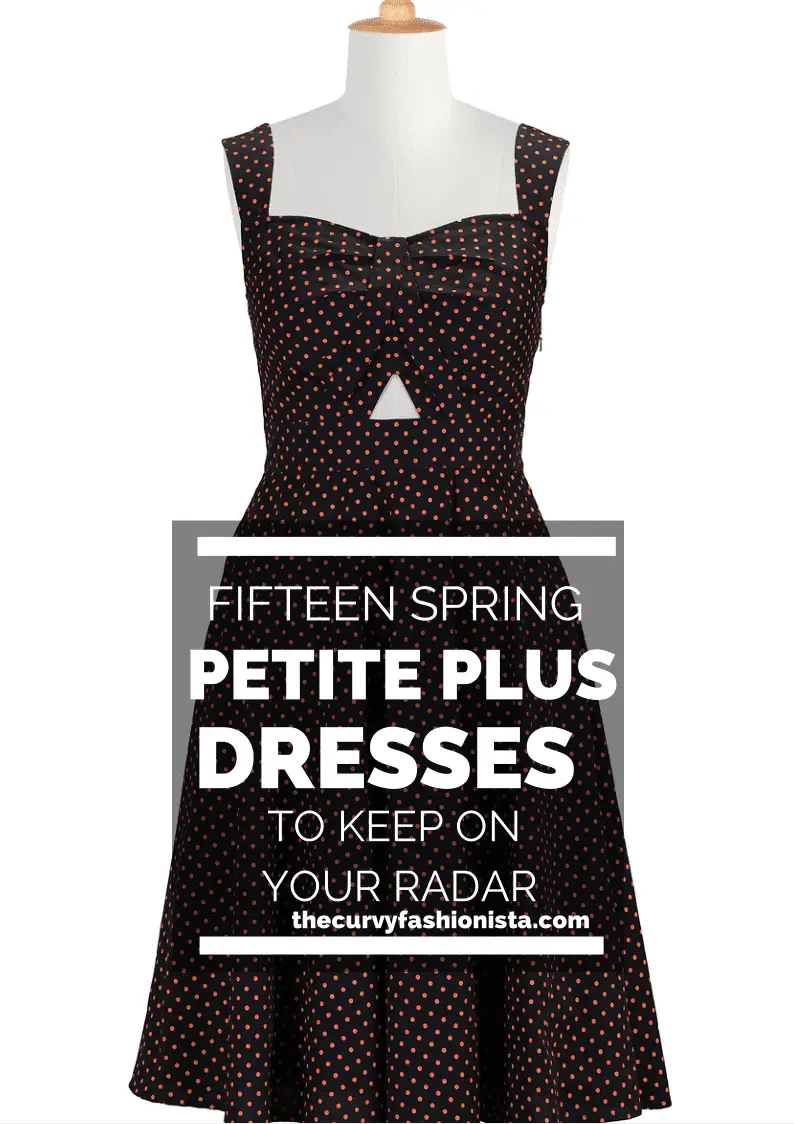 Sizing for Petite Plus
Plus-size petites unfortunately have few options in finding dresses that are made for them; however, a little digging uncovers more options than one might initially think if you're willing to be flexible and make the clothes work for you.
Talbots petite plus-sizes are great for finding work dresses and even a special occasion dress here or there. Styles here tend to veer more on the classic side in style and fit.
If you're in between straight and plus-sizing, petite straight sizing options are often a great source. For all their questionable actions of late, Target's petite selection usually goes up to a XXL or 18 Petite.
Because it really is EXTREMELY difficult to find petite plus size dresses, especially fashionable ones, plus petites often must work with what is available in the mainstream straight and plus markets. Alterations are often a given, but these alterations can be minimized by finding shapes that work well with most petite plus frames and are easier to alter. Sleeveless fit-and-flare dresses, for example, often fit well through the bodice, often requiring only minor alterations in the shoulders and hem. Juniors plus-size dresses are also usually a great choice for plus petites because the overall proportions of juniors dresses are smaller. Because juniors' lines are targeted towards a younger demographic, hemlines also tend to be shorter.
Eshakti offers custom-fit dresses from sizes 0-36W – and they have sooo many fantastic options from which to choose. Because manufacturers are not catering to the petite plus demographic, custom fit dresses are often the way to go, and they are much more reasonably priced than one might expect!
So, with sizing and fit concerns out of the way, I've rounded up fifteen options for all your springtime dress needs and wants.
15 Spring Petite Plus Dresses to Keep On Your Radar
Little White Dresses

White is a major color trend this spring, and what is more versatile for spring and summer than a little white dress? Lace, crochet, and other textured fabrics add visual interest. Pair with other whites, ivories, and beiges for a soft neutral look head-to-toe.
Pretty and Proper

With weddings, graduations and other more formal occasions popping up all over during spring, you may find that it is time to invest in a pretty new dress. Pops of pastels and brights make these dresses spring-time appropriate. The modest shapes and necklines and fancy fabrics make them perfect for a wide range of dressy functions.
Working Black and White Graphics
Black and white prints continue to be a major trend on spring runways. Worn with cardigans, blazers, and belts in bright colors, these dresses are perfect for work. With versatility in mind, these dresses also translate well to weekends and evenings.
Bohemian Rhapsody
If you're like me, you find that your style leans more boho during the spring and summer. I practically live in maxi dresses on the weekends – there's not much that can beat them for comfort and ease. Maxi dresses are perfect for outdoor concerts, picnics in the park, and casual dinners. Disclaimer: the white and blue maxi is not a petite, but the ruffle could likely be moved up by an expert tailor or seamstress.
Evening Glory
Cool cutouts and corset details make these dresses perfect for evenings. Whether you have a hot date or are planning an evening with friends, these dresses will get you through the sultry and steamy nights of spring and summer.
What do you think of the roundup? These are just a few we thought that would be great for you!
Are you in the market for a new petite plus size spring dress or two? Which of these are your favorites? Let's talk about it below…