The fashion world is known for setting trends and forecasting what's new, hot, and worthy to be worn. However, as much as fashion is obsessed with newness, it also frequently circles back to styles of old and wardrobe staples that have an unlimited shelf life. Today's topic? The 12 Timeless Classics that we need in our fashion lives…
Certain wardrobe items are timeless classics belonging to any wardrobe. These items stand the test of time because not only are they universally flattering, but they can be interchanged to create a myriad of looks that carry you throughout the years.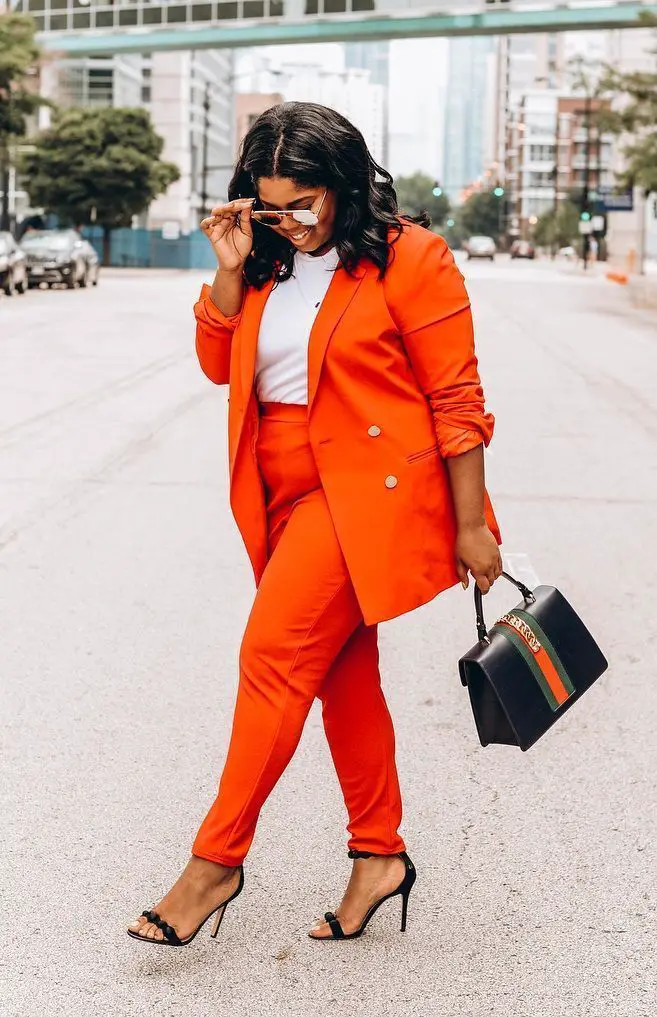 If you're not exactly sure what these timeless classics are, we've put together a list of the 12 that every person should have in their closet.
Some of them you may have, some you may not, but one thing's for certain, they need to permanently occupy a space within the sacred confines of your closet.
12 Timeless Classics That Will Never Go Out of Style
Make life easier by having these 12 timeless classics that will never go out of style in your closet.
Photo Credit: eloquii.com
Ahh, the little black dress. Women and girls worldwide are taught the importance of this wardrobe staple very early on in their lives because of the sheer magic it's capable of.
Whether you need to look polished for the office, flirty for a girl's night out, or sexy for date night, the LBD has you covered on all fronts.
One of the best things about an LBD is how it allows for maximum personalization.
The accessories you pair with it, coupled with the silhouette you choose, let your personal style shine.
Jeans are an absolute classic! They are incredibly versatile and can be dressed up or dressed down! Depending on the wash and fit, they can look chic and sophisticated or relaxed and laidback.
A good and well-tailored pair of trousers may not seem like something you need to have in your wardrobe, but once you realize how pulled together they make you look, hopefully, you'll change your mind. The first and most important thing to remember regarding trousers is that they need to fit you perfectly to achieve the desired effect.
The extra money spent on a good tailor is worth it when you have a pair of chic trousers that practically scream "boss mode."
Photo Credit: Anthropologie.com
Long gone are the days when blazers were strictly thought to be for those relegated to the office. In fact, now blazers are worn by women of all ages. The great thing about the blazer is the sheer number of options it provides.
There are long, masculine-influenced styles, short and cropped ones, those that bring the drama courtesy of retro shoulder pads and styles that demand to be the center of attention due to their vivid colors.
Blazers are not only timeless; they should be bought in abundance, so you're never without one.
Photo Credit: www.citychiconline.com
Most women, especially those who are curvy, are well-versed in the importance and flattery of a beautiful wrap dress. Created by the icon herself, Diane von Furstenburg, the wrap dress is the epitome of femininity.
It was designed to expertly and perfectly skim a woman's curves—and it does that and more. The great thing about a wrap dress is how you can be instantly put together by simply throwing it on.
Pair with it heels, flats or sneakers…just wear it as much as possible.
Photo Credit: eloquii.com
It's edgy, modern, and defiantly bold, but those things are just a few of the reasons the leather jacket has retained its relevance for so long.
There is a certain power and coolness one feels when they top an outfit with a badass leather jacket—and that's exactly the point.
However, remember that it should be an effortless look, not appearing as though you are trying too hard, so make the choice to select a style that is uniquely you.
Photo Credit: www.rainbowshops.com
Just like its counterpart, a pair of jeans, the denim jacket has been popular in the fashion world for so long, it's almost impossible to imagine life without it.
Throwing on a denim jacket is the ultimate way to let everyone know how effortless your fashion sense is.
Whether you decide on one that is distressed, cropped, colored, or oversized; a denim jacket is the one jacket that you can wear all season and still be casually fashionable.
Photo Credit: Kiyonna.com
Sure, they get most of their action during the warmer months of the year, but maxi dresses are always appropriate and fashionable.
Most of the popularity of a maxi dress lies in the ease it provides the wearer. You simply slip it on, and you are ready to go and slay the day. Throw on some accessories, and BOOM!
They are also widely available to women in all shapes and sizes.
Photo Credit: www.katespade.com
The lovely Audrey Hepburn made them popular, and women worldwide kept the fashion frenzy going. Many women don't like to wear flat shoes because they are more comfortable wearing heels. Others simply don't like how they look.
That's where ballet flats fill the void. They are feminine enough to attract the high-heel-wearers and comfortable enough for everyone else.
Besides, after you've worn your heels all day or throughout the week, some glam ballet flats are a welcomed change.
You may think, why do I need a trench coat of all things? Well, it's not just about keeping warm or protecting yourself from the elements of the weather. A trench coat is that fashion staple that ties everything together in a very stylish way.
Yes, you can certainly wear it to keep warm.
But why not throw it on during warmer temps to knock off the chill and make a memorable fashion statement?
Photo Credit: LaneBryant.com
It's often been said that the presence of a crisp, white shirt or blouse is amongst the highest level of sophisticated, relaxed style. Just think about the possibilities that a white shirt/blouse can contribute to your existing wardrobe.
You can wear it to the office with a nice pair of trousers or a pencil skirt, throw it on during the weekends with your favorite pair of jeans or tie it up and wear it with a pleated maxi skirt for a night out.
The possibilities are endless… just remember to be careful to keep it clean!
Photo Credit: goodamerican.com
Whether you don't wear heels, only wear them sporadically, or you can't live without them, having a pair of trusty black pumps in your closet is an absolute fashion must.
Black pumps add an instant element of class and chicness that many other shoes aren't capable of, which is why they are such an essential fashion staple.
Additionally, if you're worried about heel height and comfort, opt for lower heels and wide widths.
Following every little trend can be exhausting. Why not use them to define your current personal style by sprinkling them in with some of these classics? This is a great way to extend your existing wardrobe and giving it new life!
These classics have stood the test of time, and they're going to be around for a long time to come, Boo! You will always have something chic to wear if you have these 12 staples in your closet.
What are some of your timeless classics? Do you prefer some over others? What clothing makes you feel your best? Let us know in the comments!