Everyone's work wardrobe looks different depending on your style and the industry you are in. As we know it, workwear has evolved to cover thousands of different professions; working from the office or working from home. However, no matter what you do for a living or where you are "doing it from," one central theme has always been consistent…professionalism!! But in looking professional, you CAN still be fierce and stylish!
We can all use something different and fashionable in our work wardrobe for 2022. Pieces that can help us go from day to night or from the living room to a board meeting! So, let's get ready to upgrade your work wardrobe!
Update Your Work Wardrobe with These 7 Pieces
Wide Leg Pinafore Jumpsuits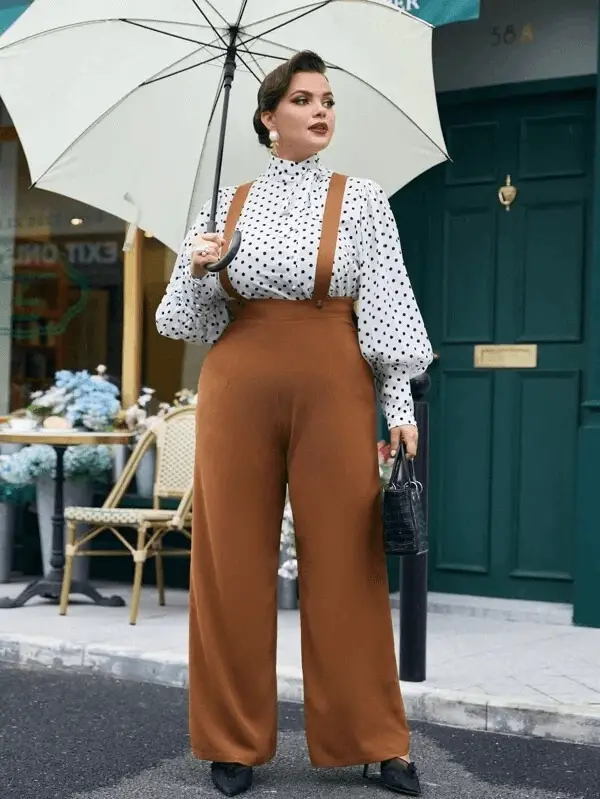 Can you say obsessed? The classic Pinafore Wide Leg Jumpsuit is a piece that should be in every curvy boss's closet. It is a professional yet super comfy look that can be dressed up or down! Are you the creative type? Try this look with your favorite graphic tee, a button-down cardigan, and some great flats. Corporate? Wear a silk blouse with heels.
Check out the Buxom Couture Linen Pinafore Jumpsuit in Olive Green!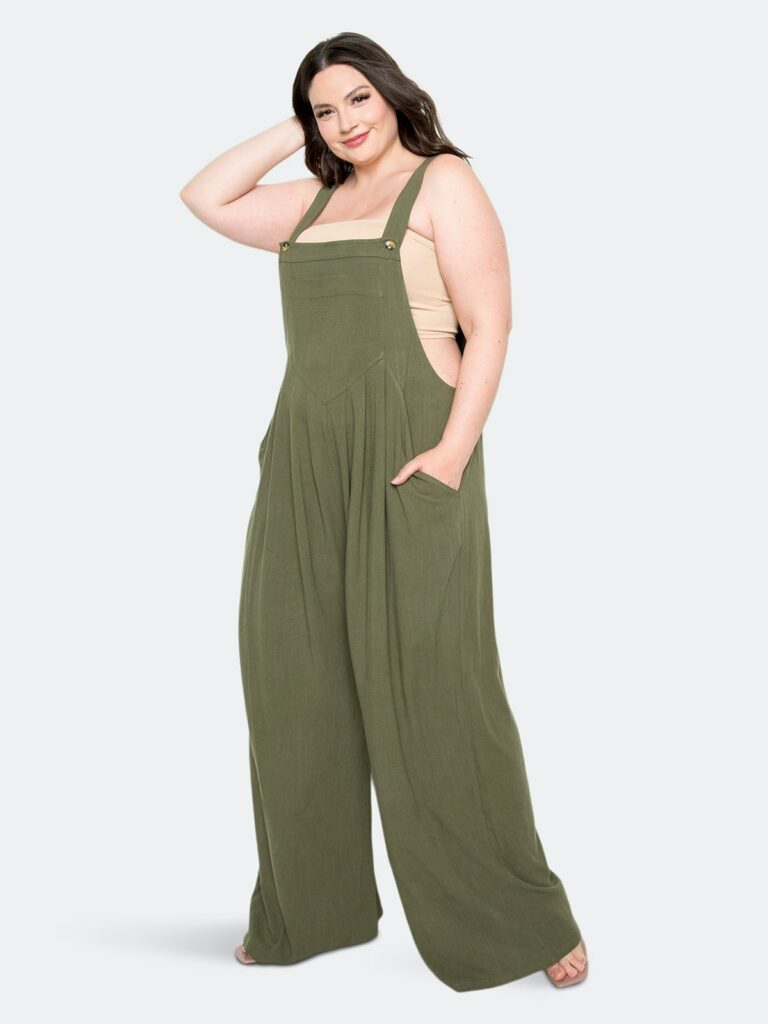 Jazz Up your Traditional Suit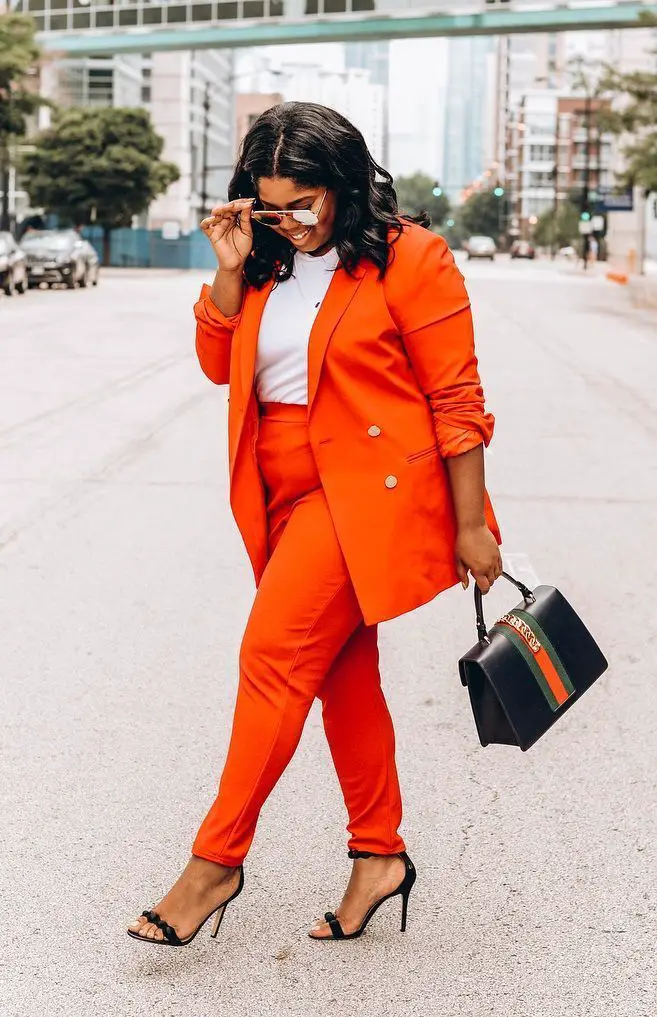 The work world will always welcome the classic black or gray suit; however, vibrant suits are a necessity in today's world! So, my dear, this year, go ahead, shine and feel free to experiment with color, prints, textures… change it up a bit! Your wardrobe should consist of a basic suit, skirt, or pants on deck for those meet and greet, seal the deal type of days. Or for those behind the video call days where you want to look powerful from the waist up. It's time to feel powerful and bold in 2022!
New at Ashley Stewart are a few gorgeous suit ideas that you don't want to miss! Here's a few!
Dresses are always better in Faux Leather
For your upgraded wardrobe, including dresses that are fun to wear and even a little sexy while pushing the pen and paper are a must!
Faux Leather Dresses are always a good choice anytime! Add a long duster or blazer. Break out that cute belt to accentuate your curves. Wear a pair of textured or printed tights with fabulous heels or ankle boots. You can be professional and still have fun when it comes to your style and dress!
Try Eloquii for a few options in the "faux leather" category. And don't forget to have fun!
The "A" in A-Line = Attractive
The timeless A-line silhouette will always be a classic! What is a workwear wardrobe without a few A-line skirts or dresses? Worn with flats, heels, or even boots, this silhouette works for everyone! The A-line dress or skirt is a must-have for the curvy boss. The A-line dress or skirt is a must-have from a professional look with a blazer, trendy with a great belt, or romantic with a soft cardigan.
Now Loading…Oversized Blazers
Who doesn't love a good get up and go blazer? It's a perfect piece that can change a look in a matter of seconds! Such a simple yet sophisticated look. Wear it as the last piece to a well-put-together layered look or with jeans if you want to give off that "I'm a creative, but still a boss" type vibe.
ASOS Heartbreak Plus Oversized Dad Blazer in Rust is a great, comfortable piece rich in color and versatility. Roll up the sleeves or drape the blazer across the shoulders for a fashionable yet approachable look.
Missguided came through with their Plus Size Cream Faux Leather Oversized Blazer. Talk about a great neutral must-have that could be paired with just about anything! A nude pump paired with this blazer is such a pretty combination.
Wrap it Up with a Wrap Blazer
While we are still on the subject of blazers, check out this Jersey Wrap Suit Blazer in black from the ASOS Design Curve Collection! Be comfortable and confident behind the desk or at an office meeting with this cozy number. Pair it with matching jersey pants or your favorite printed maxi dress! This is an essential piece for 2022.
The Perfect Trench Coat for Any Occasion
Another great piece to grab on your way to a meeting, business lunch, or a quick run to the office?…the beloved trench coat. Get a neutral color that could be worn with just about anything or one with a punch of color that will make you feel alive as you walk through the streets! Pair it with a dynamite bag or briefcase, and don't forget some funky shoes!
The Cream Quilt Lining Detail Belted Trench Coat from Missguided is a fun transitional piece from Winter to Spring with great texture and a clean look that will stop the show even at your local coffee shop!
Do you have any of these pieces in your work wardrobe?