I am Your curlBOX Atlanta St. Jude's Give Thanks Walk Team Captain!
Who is down for a little give back to the community? I am! Last year, curlBOX teamed up with St. Jude Children's Research Hospital to host the ULTIMATE curlBOX Meet-Up for the St. Jude Give Thanks. Walk.
Last year, the curlBOX Crew, team captains and supporters we were able to raise OVER $18,000 to go toward childhood cancer research!
And guess what ya'll!
They are back to do it again and I am sooo hyped to be a part of something bigger than myself and giving back to my new community!
They have tapped me, The Curvy Fashionista as the Atlanta Team Captain! #ultimatecurlboxmeetup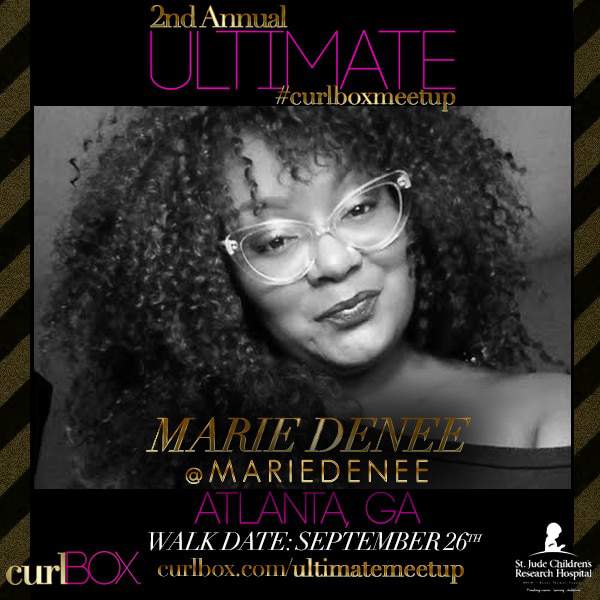 St. Jude Children's Research Hospital is where doctors send their toughest cases, because it has the world's best survival rates for the most aggressive childhood cancer and since St. Jude won't give up the battle against cancer, neither will we!
We are now gearing up for round two and we want to make the second annual ULTIMATE curlBOX Meet-up BIGGER and BETTER. This year's walk will be taking place September 26th (or 19th, depending on your location) and I would love for you to join us as we work to reach this year's goal of $25,000!!
I am Atlanta's Team curlBOX captain at this year's walk in Atlanta on September 26th at Lenox Mall! I invite you to join me, curlBOX, and St. Jude as we continue on the mission to end childhood cancer!
Here, in Atlanta, we have a goal of $2000! And I KNOW we can smash this! ESPECIALLY for this cause!!!
So how can you be down?
Well, if you want to register to walk or if you want to donate to the cause, all you have to do is visit the Atlanta curlBOX page here: Stjude.org
Sign up to walk, support with as little as $10, and I will see you at the start line on September 26th! If you want to see how last year's Ultimate curlBOX Meet-up went? Feel free to search #ultimatecurlboxmeetup on Instagram to check out the FUN from last year's walk!
How does your donation and walking and support help?
Families never receive a bill from St. Jude for treatment, travel, housing, and food because all a family should worry about is helping their child live.
Jude freely shares the breakthroughs it makes, and every child saves at St. Jude means doctors and scientists worldwide can use that knowledge to save thousands more children.
How about that?!?!
Not in Atlanta but want to participate? No worries! curlBOX has meetups for the walk in additional cities! Just visit curlbox.com/ultimatemeetup for deets!