I love my earrings. With my big and wild hair, I have not had the pleasure of rocking all of my bold and statement making earrings, but now? Oh yes… I am ready! You see, for me, earrings are a great way to add attitude, make a statement, and complete your look! Next to rings, they are my uber fave on the jewelry scene. They can turn the most boring of looks into something straight out of a magazine.
If you're going to rock earrings on a daily basis however, why not go for something bold and exciting? Especially NOW, as they are trending HARD for spring. You will find shoulder grazing options, tassels, clustered stones, and so much more!
I am hyped about this, can you tell?
Over the top earrings could be just what you need to take you're already stunning outfit to the next level, seriously! I know they will be for me! We take our accessories just as serious as we take our clothes. So much so that we had to fashion a fun roundup for you! We found some of the coolest, boldest, and sassiest earrings to help elevate your entire look, boo.
Ready to fall in love with your next perfect accessory? Keep scrolling.
Here are 12 Statement Earrings to Rock for Spring! Statement Acrylic Chandelier Earrings at ASOS.com
ABS Gold Long Chandelier Earrings at TJMaxx.com
EDDIE BORGO Peaked Mobile rhodium-plated earrings at Net-A-Porter.com
Kendra Scott Adams Earrings at Nordstrom.com
Mattan Cross Statement Hoops – Silver at LuvAj.com
OSCAR DE LA RENTA Tasseled silk, gold-tone and Swarovski crystal clip earring at Net-A-Porter.com
Gas Bijoux 'Long Wave' Drop Earrings at Nordstrom.com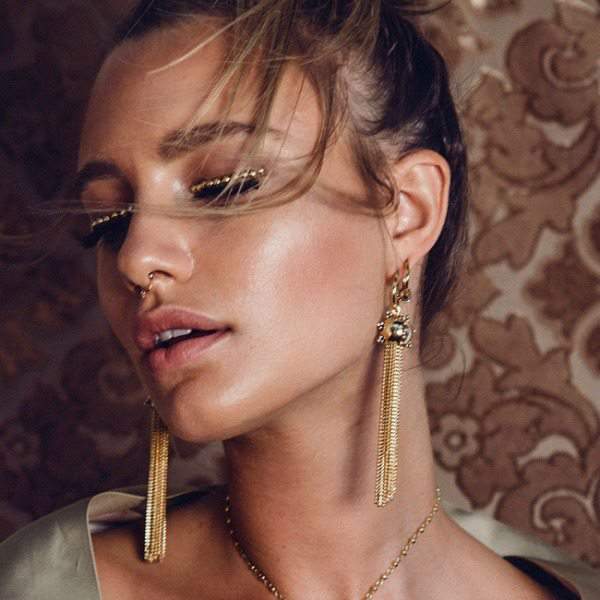 Baroque Tassel Earrings – Gold at LuvAj.com
Open Statement Circle Drop Earrings at Asos.com
I can't decide which one I love more! Can you imagine wearing those silky green Oscar De La Renta earrings to your next big event? The Mattan Cross Statement Hoops feels wildly fashionable, but they also will make the perfect accessory to don during a shopping trip at the mall. No matter your style and budget, there are more than a few options to chose from at some of your favorite stores!
Do you like wearing over the top earrings to glamorize your attire or do you believe less is more?
Which of these looks will you be trying during your next excursion around town? Sound off below!