SO YOU THINK YOU CAN BE A GLAMAZON?
You've seen them on TV on "America's Got Talent", in a nationwide campaign for Torrid featured in Seventeen and Glamour magazines, and most recently, performing at Full Figured Fashion Week NYC. Those four plus size beauties are looking to cast another girl to add to the group!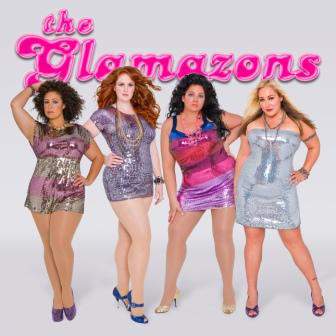 Who are the Glamazons you ask?
Created in 2001, The Glamazons are a plus-size pop group whose mission is to show the world that talent comes in all sizes. The fierce foursome consists of Lady Finger (Meryl Finger), Candy Apple (Sandra May), Caramella (Laura Johnson) and Ginger Snapp (Sarah Orr). They are known for their high energy live shows with tight vocal harmonies and precision choreography in which they perform everything from show tunes to hip hop.

The Glamazons vaulted to fame in 2007 when they were on NBC's "America's Got Talent," where they were among the Final Eight contestants. A favorite of audiences and the judges alike, Judge David Hasselhoff called the girls "…incredibly charismatic. You can't take your eyes off them."

The quartet has toured all over the world, including stops in Italy, Key West, Los Angeles, New York and Branson, MO. They were also featured in Torrid's Spring 2008 advertising campaign, appearing in Seventeen, Glamour and Bust magazines.
Here is their latest reel:

These  fabulous full figured felines are looking to add another member! Are you a gorgeous, tall, and plus size diva who can sing and dance? Well, the Glamazons are looking for you!
Simply contact the Glamazons with pictures, resumes to be considered!
GOOD LUCK!
Make sure you visit the Glamazons online, and Fan them on Facebook!
Marie Denee
I am the Editor in Chic of The Curvy Fashionista. Often goofy. Forever emo. Always a Virgo. You can find me somewhere grooving to 90s R&B.