Billionaire Celebrity and Fashion Icon, Rihanna, broke the internet with yet another bold and daring fashion statement, showing off her baby bump – inspiring plus size model, actress, and TCF cover girl, Nzinga Imani to bare it all in both fashion and character. No, the beloved model isn't pregnant like the adored Rih-Rih, as she played "copycat" of the hot pink Chanel puffer coat, Christian Lacroix cross pendant, timeless Chanel chain belt, and Gucci oversized denim pant.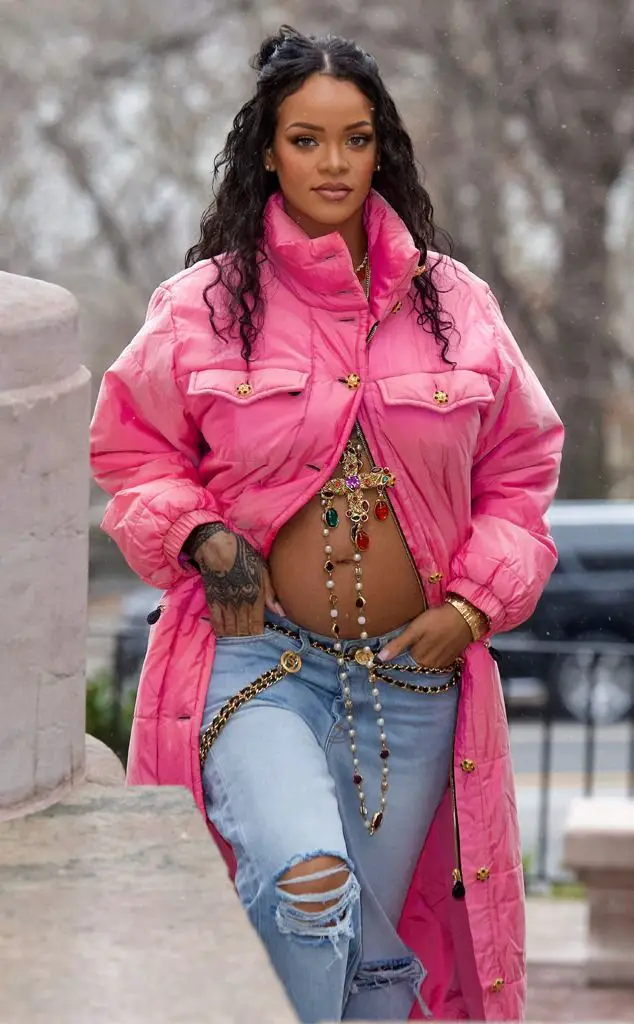 Nzinga Imani Bares All In Rihanna Inspired Instagram Post
"Baring it all" with a much more affordable rendition with pieces from the ever popular Fashion Nova Curve and Nzinga's own clothing line, Nimani, the curvaceous model decided to use this look to show her imperfections and unite the plus size world against internet trolls who seek to define the "right way to be plus size".
While congratulating Rihanna and her love interest, A$AP Rocky on their soon-to-be family addition, Nzinga Imani also addressed the circulated meme that rudely compared plus size body types – placing her body juxtaposed to plus size influencer, Aaliyia Rogers.
Nzinga, known for her bodacious curves, often enhanced smooth and sleek shapewear, openly showed off her stomach to emphasize that even in the plus size world, prejudices exist where they should not. The model refused to be the focal point to "tear down someone else".
Since the emergence and gradual acceptance of the body positivity movement, plus-size influencers have increased at an astronomical rate, changing the dynamic of retail and the fashion industry.
Just in the past two years, major retailers such as Old Navy, Nordstrom, Macy's, and Neiman Marcus have collaborated with plus-size brands, influencers or have extended their sizes.
Plus size actors and actresses have stepped into the limelight in Hollywood, actually being cast for series and movies, encouraged to be an example of a soon-t0-be inclusive world. Nzinga Imani is no stranger to the runway, retail, or the big screen. She is known for being a voice for the plus-size world, that yearns to be heard, not to be compared to.
"I take no pleasure in the comparison of women whether I'm the preferred or not. To whoever created the hateful meme I suggest you get a life. We do not care about your opinion and we (d0) uplift each other. If you don't like real bodies just say that 💁🏽‍♀️💁🏽‍♀️ but don't use our pictures to push your immature, divisive, unrealistic narrative. I'm a 3X model. I have a belly! I hope to represent for plus-size women of all shapes and sizes.
With 50,000+ likes on IG and amazing commentary, Nzinga took a win for inclusivity. The remixed look gained the respect of many on Instagram for how the shot was properly styled with a purpose.