What is the one item in your closet you can always count on when you either wake up late or just not feeling it? For me, it's the wrap dress. Do you need a few more plus size dresses to add to your wardrobe? This chic and easy article of clothing requires the smallest amount of effort and you still look flawless. It's just what you need when you are the type that hits the snooze button more than 3 times. Guilty.
Plus, you can easily switch things up from day to night and your curves they will look AMAZING. Wear it in the summer and then layer it with a button down or turtleneck in the fall and winter. See? Endless options. Looking for an easy plus size wrap dress to get you through those mornings when you are just not feeling it? Or are you looking for a quick fix that will have you look chic and polished? Well…
We got you covered with 12 curve-loving wrap dresses perfect for any day of the week you want to be uber chic and sexy.
12 Plus Size Wrap Dress You Need In Your Closet

"Lovers Only" Wrap Midi Dress at Rebdolls.com
It only makes sense that a red wrap dress like this has a home in your closet for every occasion. The V-neck and full midi skirt skimming over every curve perfectly.

Whimsy Wrap Dress at Kiyonna.com
This playful wrap dress is the perfect piece to make a statement this Spring. Tumbling ruffles add even more flirty flair.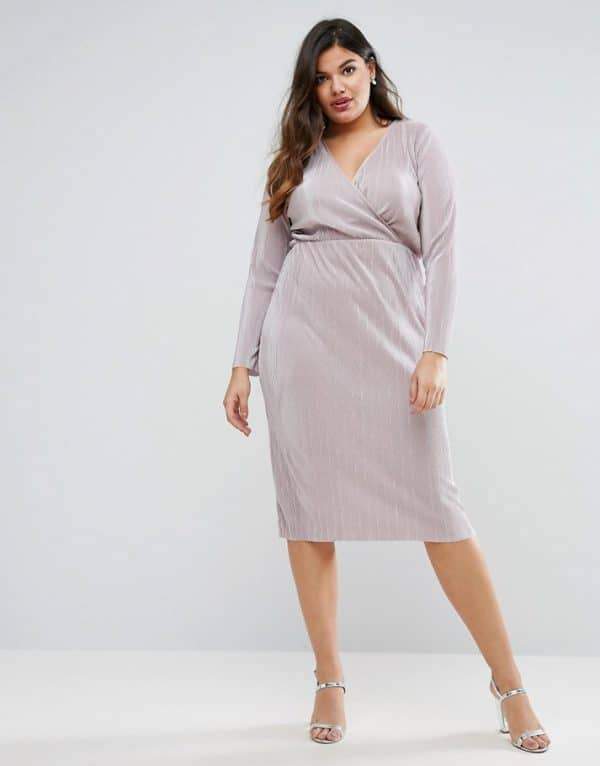 Plisse Wrap Front Midi Dress at Asos.com
This long sleeves, surplice wrap style dress works beautifully with your day to night plans. The soft gray color has a real 50 Shades of Gray essence to it. Style with a sassy red pump for just for Valentine's Day for a little extra attention.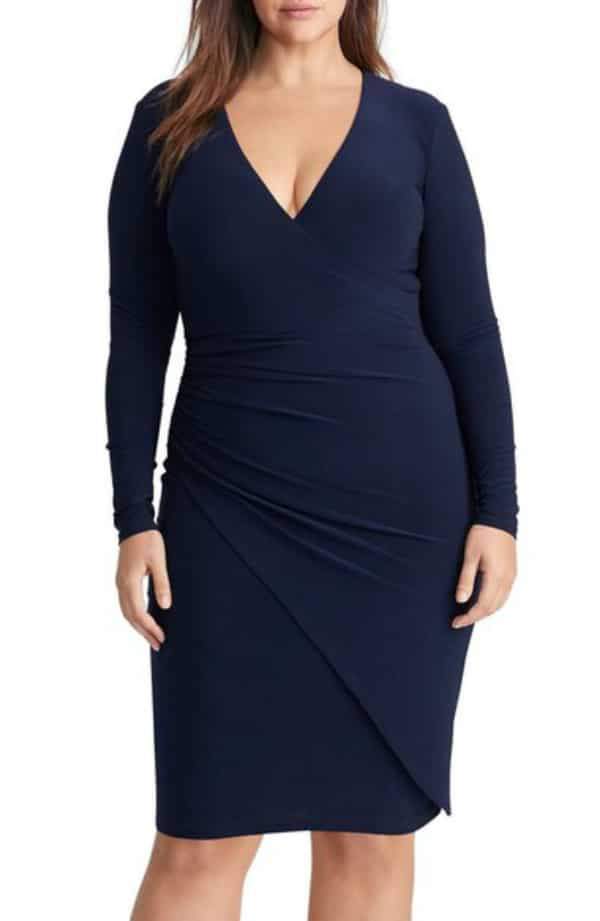 Lauren Ralph Lauren Ruched Jersey Faux Wrap Dress at Nordstrom.com
Every woman needs that "Boss Dress" and this one just set off that tone. With a business first, drinks after vibe. The wrapped styling and surplice neckline with asymmetrical overlay skirt is my favorite part.
Plus pink cold shoulder frill tea dress at RiverIsland.com
If you like to show a little leg with your wrap dresses, then here's a playful option for you, right in time for the spring season! Brunch, errands, date night? This dress has more than a few options to play in!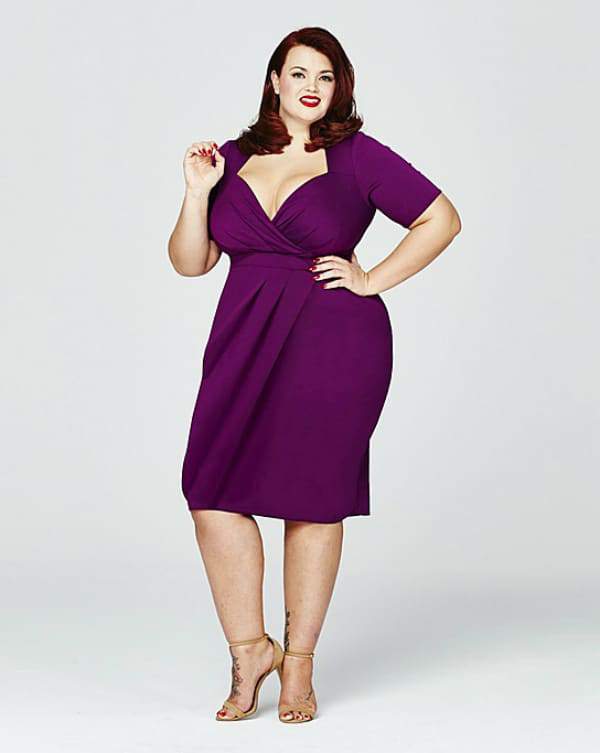 Scarlett & Jo Sweetheart Wrap Dress at SimplyBe.com
Well if its curves that you want then its curves you will get this number from Scarlett & Jo. It's also another favorite for some day to night action.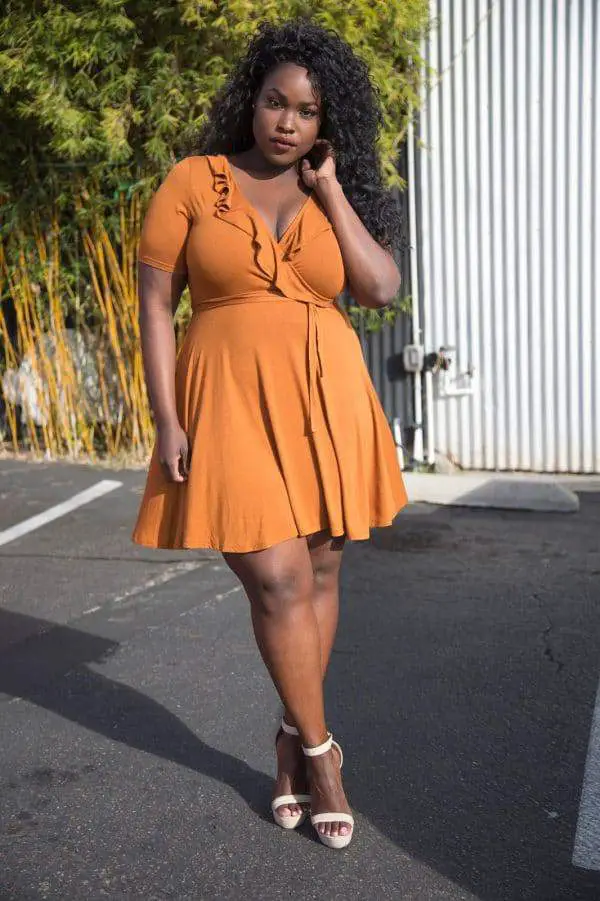 Plus Size Ruffled Dress at Forever21.com
Turn some heads in this curve-loving wrap dress from Forever 21. We love how the sexy cut and added ruffle detail. The perfect balance os sexy and feminine for any time of the day. And blogger, Curvyology is giving it to us.

Cotton Knit Maxi Wrap Dress at Eshakti.com
This pick is one of my personal favorites. I have it in three colors because… you just need options. Because Eshakti customizes your pieces to fit your needs, I was able to change the sleeve length and give it a little extra length. It's the perfect casual Friday workpiece. Especially for happy hour.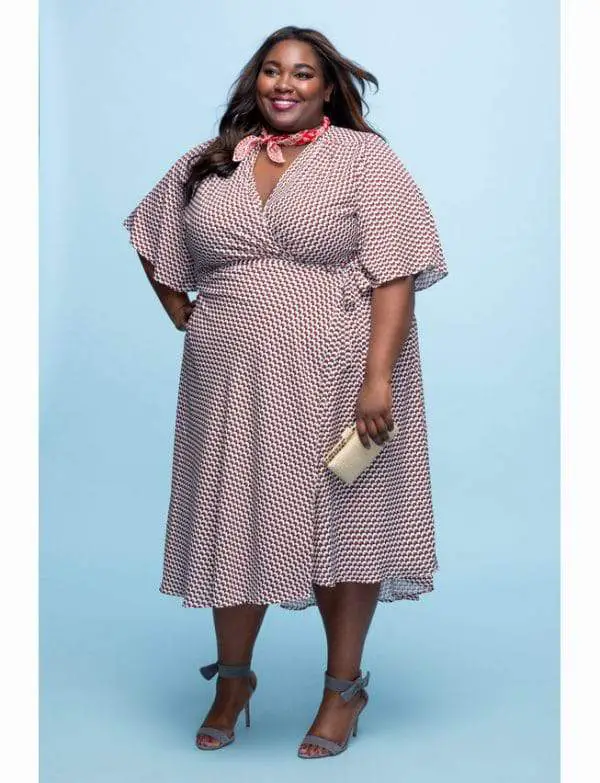 High Low Circle Sleeve Wrap Dress at Eloquii.com
Everything about this wrap dress is so perfect: the beautiful fit, the soft mid sleeves, and an eye-catching print keeps this look fresh. Definitely, the dress you need to add to your Spring wardrobe.

Tri-Tone Wrap Dress at AshleyStewart.com
Serving up some classic DVF style, this wrap dress from Ashley Stewart is the perfect work piece.

Plus Size Surplice Maxi Dress at Forever21.com
The ease of a wrap dress meets the softness of this wrap style dress with front self-ties, tulip hem, and short flounce sleeves. A very soft dress perfect for a dinner date or wedding.
Wide Tie Chambray Wrap Dress from eloquii.com
Need something to for a casual Friday but that can also double as an option for brunch with the girls? This wrap dress from Eloquii is the perfect item to have on hand for the weekend!
Whether you go for the classic chic look for the day, a sexy front slit and wrap at night or something easy to wear for a relaxed vibe at brunch. The wrap dress always works.
Now do see why I love wrap dresses? Which look works for your wardrobe?
Plus, I love seeing plus size women in wrap dresses, it just brings out every curvaceous part of our bodies. And don't get me started on how a wrap dress will captures a whole other side of a woman. I know I feel some kind of way when I rock a wrap dress.
Do you wear wrap dresses?