Hey fashionistas! It's still summer time and we're still pulling up in prints! And I don't know about you, but I have been OBSESSED with all of the plus size tropical prints this summer. I love how bright and colorful they are, how they make me feel like I'm on a beach vacay, on a Caribbean island (my favorite places to be) or even when I'm just at a rooftop party in Brooklyn.
They are definitely a go-to trend for the summer.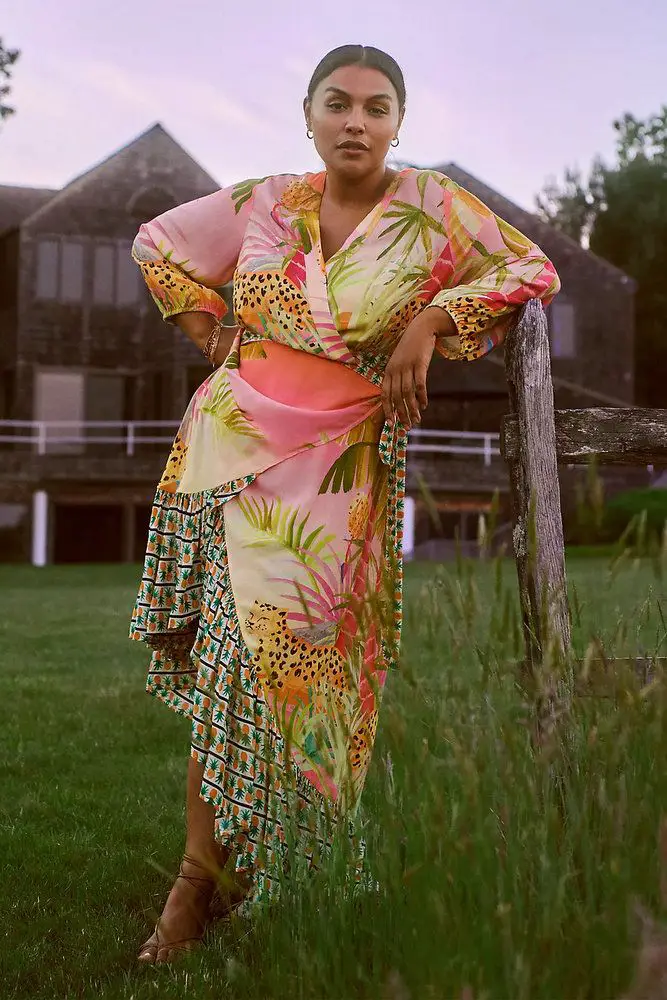 Unfortunately I have been disappointed to find that every time I search "tropical prints" there are little to no plus size options. Sigh, story of my life.
I figured that I couldn't be the only one vying for these fun, flirty prints, so I have gathered 14 plus size tropical prints in various forms, from dresses to jumpsuits, swimsuits to two piece sets.
14 Awesome Plus Size Tropical Prints to Rock
And of course, because we love you, we have found more than a few fun Tropical Prints to play in, before we break it down for you!
Photo Credit: www.ashleystewart.com
"A dreamy escape of paradise made fashion. Imagine you in this plus size halter romper on your destination getaway flawlessly making your way through the sand to your candlelit dinner as a soft lightweight knit clings to your curves while the beautiful train billows behind you in a gentle night breeze."
Available up through a size 34/36.

Photo Credit: rebdolls.com
"Believe In Me' Crop Top & Matching Pants Set, Available in Size M-5x
Still looking for a fun bathingsuit? Check out this Boohoo number upthrough a size 20.
Photo Credit: oldnavy.gap.com
"Beachwear, loungewear, your softest towel...same energy with our Cali-Fleece sweatshirt. Beach, do chill my vibe!🏖️"
Available up through a size 4X.
Photo Credit: Anthropologie.com
"This season, embrace island time in a fabulously printed maxi dress - this one is our favorite pick for happy hours and sunset strolls by the sea."
Up through a size 3X.
Available up through a size 4X.
Photo Credit: www.fashionnova.com
Pool party, beach party, or made for the cruise, wherever life takes you, this dress is sure to turn heads!
Available up to a 3X.
Photo Credit: www.fashiontofigure.com
"It's the print for us. There's watermelon, pineapple, pears and apples in this fun and pretty print that is perfect for summer. The tie front and cropped length gives this top a sexy touch."
Available up through a size 4.
Photo Credit: www.citychiconline.com
"Shine with confidence wherever you go in the striking Sunshine Floral Jumpsuit. You couldn't get anymore summer loving' than this bright yellow jumpsuit, flaunting a sexy strapless cut and effortlessly flowy wide leg."
Up through a size 24.
Photo Credit: chicandcurvy.com
Have a summer cocktail event to go to? This dress is the perfect one to rock the night away!
Available up through a size 3X (Junior plus sizes)
Photo Credit: 11honore.com
"A fitted silhouette done in a vibrant summer print, the Lennox dress is an uplifting statement piece. Break up the print and add definition to the waist with a thick solid colored belt."
Available up through a size 3X.
Photo Credit: www.torrid.com
Looking for a swimsuit that gives you a bit more coverage? How about this innovative option?
Available up through a size 6X.
Photo Credit: www.grass-fields.com
If you are looking for something that will channel all things beach party and vacay getaway, then this dress from Grass Fields is where it is at!
Available up through a UK 24
Photo Credit: www.eloquii.com
Need something easy and breezy? Then these pull on wide leg pants are sure to be a vacay go to!
Available up through a size 2
If you are at all wondering, "how do I pull off such a bold print," I GOT YOU! I've also provided a tongue in cheek step by step!
How to Rock Tropical Prints
Step 1: Place the plus size tropical prints on your body.
Step 2: Style with your favorite accessories. Hoops and bold flower gems earrings are always my favorite go to!
Step 3: Admire how good you look in the mirror.
Step 4: Take a selfie.
Optional Step: Send selfie to bae and/or post all over social media because you look TF good!
How are you feeling about these bold prints? Do you have a few looks in your closet already? Are you one to rock these plus size tropical prints?
Post yourself in your fave tropical printed looks in our TCFStyle Lounge or tag us on Instagram! We can't wait to see you shining.