I am ready for spring. If you are on the West Coast like me, then we are already there. I am here for the newness, the playful colors, hemlines, and prints. And as we head in to the season, readying our closets, window shopping, and making lists, I thought I would help you a little bit with the latest spring trends for the season with the 2014 Plus Size Spring Trends Report!
If you are subscribed to me on You Tube, then you caught my Fave Plus Size Spring Trends video! If not, head on over there or watch below! There will be more video that I am excited to flush out! So where do we begin? Let me share with you a few overarching trends and then we will get into the Key Items and Colors!
Are you ready?
The 2014 Plus Size Spring Trends Report
Pattern Play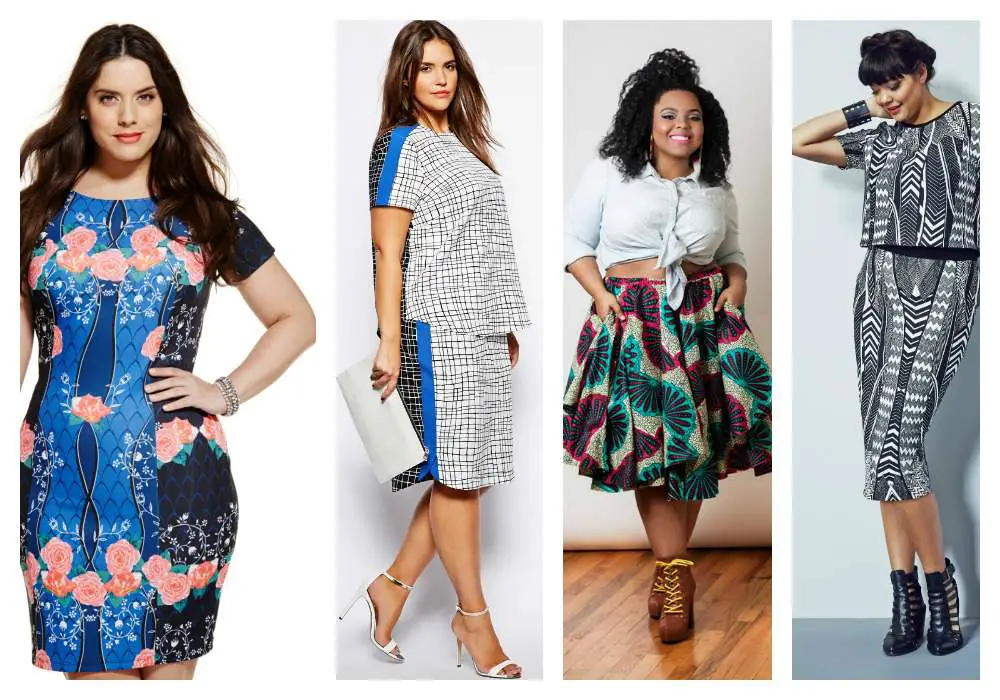 Eloquii | ASOS Curve | Nakimuli | Simply Be
Just what it sounds like, one of my favorite trends for spring is a play on patterns! Think bright colors, graphic prints, painterly techniques, bold brushstrokes, abstract elements, and individual prints! Then take those patterns and prints and infuse them onto dresses, coats and tops! Quite expressively, you will become the canvas, rocking out in bold pieces of work.
Flower Bomb
Lafayette 148 | City Chic | Simply Be
As expected, flowers take center stage for spring. But this time around we see new interpretations ranging from quite sweet and polished to edgy and bold. This year's take on the floral arrangement caters to those who love the femininity and captures the interest of the daring ones with dark backdrops and contrasting hues. And for those who wish to command even more attention, mix matching your floral prints strikes quite the fashionable chord.
From dresses, pants, suiting, and everything in between, nothing is ignored as this flower bomb trend goes hard!
Sporty
Sejour for Nordstrom | Custom Plus | BooHoo Plus
Quite a welcomed surprise for me, this spring's sporty trend evolved is quite welcome! A little laid back a bit fancy, think skater skirts, tennis elements, hoodies, windbreakers and zippers and other athletic inspirations as they take the court for spring. While some designers gave this a street wear inspired spin like DKNY others made it fancy. One of the best things to come from this? The scuba dresses and skirts and pants. Such an interesting fabrication, holding you in and playing up your curves.
NOTE: There were various other micro trends that you will see in the stores, but these were ones I knew we would get the lion's share of our taste of in plus size fashion!
2014 Plus Size Spring Trends Key Items
Crop Tops
Forever 21 | Eloquii | Youtheary Khmer
Last week, we included crop tops in out bold trends to try for 2014, and for spring, there are a variety of ways to rock this trend. While there are the more sporty options, the crop top for spring has also evolved, giving us a range of options. A great option to the crisp white top, the crop top has an added layer of refinement, being paired back to full skirts, worn for evening events, and relaxed wide legged pants.
Wide Legs Trousers
I am and have been ready for this trend. Did you catch my outfit post in these? Wide leg trousers are relaxed, easy, and cool. Whether you want to take it to the 70s or with the menswear inspired nod, wide leg trousers for spring bring a relaxed air of sophistication. The most popular color of these on the runway was white; however you will find this silhouette in a variety of colors and prints, sometimes matching its top. You will also find wide legged trousers with loose or fitted crop tops! The key here is a chill and effortless vibe.
Tea Length Hems
Jibri| Curvezz | Jibri | Rachel Pally White Label
I do love a longer hem, as much as I love my legs; the midi length has become one of my favorites. However, for spring, there is a newer hemline taking over the runway. This mid-shin length is ladylike, flirty, and sexy all at the same time. You will see this skirt length paired with crop tops, basic tees, or with an equally feminine blouse.
Statement Tees and Sweatshirts
Love Culture | Custom Plus | ASOS Curve
Got something to say? This season's statement making trend is all about saying it loud and proud. Whether you are being playful, political, and cheeky, there are sure to be a few items you can find to make a statement with! In plus size fashion, this one was a hit for fall and carries into spring!
Other key items to note:
White Pants, Suiting, Shirtdresses, Bomber Jackets, Track Suits, Overalls, Culottes.
The Details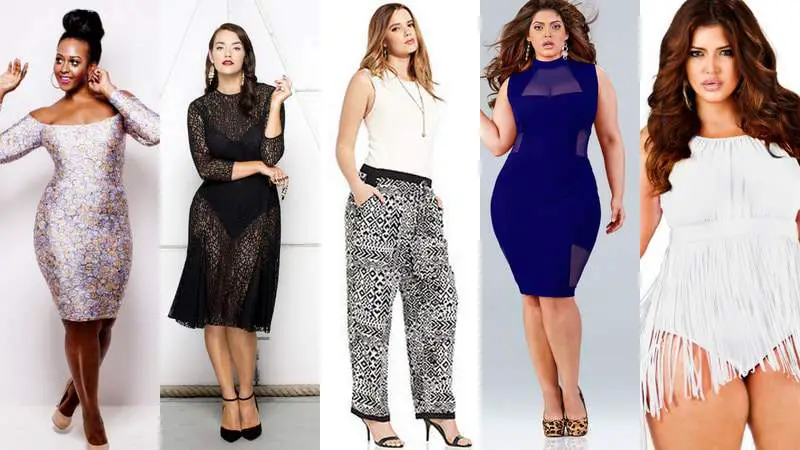 Rue 107 | LALA BELLE | ING Macys | Monif C
Metallics
For the magpie who wants to turn it up in different ways, enter in spring's shiniest trend- metallic. For the spring, you will find metallic elements in clothing, shoes, handbags, and whatever else you can fashion in this detail. Gold and silver yes, but also check for rose gold and gunmetal hues!
Lace
I am here for the spring evolution of lace. While you can never have too much lace, for spring it gets a bit bolder, fancier, and daring. Seen as an accent or head to toe focal point, lace lends itself to a variety of looks this season that I can get with. You will find lace in tops, jackets, skirts, and suiting and dresses (the casual and formal alike) all being sweet, daring, sexy, and bold. I can get with this.
Sheer Play
Who doesn't love a game of peekaboo? I know I do and for spring, sheer layers are one to offer an added layer of sass, style, and panache to any look. For this spring season, you will see sheer elements inside dresses, as tees and dresses, layered into skirts, and as standalone focal items. To temper the amount of skin you want to show, layer sheer on top of sheer, all in the same hues to play the see through elements down a bit.
Fringe
When I think of fringe, I think of the flapper or the cowgirl. However, for spring 2014, this trend is used to adorn, add drama, and to make a statement. Fringe elements adorn various style and types of garments for the spring season, and I can dig it! As I have already shared on Facebook, Monif C has already dropped fringe into her repertoire!
_____
For the colors of spring, make sure you check out the Spring 2014 Color Trend Guide and for the hottest trends that plus size women should dive into, click here!
What trends did we miss? Which trends are you wanting to get your hands on? Let's talk below!