Plus Size Bodies are capable so much pleasure! However, there are not many pleasure products created specifically for our bodies. I have been in the business of educating people about romance toys since 2003 and I love a great sex toy. I am always looking for a good quality sex toy for us Curvy girls. Valentine's Day is coming and if you share that day with your lover or you spend some quality time at home alone – we have some fabulously fun products that are fantastic for bodies of size.
What I have discovered is that many plus size women have a difficult time reaching their clitoris.  Some of us have short arms. Some of us have a larger lower tummy, like me, and others of us have a fuller vulva / labia majora. Those of us who have a fuller / fluffier vulva may find it difficult to get to their clitoris easily.
Well, I have some tried and true products that will work for many body types! You Ready? Here we go…
The Womanizer Plus 
I want to start out with the STAR of the show these days – the Womanizer Plus.  Warning: This sex toy is very expensive! We have it on sale for $209 for Valentine's Day. Yes, that is the sale price. It's typically $229. This toy is very special. It has a new type of technology and it provides suction and vibration at the same time to our clitoris.  BE STILL MY HEART!
Womanizer Plus is NOT actually a vibrator. It uses the revolutionary PleasureAir technology, which gently draws the clitoris into the soft silicone tip using gentle suction, and surrounds and stimulates the user with 12 levels of incredibly effective pressure waves. This creates fast – and often multiple – orgasms. (And, it does vibrate while it's doing that!)
There are several versions of this product, but we love the "Plus" version because it is 8.25" long. That nice long length will make it easy for most everyone to reach the good stuff easily  And, the buttons are on the back side of the handle which makes them placed in just the right place for moving the speed of the suction lower or higher. Did I mention how much I love this product? Our customer and my employees, too.   If you need a Galentine gift for your bestie and she is a woman of size, buy her a Womanizer.  You will be her best friend FOREVER.
The Magic Wand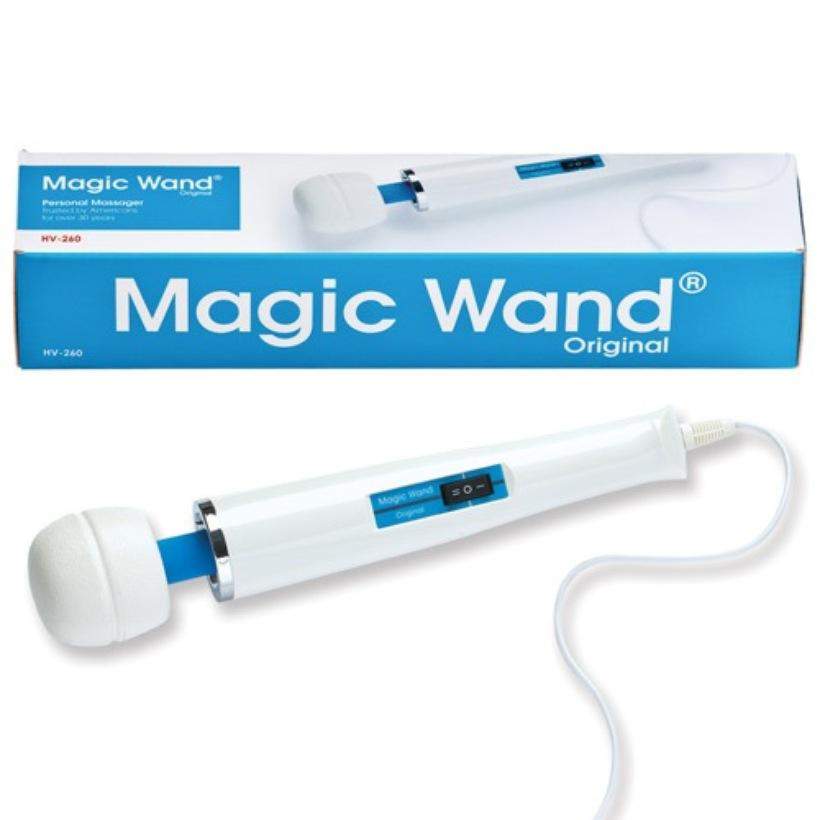 The next toy I love to recommend to our customers of size is the always reliable Magic Wand. The Magic Wand plugs into the wall and uses electricity. Can you say "More Power!"  Let me tell you, I almost always use it on low speed. For real. Speed high his very intense. Oh and bonus points for this vibrator because it also feels fantastic on your neck and back.
This "back massager" is also extra long and extra powerful. The 12" handle makes it really useful for reaching your clitoris and for partner play. It can be a bit bulky for partner play, but where there is a will there, is always a  way.
The Plus Size Doggy Style Strap 
A few years ago a company called Sportsheets created a couple of products specifically for larger bodies. I was so excited because it truly had never been done. I have been in the sex toy business since 2003. The first item I became aware was the Plus Size Doggy Style Strap. And, yes, it is exactly what it sounds like.  It is a padded strap that goes around your tummy and gives your partner two handles to put their hands through.
This is one of our best selling products.  Occasionally, when I share about it on our FB or IG pages, we get some push back. "Why would I need that when I have big hips?"  Lots of questions like that and you know how I answer?  I say "Crygasm."  It is so much fun for couples. For starters, the part that goes around your tummy is nice and wide and cushioned.  The strap will work for women who wear up to a size 30 pants.
The best part of this product is that intensifies the sex and your climax. It gives him lots of leverage for deeper penetration.  It also keeps the person doing the thrusting from having to bed their back, too, so it is comfortable for everyone. Your lover can put both handles in their one hand and use their other hand to touch you, spank you or pull your hair. With your consent, of course.
The Tulip G Spot Vibe 
A super affordable vibrator that is great for women of size is our vibrator called Tulip G Spot vibe.  There is not a lot to this product. It's nice and simple.  Basically, it is a bullet on a handle. The round part is just like a silver bullet, but it's enclosed in this plastic case and it is actually waterproof.  It is $28. Takes two AA batteries.
Since there are no moving parts, it last FOREVER and I keep mine in my shower caddy.  It has a tiny dial at the bottom of the handle that turns the vibe on low, medium or high. Simple as that. Again, it has that extra 6" of reach to it.
The Liberator Jaz Positions Pillow
Last, but certainly not least, is the Liberator Jaz Positions Pillow.  For starters, I adore everything from Liberator. This company knows how to make high quality products that enhance your sex life. They all have covers that are removable and can go in the washer and dryer. Great for easy clean up.
Their products are made with high density foam rubber and hold up to large bodies like mine. This specific pillow is $70 and is great for helping out for oral sex, doggy style sex and any position you get creative with. I typically wear a size 26/28 pants which means my hips, butt and thighs are pretty large. This pillow holds up to me sitting on it, leaning on it and every which way you can imagine.
They have larger products that are MUCH more expensive, but if you have the budget, I highly recommend them all. Liberator does not play around when it comes to quality and when it comes to working for plus size people.
Have any questions about specific toys or products that work well, please always feel free to PM us and we will do our best to help you out a.s.a.p.  You can pm Curvy Girl here, at Facebook.com/CurvyGirlInc  or DM me on IG here: Curvy Girl on IG
Curvy women and people of size deserve to have all the pleasure and all of the fun other people are given. Our bodies are capable of so much pleasure. I do not want you to miss out on any of the sexy fun!
About Chrystal
Chrystal Bougon is the Resident Curvy Girl at
Curvy Girl Lingerie
.  Chrystal's passion is helping women of size to realize their beauty and that EVERY body is sexy. Chrystal has been educating and entertaining babes about all of the pleasure their bodies are capable of since 2003. Curvy Girl is an online romance boutique and they ship their sexy goodies all over the world.