There are few garments as warm, inviting and subtly sexy as a cozy plus size sweater. It is practically one of the staples of the fall season uniform. However, as a plus size woman you may have a bit of a love/hate relationship to the sweater side of fall fashion because it can be challenging to find styles that flatter your figure.
Actually, there are many sweaters that make plus size figures look amazing! We have more options than ever that offer on trend silhouettes in bold colorways. We have found more than a few options do the job. To set you on the right path to finding the best sweater to make you look (and feel) fabulous, we've put together a small yet efficient collection of styles that are equally trendy, and most of all, as comfortable as can be. Enjoy Ladies!
The Best Fall Sweaters That Will Keep You Stylishly Warm
ASOS: Urban Bliss Plus Fitted Wrap Back Sweater
One of the best elements of fashion is the element of surprise…and this incredibly sexy sweater has the perfect touch. From the front it's a pretty, fitted sweater that can be paired with a variety of things. However, the back is an absolute showstopper courtesy of a wrap detail that shows just enough skin to heat up those chilly autumn nights. $45.
Macy's: Charter Club Animal Print Cashmere Sweater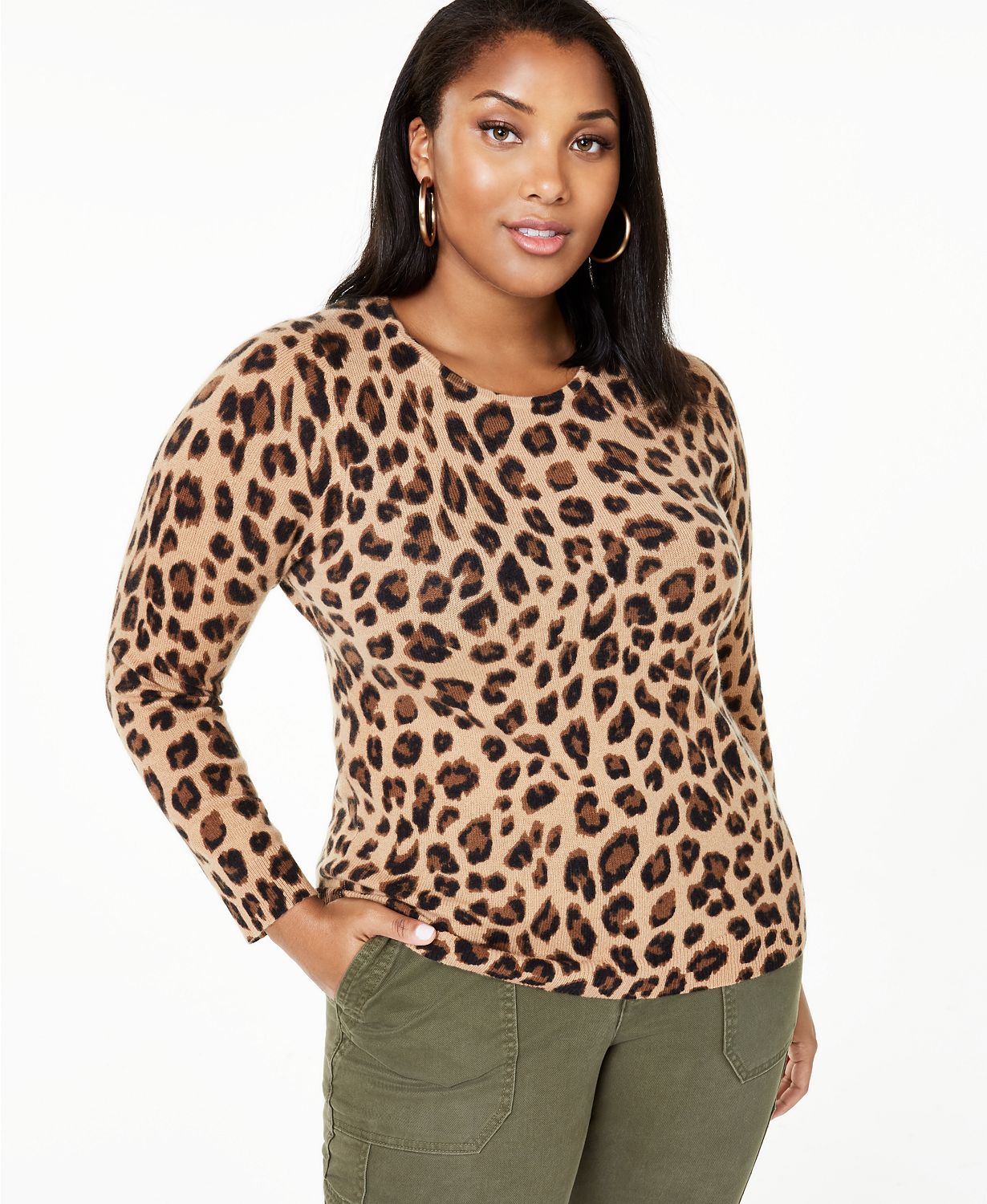 Let's be perfectly honest, there is always room in your wardrobe for animal print. Regardless of the season, animal print is always chic…and always welcomed. Take this stunning animal print cashmere sweater that skims the body, for example. $169.
Torrid: Purple Cable Knit Open Shoulder Tunic
A little décolletage and shoulder play can be incredibly sexy. Featuring an open neckline and a cold-shoulder detail, this sweater proves that you can still turn up the heat even when the temps begin to drop. $55.
ModCloth: ModCloth x Collectif Sweetness and Sass Short Sleeve Sweater
A common issue with many sweater styles is that they are so covered up. Sure, their purpose is to provide warmth, but that doesn't mean that you can't have a few sexy details to show a little skin. The ultra-feminine keyhole neckline on this style is what sweater dreams are made of. $49.
Maurice's: Plus Size Geo Colorblock Pullover
Fashion has always been an expert way to create illusions to your figure and implementing color-blocking is arguably one of the best ways to do it.
Avenue: Cinched Front Rib Sweater
The cinch detail at the bottom of this sweater is another way to enhance a plus size figure while wearing the sweater of your choice. $50.
City Chic: Eyelet Sleeve Sweater
Any true fashionista knows that details can make or break a garment and also provide the right amount of personality. Practically dripping in comfort and punctuated with chic detailing, this sweater should maintain a space in your fall fashion closet for years to come. $85.
See, you can maintain your sexy through Fall and Winter while keeping cozy in these, and other, curve-hugging styles.
Where do you get your sexy sweaters? What details do you want in a sweater that still shows off your curves?