Hunting down the perfect pair of plus size jeans can at times seem like a never ending task. While more and more designers and retailers are fashioning denim for our plus sized curves, those making premium or luxury denim are few and far between, until now! Slink Jeans (an acronym for Sexy. Lovable. Intelligent. Noticeable. Kind.) is here to change the game and with their background and knowledge of denim, giving plus size women a new resource for fashion-forward premium jeans and sportswear!
They know a bit about this and I am hyped that they are bringing it to the plus size woman! To say that they know a bit about denim is such an understatement.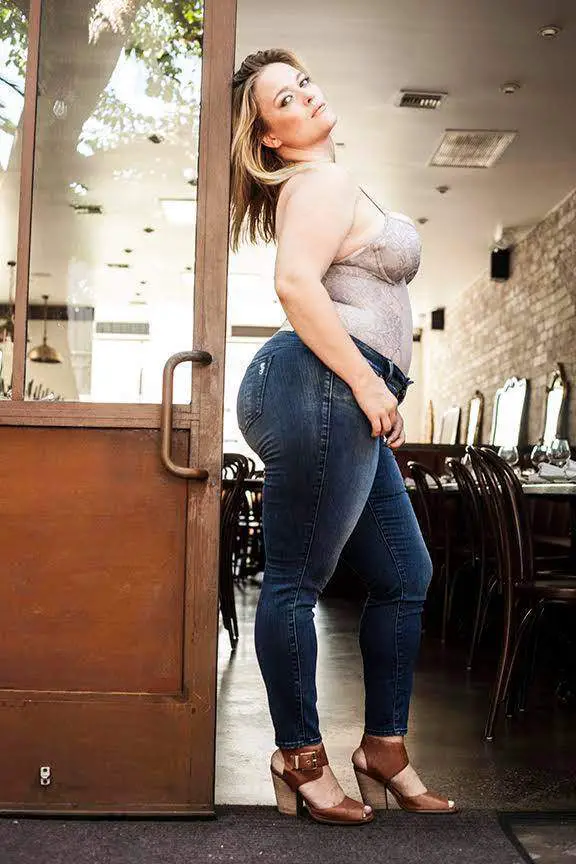 What do I mean?
Well, if you know a bit about denim and the denim industry, then you know the name Albert Dahan! You see, the man behind Slink Jeans is one of the co-founders of Joe's Jeans. In addition to this, he also designs Joe's Kids and SLINK with Estelle Dahan! How about them apples! Not only did they launch this denim powerhouse with Joe's Jeans, they also worked together and sold the sportswear line Da-Nang!
SO this is not some random person wanting to get into denim. This is a person who is studied in the denim game, understands the importance of fit, fabric, and function!
"The secret recipe for all jeans collections is the fit. It took us months to get the fit right," Albert Dahan said.
Amen.
But are you ready to see the look book? It is quite segzy and all about the booty! You ready? Click the first image to start the look book!
First Look at the Plus size Denim Company, SLINK Jeans
Why Slink Jeans?

Our inspiration comes from all women who are fighting back against the basic fashion standard.

We have embraced all the innovative, creative, bold and beautiful women who have paved the way in the fashion industry for all women of all sizes to stand out and embrace their true beauty.

Well, now the light is on. We have curvy super models. We have curvy, intelligent women that are shining so brightly the shadows have diminished.

On Friday, November 20th, Slink Jeans will launch their denim collection!
SLINK Jeans ships internationally! Woot! Carrying sizes from a 10 to a 24 or up to a 48-inch waist. The collection will include jackets and tees (currently available for sale) up to a 3X. Slink Jeans will retail between $119 and $129; tops between $39 and $44!
Hooray for plus size premium denim!
To learn more, visit SlinkJeans.com!
I am such a plus size denim fan, with those who can get it right. If denim scares you or you do not know where to begin on your hunt, make sure you check out our Plus Size Denim Guide!
What do you think? Are you impressed, excited, hyped? Let us know!