Living in the south, honey, it gets quite chilly, in comparison to California! I need to cover every inch of my body if even for a month or so! So when I stumbled across this find over at The Lingerie Journal, I knew that I really had to share this! Especially because the story behind it is wayyyyy too cute! It is one thing that WE struggle to find the perfect pair of plus size tights, but when your husband or significant other helps finds a remedy, now that is uber cool! Meet the German Luxury Hosiery Brand, Glamory Hosiery!
Glamory Hosiery?
"Thigh highs that won't roll down, control tops in our pantyhose to smooth and cinch in bulges, and many styles specifically designed to energize and firm thighs."
Yes honey! They are "the only brand in America that will fit someone up to 6'8" and 360 lbs or a 44" inseam and 40" wide thigh and stay up!" Now, THAT is a claim! Offering plus size women "innovative and attractive products" at up to US size 32? Glamory Hosiery is one you should add to your plus size hosiery collection!
Thanks to Timothy Gettler, the Germany based hosiery brand is available in the US! But let me tell you his story!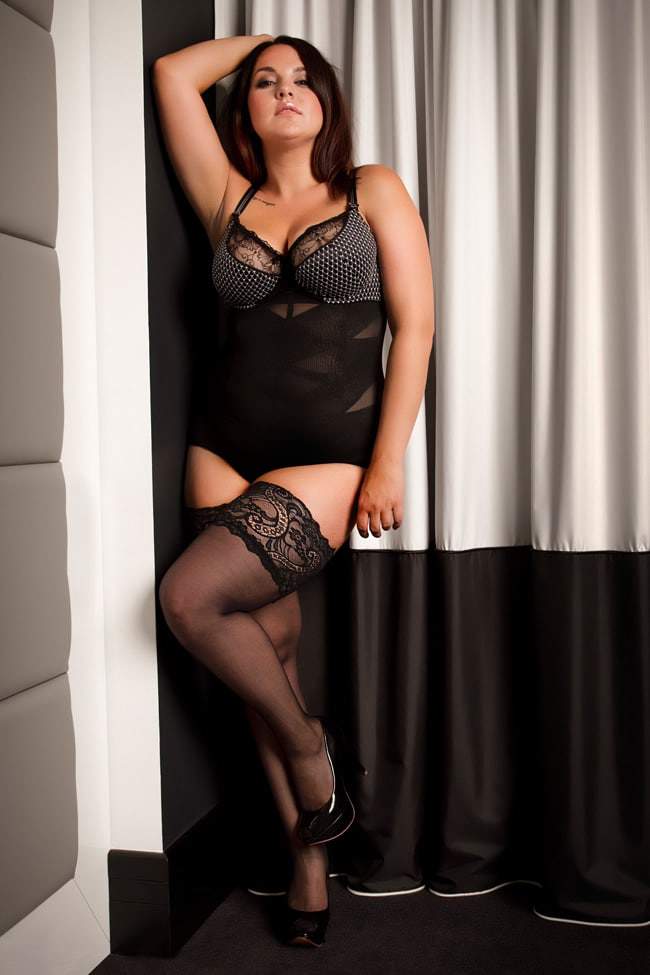 After a long and frustrating search for legwear to fit his curvy, 6'2" wife, Delilah, who rocks a 37" inseam, Timothy found that mostly all of the hosiery brands only measure up to someone that is 6 feet tall, offered a one size fits all/most, or a queen size 1 and 2. What happens to the tall and plus size woman? The woman over a size 2? The one whose long torso or long legs sizes her out?
Tim went on a mission and found Glamory Hosiery in Germany!
After seeing the elation from his wife, Delilah, Tim knew that she couldn't be the only woman searching for the perfect pair of plus size hosiery! With that, Timothy called Glamory and with a few back and forth conversations, he became the US distributor.
Glamory's production takes place in Germany, with laces and yarns sourced from suppliers in Italy and Portugal. Fannncyyyyy! Glamory Hosiery caters to us, with a total of six size ranges up to a dress size of 32! Woot!
Where can you cop Glamory Hosiery?
Well, if you like shopping online, you can get them online at Yandy.com and a few others online retailers via their directory! If you are in Georgia, you can buy them at LiviRae Lingerie!
Ohhh and they also carry hosiery for men too!