Last week in London, The Eveden Lingerie Group held one of the greatest product launches I've ever had the pleasure of attending. Held at the Swarovski Crystallized Cafe, the space was transformed into a stunning showroom, where Lingerie and Swimwear held centre stage.
The Eveden Group is a Lingerie powerhouse, holding brands including Elomi, Freya, Fauve, Fantasie and Goddess under its umbrella.
I, myself, am an Elomi girl owning both sports bras and every day bras from the brand. I was VERY keen to see what they would be offering for the upcoming season.
What an impressive showing . Not only were the pieces stunning – but the underwear was showcased on both slender and curvy mannequins and models. There were crystals scattered amongst the lingerie, a Swarovski couch and even a bra and pant set captured within an Ice Sculpture!
While most of the brands run to a GG cup, some of them (including Elomi, Fantasie and Freya) run right up to a K cup.
For me, I was captivated by the stunning pieces on show, but, true to form, it was Elomi that managed to keep my heart. Pretty much ALL of Elomi's pieces were on curved mannequins, and the brand had brought along Alex, a curvy model – to give us a live view of the lingerie on curves with fuller breasts and hips.
Wow.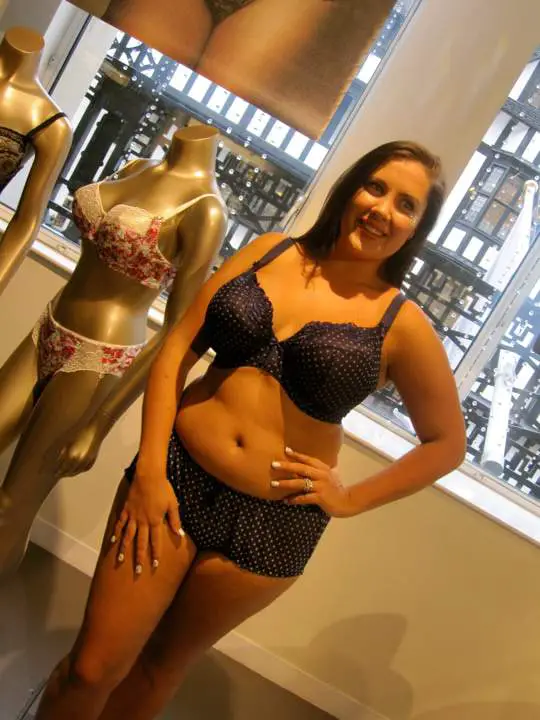 The last added bonus of the day – was that anyone in attendance was welcome to get a bra fitting with the professional fitters on hand. I was fitted in the Freya "Lauren" Bra and have gone from a 40G to a 36HH. THAT is quite a difference!
All in all, it was a great launch and left me really excited that curvy lingerie is fitting better, supporting well and keeping sexy.
Take a look!
(Psst, there are Elomi Editorial shots at the end of the gallery and they're LUSH.)