"The Most Interesting Woman in the World."
When interviewing Suzanne Vinnik, founder and CEO of luxurious and glamorous fashion brand, byVINNIK, this is what came to mind.
Suzanne Vinnik has a FASCINATING life story, career and creative outlook — and today on The Curvy Fashionista, I'm so excited to share some behind the scenes insights on this rad founder and her brand!
Let's hit it!
Interview with Suzanne Vinnik, Founder of byVINNIK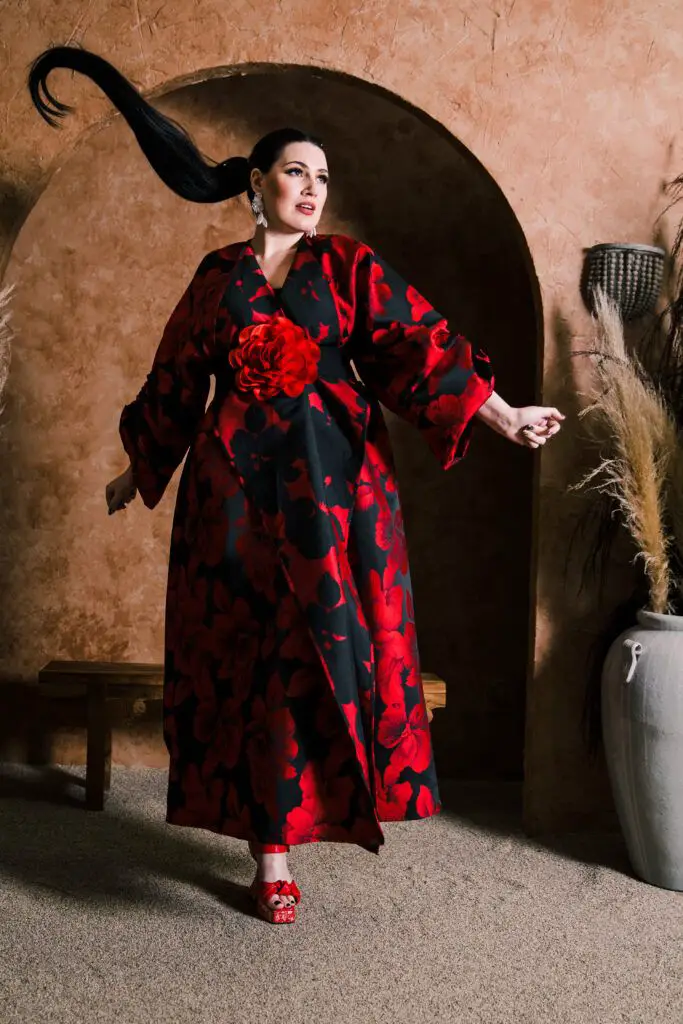 Because this is an IN-DEPTH interview, I figured it would be helpful to have different sections:
BRAND ETHOS & HISTORY: It's always fascinating to see how a luxury brand came to BE, and we're going to dive in on this!
CAPSULE PLUS SIZE WARDROBE: How Suzanne Vinnik designs each piece to be worn in 5 different ways with at least 5 clients in mind
WHAT'S COMING UP: We're going to peek into the future for byVINNIK, and discuss what's next for this luxury and opera-inspired brand
Before we get going– hurry quick and follow byVINNIK on Instagram! The editorials, models, LIVE SALES, are all just such a blowout party — you definitely don't want to miss it!
byVINNIK | Brand Ethos & History
When I first stumbled across byVINNIK (shoutout to ethical plus size stylist, Kat Eves, for the heads up), my first thought was,
"How did THIS happen?!"
Looking at the gorgeous fabrics, with their texture and color — seeing the designs, I was DELIGHTED with the silhouettes and a little BAMBOOZLED by the color play.
Then, when I realized that the brand was founded by a professional opera singer, things started to come together.
"I'm a professional opera singer," shared Suzanne at the start of the interview. "As an opera singer, you have a closet full of gowns and looks that you can really wear a couple of times. I remember at one point I had a tiny apartment in NYC, and I was swimming in gowns. I literally had to lift up my bed to store gowns underneath it."
"I had so many gowns that I literally had to lift up my bed to store gowns underneath it."

Suzanne Vinnik
While swimming in said gowns, Suzanne had an idea. "I realized that if I was having this issue, my fellow performers must be. I decided to form a Facebook group to sell or exchange gowns, and I invited about 15 of my other opera friends to join. By the end of the week I had 1,000 people!"
This Facebook group became the influence for pieces later created at byVINNIK. "We were all tired of jewel wrap dresses," shares Suzanne. "The space became a place to push back against misogynistic expectations. We'd all been told we were too fat/thin or our knees were too ugly — you name it! In that space, we all began to support and explore our own personal style as creative and professional performers."
Soon, the Facebook group became one of the first peer-to-peer marketplaces. "I launched with Sara Duchovnay, another soprano. We launched around the same time as Poshmark and other fashion resell platforms."
Suzanne at this time was still a full-time performer, and she and her cofounder were burning the candle at both ends. "We were held together with glue, tape, and glitter," she shared with a laugh.
We were held together with glue, tape, and glitter.

Suzanne Vinnik
Soon, Suzanne found herself sourcing vintage for her Shoperatic customers. "I'm a vintage hoarder," she admitted, a little proud and a little rueful. "People would see my vintage pieces and ask, 'Hey, I'd love that! If you find something like that in my size, please get it!'"
Designing for Plus Sizes
As Suzanne sold her pieces, connected clients and customers and sourced vintage she found that there was truly a derth of statement-making options for her plus size friends, collaborators and customers.
"I was between a L and XL, and I experienced a bit of that same issue," she shared. "Definitely not on the same level. My friends kept saying, 'I can't find anything cute.'"
Seeing the problem, Suzanne decided to jump in — again! "I looked at the space and I said, 'I can solve this problem. So I started my line."
And in May 2019, Suzanne began to design her line. And if you know fashion timelines, you may see what's coming up next…
"I launched a week before lock down," she shared. "And I had this realization, 'Oh shit I can't go back to singing.' You see, singing contracts dropped. Performers were being sent home without pay. I realized, 'This is the not the life for me any more.'"
"From there, I went all in," she shares. "And our gorgeous customers and clients have really taken up byVINNIK and shared us far and wide. I'm so grateful for the success we have had the last few years."
GLAMOROUS Plus Size Capsule Wardrobe
Ok, are you ready to talk plus size capsule wardrobe options now?! I thought about jumping into that RIGHT from the get go, but I realized to understand the byVINNIK silhouettes, fabric choices, etc, you really need to understand SUZANNE!
I'll admit it — when Suzanne brought up creating a "plus size capsule wardrobe" during the start of our interview, I was SKEPTICAL. Personally, I've always pictured a "capsule wardrobe" being something for boring oatmeal-like people, who run around all day in turtlenecks or like navy worksuit sets…
But Suzanne pushed back on that!
"No!" she said with a full laugh. "People make 'capsule wardrobes' boring with black or a set awful neutrals. That's not it for me or my customers!"
Ok, yes, I'm listening! I'm interested!
"Here's how I do it," she explained. "I have a base outfit and have something to put on over it that's fancy, so I get to be extra. I don't have to worry about planning, because I have an over the top accessory that makes it look I spent a lot of time getting dressed. It looks like I tried really hard, but I didn't!"
And looking through the byVINNIK Instagram, I saw her point in the most visual way. In many of the photos, the styling echoes her ethos! It totally made sense!
And Suzanne isn't into a capsule wardrobe for the sake of being trendy. It comes from a need to be functional, as a creative professional.
She offered more backstory on a plus size capsule wardrobe, saying, "There was one year I was home 19 days, so it was important to carry everything I owned in an European carry-on size bag. I needed to have a capsule wardrobe that's ALSO not boring. My whole way of getting dressed and approaching fashion incorporates this need."
Styled 5 Different Ways
A great plus size capsule wardrobe isn't about looking like you wear the same thing every day. It's about getting more WEAR out of your existing wardrobe.
"A lot of my pieces are reversible or can be styled multiple ways. In fact, I have a rule — I have to be able to style a piece I create at least 5 different ways. If I can't style something 5 different ways it doesn't merit existing."
If I can't style something 5 different ways it doesn't merit existing.

Suzanne Vinnik
Ethical Plus Size Luxury – Sustainability
Suzanne generally steers clear of using the word "sustainable," saying, "I am selling a product. But I do try to do it in the most ethical way possible. We use deadstock fabric, all the labor is ethical and fairly paid."
Suzanne's willingness to get super specific about her manufacturing is heartening, especially in the world of fashion where greenwashing abounds!
[You can read more about Suzanne's ethical practices on this post!]
Price Point Accessibility
Discussing accessibility from the vantage of price point, can get tricky, especially on a global scale.
Instead of avoiding the conversation, Suzanne has jumped in — and is leading it.
"The average person should be able to wear luxurious and beautiful things. I pay the people who create the clothes ethically, and I want to price them ethically for the consumer."
Suznne went on to explain, "I just want to create gorgeous pieces in luxurious fabrics that the average person isn't going to wear. Designers who use the same fabric have larger teams, and also their pieces are around $4,000."
Join the Fashion Cult of Glamorous Misfits
Fair warning to new byVINNIK customers — once you start, you're not gonna stop! "My customers are repeat customers," she exclaimed. "They're loyal! And, to be honest, I think of my customers when I'm designing — I am designing for them. When designing a new piece, if I can't think of 5 customers who would wear it, I don't make it!"
When asked about who her customers are, Suzanne couldn't pinpoint them to one group or type, of course.
"Overall, my customers are misfits!" she shared. "They're women who want to be seen. They're extra! They want luxury and glamour! So many of my customers have become my friends through fashion and individuality. We've all found and each other and made an incredible community."
Adds Suzanne, "When I see someone new purchase a byVINNIK piece, I just want to say, 'Welcome to the fashion cult!'"
And, from seeing the engagement and discussion Suzanne has with her customers on social media — from Instagram Live sales to chats in the comments about going to Home Depot in an opera coat — it's clear she has built a beautiful community.
Ready to shop byVINNIK?
Be sure to shop their website HERE, and join the brand on Instagram here!
What do you think of these glam and gorgeous looks from byVINNIK? Which one would YOU wear? Sound if the comments with your thoughts, we'd love to hear them! <3